Hey! This site is reader-supported and we earn commissions if you purchase products from retailers after clicking on a link from our site.
Every year, millions of people tune in the Grand Slams and the major tennis tournaments to watch the pro's play. But what do the pro's play with in these tournaments? My name's Julian and this is going to be part of a series called The Pro's: Racquets and Equipment.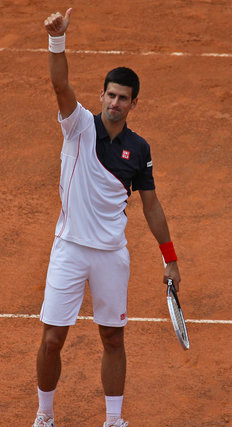 Our player today is Novak Djokovic
and the question we're answering is
What racquet does Novak Djokovic play with?
Novak Djokovic's Racquet:
Just like other pros, Djokovic does not play with the racquet you think he does. Djokovic officially sponsored the Head Speed Series of tennis racquets which is why he always plays with a tennis racquet painted like a Head Graphene Touch Pro. He does not play with this racquet!
Here are some of the differences (found through tennis fans looking at every imaginable photo of Djokovic playing):
There's no CAP grommet
The drill pattern is different between the two racquets
The mold is different
So what is Novak Djokovic's racquet? The sleuths at Tennis Talk Forum have figured it out. Novak Djokovic plays with a customized version of the Head PT113B1 . What a great name right?! Don't you like the name Head Graphene Touch Pro better? I'm sure Head does too instead of Head PT113B1 .
This racquet is a mix of the Head Liquidmetal and the Head Microgel Radical. It's important to note that Djokovic also heavily customizes his own racquet with the use of lead tape around most of the frame. This changes the balance of the racquet completely and affects the swing weight.
Below we can see the specs for Djovokic's real racquet:
Head PT113B1 (same mold as the Head I.Radical MP)
Head size
95 sq in
Length
27 in.
Strung Weight
12.7 oz
Strung Balance
32.8 cm
Stiffness
60 RA
Grip Size
4 3/8
Grip Type
Two overgrips over Head Calfskin
String Pattern
18 x 19
Now here's where it gets interested. According to the ATP World Tour, Djokovic just changed the specifications of his tennis racquet a week ago in an attempt to get back to the top of the rankings. Will it pay off for him? We'll have to tune in the tennis tournaments coming up and watch his performance throughout the summer to see.
Novak Djokovic Bio:
Known for being one of the few tennis players to hold all four grand slams at the same time, Novak Djokovic was born in Serbia in 1987. He turned pro in 2003 at the ripe old age of 16. As of the time of this writing he is 30 about to turn 31 in a few weeks on his birthday, May 22nd.
Djokovic has held the #1 spot in the World ATP Men's Singles ranking for slightly over 4 years. In 2016, he completed his Career Grand Slams with a win at the French Open making him one of only 8 players to do so so far (among them Nadal and Federer are the only ones still actively playing today). He is currently coached by Andre Agassi, who is another one of the greats.
As of April 26th, 2018, he ranks #12 in the ATP rankings for men's singles tennis.