Hey! This site is reader-supported and we earn commissions if you purchase products from retailers after clicking on a link from our site.
Pickleball is a sport that is seeing an astonishing growth in popularity. Once a niche, rarely heard-of tennis alternative, pickleball is now popular in senior communities and non-senior communities alike. And since the court design can be fit within the design of a tennis court, it's easier than ever to add lines to an existing court so it can be used for tennis and pickleball games. But how do you go about painting pickleball lines on a tennis court? Let's find out.
The Basics: Marking a Shared Court
If you want to know how to paint a pickleball court, you first need to know the size of a tennis court. Tennis courts are 36′ wide and 78′ long. Pickleball courts are 20′ wide and 44′ long.
A tennis court also has what's known as a "doubles alley" on each side. The inner portion of the tennis court is 27′ long, so you'll want to paint the lines marking the width of the court 3.5′ inward from each inner line of the tennis court.
The Basics: Repurposing a Court
You can fit four pickleball courts on any one tennis court space (just make sure to get a pickleball net for each of the courts). When painting pickleball lines to permanently convert a tennis court to pickleball courts, you just need to measure four 20′ x 44′ rectangles, placing each of the four pickleball courts in a corner of the tennis court. Having existing lines on a tennis court can be an advantage here, as they create benchmarks to help you paint pickleball courts.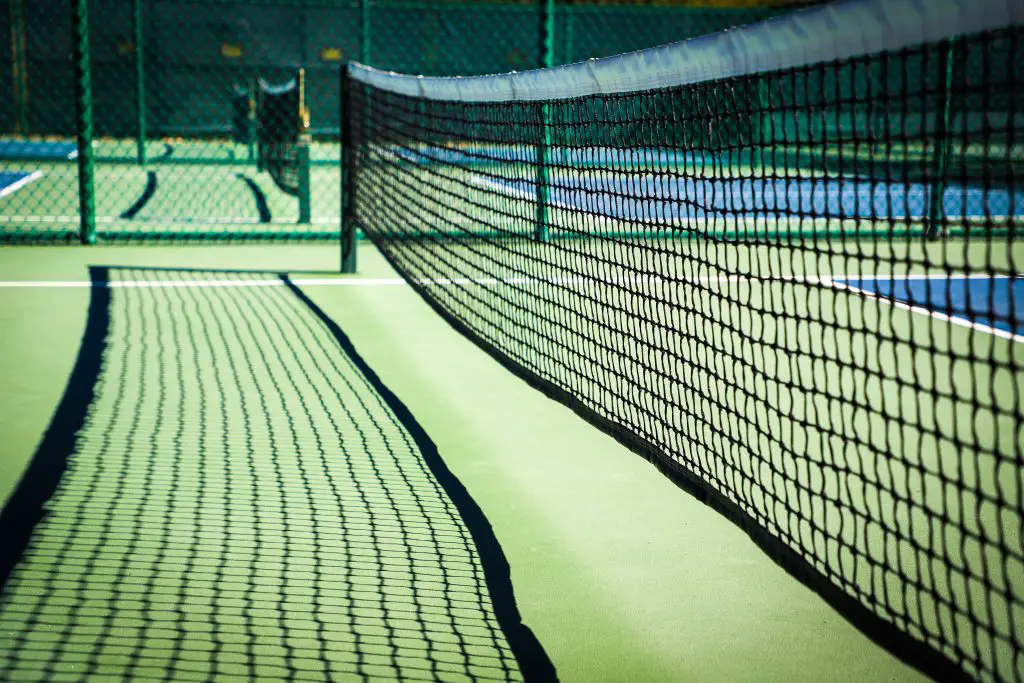 Choosing What Paint to Use
Choosing the right pickleball court paint is essential if you want to successfully convert a tennis court to pickleball courts or create a court that can be used for both tennis and pickleball games.
Lines for pickleball courts painted on a tennis court should match the surface of the tennis court, so look for an acrylic paint fortified with sand. Usually, this means finding a paint specifically designed for sports lines. SportMaster and Seymour are two brands that create high-quality paints to paint pickleball lines.
Make sure you choose a paint that contrasts with the lines on a tennis court but can still be seen against the base color. Most tennis courts have white lines and a green or blue base color on the court surface, so be sure to choose a different color of paint! Pink, orange, light blue, yellow, and red are all good colors to consider.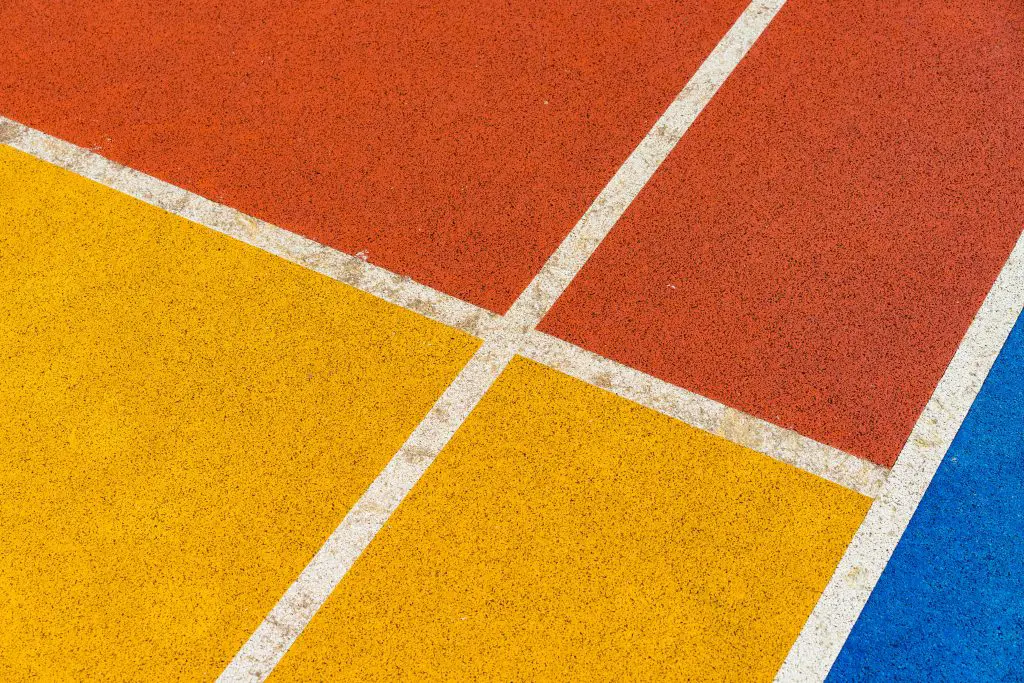 How to Paint Pickleball Lines on a Tennis Court
Now that you know the basics of painting a tennis court with pickleball lines, it's essential to make sure you understand the detailed instructions. Make sure you follow the steps below — don't rush or skip steps! It may save you a little time in the short term, but it can lead to serious problems with your paint job.
Here's what to do:
1. Clean the court. Dirt, dust, and debris can all result in a spotty paint job, so make sure your court is clean. Often, just a good sweep does the trick, but if the court is especially dirty, you may need to hose it down. If you do this, be sure it has plenty of time to dry!
2. Mark out your court lines. Do this with masking or painter's tape. Make sure your lines are straight and that the lines you're about to paint are of a consistent width. (Below, we offer some tips on how to do this.)
3. Stir the paint. If you're using canned paint to create lines, make sure you stir it!
4. Add the first coat. Using a brush or roller, add your first coat of paint. Make sure the lines are solid and the paint is applied evenly.
5. Let it dry. It's a good idea to use two coats of paint on indoor and outdoor courts. Make sure you let the first coat dry thoroughly after you apply paint, and don't play tennis or pickleball while you wait!
6. Apply the second coat. Once the court lines have dried completely, apply a second coat the same way you did the first coat.
7. Remove the tape and let dry for a full 48 hours. This step is important — you don't want to ruin the line structure because you're too eager to use your new pickleball court!
8. Clean your tools before the paint dries. Getting wet paint off of painting tools is a lot easier than removing dried paint. Plus, if you need to touch up your pickleball court lines once they dry, you'll be ready to go.
If you want a video guide to painting pickleball lines on a tennis court, this video offers some help.
Tips for Painting the Perfect Court
Once you've developed your plan for adding pickleball lines to your indoor or outdoor court surface, it's time for action. But the proper execution of your plan is absolutely crucial to the success of the project.
Here are some key tips for success:
– Check the weather. Don't begin painting pickleball lines on a tennis court if rain is in the forecast! This includes the 48 hours allowed for the lines to completely dry.
– Use the right amount of paint. Make sure you use the smallest amount of paint possible to cover the surface. But don't use too little, especially if you really want to make the line permanent.
– Watch your runoff. Most types of paints used for painting pickleball or tennis courts is toxic, so be careful to not allow it to run into storm drains.
– Only paint above 50 degrees Fahrenheit. This is 10 degrees Celsius. You want to make sure the temperature is right for the paint to really stick to the pavement surface.
– Use a taping machine if possible. If you own or can rent a taping machine, this is a good way to make sure your pickleball court lines are perfect.
– Use aerosol for touch-ups. A fast-drying aerosol paint is a quick and easy way to touch up lines on pickleball courts if they begin to fade. Playing pickleball will often eventually fade the lines on your pickleball court.
– If you use a paint machine, strain the paint first. Straining the paint will make sure you don't get any unsightly blobs or lumps of paint on your pickleball courts. That way, lines on the courts will be painted evenly.
– Get the right amount of paint before you start. If you're using canned paint, it's helpful to know that a typical pickleball court requires one gallon per court.
– Have a bucket and rags handy. Warm water and rags will help you quickly wipe up any spills or spots that appear while painting pickleball lines.
– Measure carefully. Ideally, use a steel tape measure to draw rough measurements on the tennis court. Make sure to create lines along the measurement as benchmarks for laying down the tape.
What If You Just Need Temporary Lines?
If you want to play pickleball on a local tennis court and have permission to add pickleball lines temporarily, you'll need an alternative to paint. Luckily, there are several:
– Court tape. Many companies that make pickleball gear see either rolls of court-friendly tape or special, pre-cut court marker kits. These can take some of the guesswork out of cutting tape and adding lines to a tennis court.
– Masking tape. Masking tape is an easy, economical way to add temporary lines. However, if the playing surface is too rough, it may not stick properly.
– Contractor's blue chalk dust. This colored chalk is more or less a professional version of sidewalk chalk. However, it can be frustrating to apply by itself, so we would suggest only using this if you plan to use the right applicator tool.
– Sidewalk chalk. This is an easy and economical way of marking lines, and many people use sidewalk chalk to mark pickleball court lines on their driveways. Provided it doesn't rain too hard, sidewalk chalk will last longer than you'd think. It's a great quick way of making temporary pickleball courts!
– Toddler crayons. Toddler crayons are the large, thick crayons designed for younger kids. They last longer than colored chalks, though it may be a little frustrating to use them to add lines.
– Black electrical tape. This is a great idea if you're concerned about residue, as electrical tape leaves none.
Convert Your Court Confidently!
Marking court boundaries yourself can be intimidating. After all, if you measure incorrectly or add a crooked line, you can definitely create problems! But if you take your time, double-check your measurements, and ensure that your lines are clean, painting pickleball lines on a tennis court can be a rewarding activity that leads to hours of fun playing your favorite sport!
FAQs on Painting Pickleball Lines on a Tennis Court
Still have some questions on painting pickleball lines on a tennis court? Here are some answers:
What color should pickleball lines be on a tennis court?
If you are completely converting a tennis court to a pickleball court, using white lines is recommended. But if you're adding pickleball lines to a tennis court so you can play either sport, choose a color that contrasts with white but can still easily be seen against the background color of the court. Pink, blue, yellow, and orange are possible choices.
Can you paint a pickleball court on a tennis court?
Yes, but it's important to use the right type of paint to make sure the lines last. As long as you measure carefully and keep the lines straight, you should have no issue.
Can you put pickleball lines on a tennis court?
You can, and it's not as hard as you might think. But if you want to add even temporary lines to a community court, make sure you get permission first!
How do you paint a pickleball court line?
It's a good idea to first mark the edges of the lines with court tape. You can then paint inside the lines with an aerosol or brushed-on paint. For the most professional-looking lines, it may be worth it to look into buying or renting a paint machine.