Hey! This site is reader-supported and we earn commissions if you purchase products from retailers after clicking on a link from our site.
Have you ever looked at a Wimbledon grand slam court and wondered, this court size looks different from the usual tournament court? If you've thought about it, rest assured that you're not alone.
Most of us, due to the varying camera angles on TV feel that the size of the tennis court differs.
Here's the truth though: Every tennis court is exactly the same.
On a professional level, every court is similar in size. All ATP and ITF tennis courts have a standard size and exact dimensions.
People think tennis court dimensions? That's so boring. And it can be but it's also important. Knowing the dimensions of the tennis court gives you the freedom to hit longer shots and understand how tennis strategy was developed.
Don't worry, I'll make this discussion interesting for you. You'll learn the tennis court dimensions (illustrated by a great diagram), some tennis terms, and some basic tennis strategy.
Let's start by checking the standard tennis court dimensions via a diagram:
Tennis Court Diagram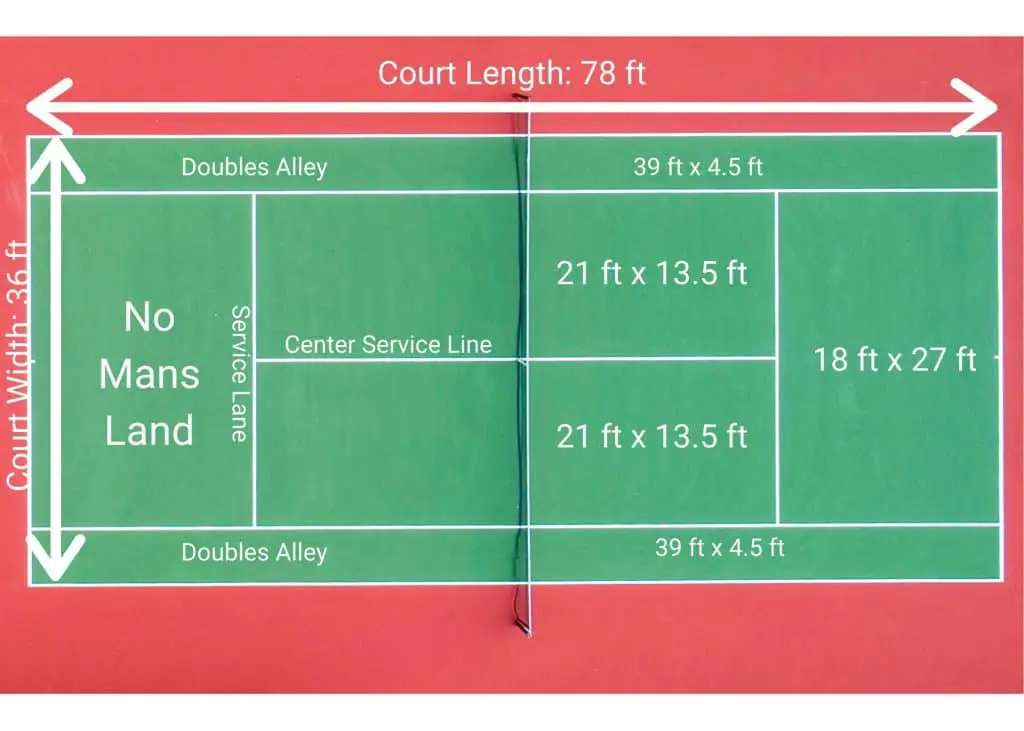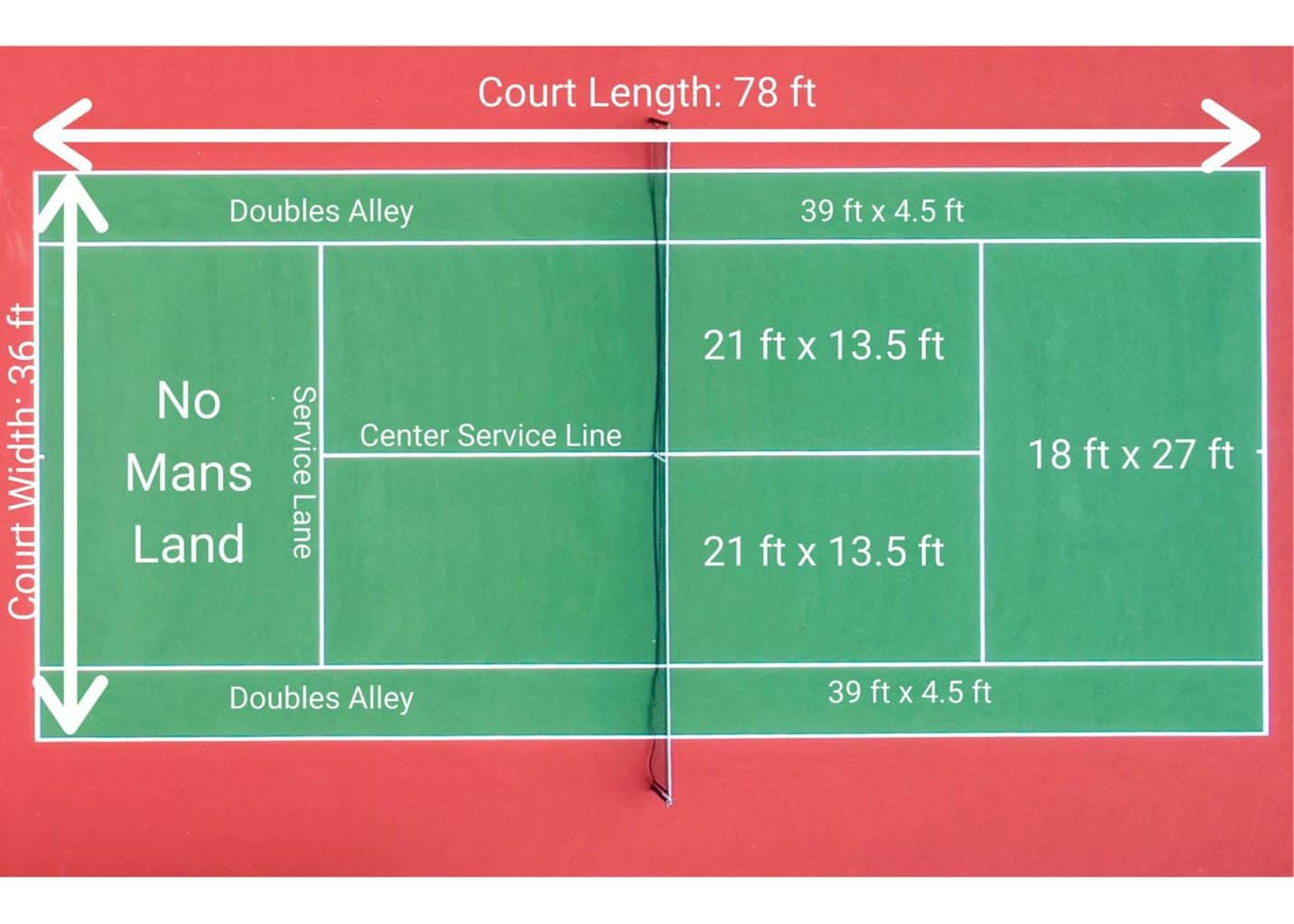 Above, you can see a diagram of the tennis court with all of the dimensions laid out. The key dimensions are the overall length and width. A regulation size tennis court is 78 feet long and 36 feet wide. In singles, players can only access the 27 ft. In doubles, players get access to the full 36 feet of court.
Before we move towards different court sizes let us understand some of the key tennis court lines and their dimensions:
Tennis Court Terminologies
Baseline: 36ft (Doubles) / 27ft (Singles)
A baseline is a line from which a player serves. It runs parallel to the net and is the furthest boundary from the net on both sides. A baseline isn't just used for serving but also to hit most of the forehand and backhand shots.
The amount of baseline differs depending on whether you're playing singles or doubles. Because there are 2 people on each side of the court in doubles, there is more space with the addition of the so-called "doubles alleys".
To learn more about doubles tennis, visit our how to play doubles tennis guide!
Center mark: 4 inches
Center mark is the center point on a baseline. It is perpendicular to the net. Center mark is an indicator for serving – you cannot cross on either side when hitting a serve in ad court or the deuce. Whenever your coach tells you to run towards the center, that's the point he/she is referring to.
Service line: 27ft
The Service line and Baselines are similar except baselines extend up to 36ft. Thus, whether you're in singles or doubles game, you can only serve from within the sidelines on each side and thus service line is shorter than the baseline. Once you serve then you can make the use of the entire baseline.
Sidelines: 39ft
Sidelines for both singles and doubles competition are 39ft long. They run perpendicular to the net and act as the boundary in singles matches. Thus, if any shot lands on the outside of the line, it's deemed as (Out). However, that's not the case in a doubles competition as you can use the full width of the baseline and sidelines.
No Mans Land: 18ft x 27ft
If you've just got into the sport, you must have heard instructors yelling get out of the no man's land! This area as you can see in the diagram above is the largest box on the court which is in the middle of the baseline and service line.
The reason why it's called a No Man's land is that it puts you in a tough spot. You can neither hit a groundstroke nor hit a volley because of the poor positioning.
Tennis Court Layout
In total, every professional tennis court measures 78 ft. x 36 ft. or 2808 sq. ft. in total. However, the entire area of the court is only used in the doubles competition as mentioned above.
For the singles competition, the playable area on court measures 78 ft. x 27 ft. or 2106 sq. ft. because the sidelines or doubles alley don't become a part of the playing surface.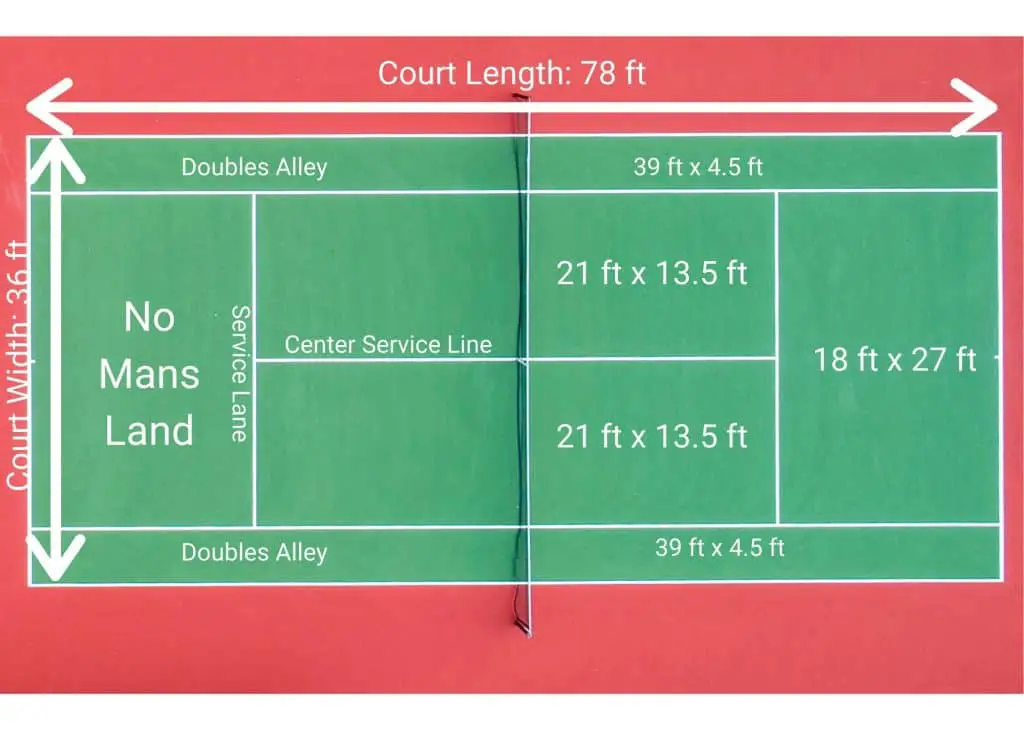 Tennis Court Size Misconceptions
Regardless of the competition, the size of a professional tennis court remains the same. Many tennis beginners get confused by the difference between singles and doubles tennis courts.
The overall court size remains the same. There aren't different tennis courts for singles and doubles. The size of the playable area does differ though. In singles, you can't use the Doubles Alleys.
Tennis Court Size for Home
Though all registered tennis club and tournament courts have the same size, the tennis court size for home can differ. It can be scaled down as per your preference but not so much that you can't exchange shots conveniently.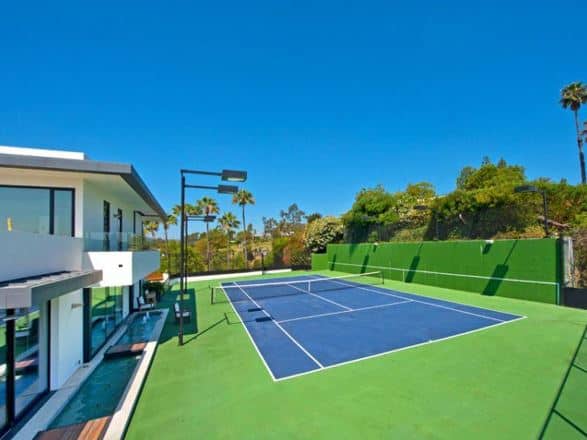 Image Credit: Housely
The most popular tennis home size is 33m x 16m. Thus, if you want to set up a tennis court inside your home, know that 33m x 16m is the most preferred size.
Indoor Tennis Court
There's a huge difference between setting an indoor tennis court and setting a tennis court at your home. At your home, you're just making use of the free space and thus, you can scale down the size but that's not the case with an indoor tennis court.
Indoor tennis courts are the same regulation size as outdoor tennis courts.
Indoor tennis courts are used on a professional level and are well-known for their ability to allow players to play irrespective of the weather or the temperature. They are more relaxing and comfortable as there's no outside condition such as wind, temperature or weather involved.
Indoor Tennis Court Dimensions
Most of the indoor tennis courts follow standard or ITF regulations and thus the size of an indoor court is similar to the standard outdoor tennis court. Thus, an indoor tennis court dimension is 78 ft. x 36 ft. or 2808 sq. ft. as well. And the rules of singles and doubles competition is the same.
ITF regulations of Indoor Tennis Court Structure
As per ITF regulations, you can only build 3 major types of courts – which can get approval. These include Fabric Frame Structure, Rigid Frame Structure, and Air-Supported Structure.
ITF regulations of Indoor Tennis Court Facilities
Apart from these structural pre-requisites, there should be four important facilities including the right ceiling system and insulation, proper lighting system, air conditioning and heating system, and proper air ventilation.
Overhead Space for Indoor Courts
When it comes to dimensions of an indoor court, the overhead space does have a significance. As per the ITF recommendations, the minimum overhead clearance should be 40 ft. from the height of the net.
Overhead space in indoor tennis courts is especially important because players may hit the ceiling when performing a lob or overhead shot.
While the rules differ by the tournament usually if the shot hits the ceiling, it's either a let, meaning the point gets replayed,  or it's out, meaning the player who hit the ceiling lost the point.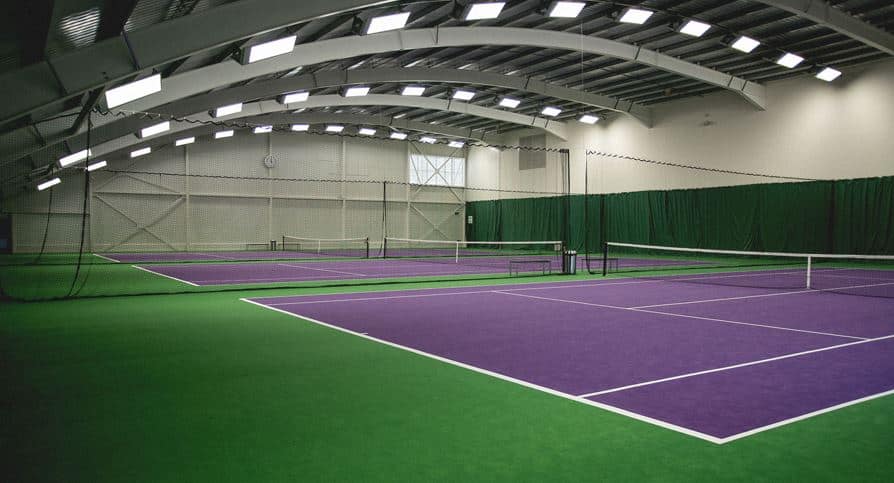 ITF's recommendation can be diversified on four different levels – Recreational, Tournament, Davis Cup, Davis Cup World Group.
| Play Level | Height Above Net | Height Above Baseline | Height Above Backstop |
| --- | --- | --- | --- |
| Recreational | 29.5 ft / 9 m | 20 ft / 6.1 m | 16 ft / 4.9 m |
| Tournament | 40 ft / 12.2 m | 40 ft / 12.2 m | 40 ft / 12.2 m |
| Davis Cup | 29.5 ft / 9 m | 29.5 ft / 9 m | 29.5 ft / 9 m |
| Davis Cup World Group | 39.4 ft / 12 m | 39.4 ft / 12 m | 39.4 ft / 12 m |
Tennis Court Size for Children
Dimension guidelines for Tennis court size for children have been specified by ITF. This differs between age groups. For instance, children under 10 years of age are advised to learn tennis on smaller sized courts.
Tennis court size does change based on your child's age!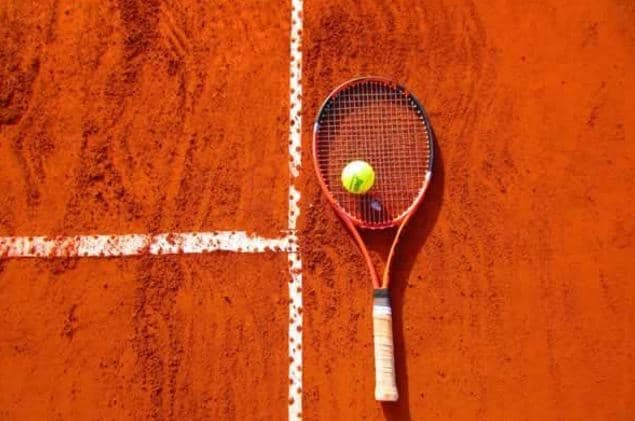 There are two different sizes of courts for children:
Under 10 years old – 59ft (18 meters) x 21ft. (6.4 meters) wide.
Under 8 years old – 36ft (11 meters) x 18ft (5.5 meters) wide.
Conclusion
From the information above, we can conclude that the standard tennis court dimension remains the same for an indoor and outdoor location that holds tournaments or has professional usage.
However, tennis court in-home or for children can differ from the guidelines given by ITF. You can scale down in proportion as you're more likely to use it for leisure rather than following professional aspirations.