Hey! This site is reader-supported and we earn commissions if you purchase products from retailers after clicking on a link from our site.
Before you even start to play pickleball, it's crucial you do so with the right mindset. Many players when starting off think too much about their performance and how they're going to improve it instead of enjoying the sport.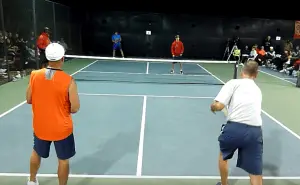 Photo Credits: ValentiSports
For beginners who are looking to find their feet versus pros who are crossing over from other sports, you must play the game to enjoy it. With that said, you need to have a competitive mindset as well. By competitiveness, I mean deploying strategies to win a game.
There are many basic and advanced pickleball strategies which you can use to your advantage and gain an edge over your opponent. These strategies can be used in a single's game or doubles; however, their implementation is completely different in each of this competition. Thus, there are certain strategies which you should know to take your pickleball game to the next level.
General Pickleball Strategy
Although pickleball draws great resemblance to badminton, tennis and table tennis, the equipment used is very different. Even the playing surface and dimension is slightly different than a tennis court.
When you're starting out, emphasis should be laid on getting the basics right – good serve, comfortable return, good third shot.
In a singles game, everything depends upon you and thus you need to work hard and assume responsibility for everything. However, when you're in a doubles match, things become quite complex and you need to play in-sync with your partner.
Whether you're a singles player or a doubles player, the strategies mentioned below are going to help you improve your game.
8 Pickleball Strategies for Pickleball Singles
1. Hitting
A game of pickleball is marred by unforced errors. When starting out, you just want to hit the ball firm and in the right general direction, making it difficult for your opponent to return. Mastering the basics goes a long way in improving your game.
Maintain high-level energy to keep your opponent on his/her feet and try to find pockets of space with simple shots.
2. Serving
Serving similar to the other racquet sports sets the tone of a game. With proper serves, your chances of scoring points increase fourfold.
When serving, stay close to the centerline because it will help you stay in a better position when your opponent returns the serve. Don't run towards the net, instead focus on getting the position right.
3. Returns
Try to aim your returns towards the corner to keep your opponent on his/her feet. Since your opponent will maintain center position, your best bet would be to work them around the court.
However, this doesn't work in a doubles game and the strategy is completely opposite (Keep reading, we'll cover doubles pickleball strategy in a bit)
4. Positioning
The best position is staying near the center area. That's where most of the shots are directed towards.
By staying near the center area, you'll be able to move quickly. However, don't stay too close to the baseline.
5. Shot Selection
Your shot selection will readily decide the fate of a contest. Don't be over-reliant on just one or two shots and try to mix it up. Players who are heavily reliant on one shot, often expose their weakness which, if read by the opponent, can create a massive problem.
Learn to read and anticipate your opponent's shot before returning.
Try varying shots focused on different angles, hitting with a combination of strengths and different shots i.e. Backhand, Forehand, volleys, and dinks!
6. Frustrate your opponent
Pickleball games are majorly decided on points lost due to unforced errors. When you're busy getting the basics right, your opponent will eventually run out of patience and will try something extravagant.
It might work for him once but he will commit lots of errors throughout the game. So, let your opponent be the flamboyant one. You just play it cool.
7. Read your opponent's game
Success in a pickleball match depends upon how well you know your opponent. For instance, beginners generally prefer hard-hits whereas experienced players love dinking close towards the net.
However, if you study your opponent's weaknesses, you can use them to your benefit. For instance, your opponent has a weak backhand, you can exploit that weakness and send shots which will force him to use the backhand shot and thereby commit errors.
8. Mobility is the name of the game
People say, "Pickleball doesn't work players up, it has little to no running involved." And yes, they're right because there's no running, rather sprinting. Your mobility and positioning combined can leave your opponent's jaw dropped.
For instance, staying close to the center while returning is a great strategy. At the same time, moving on the ball of the foot gives you better mobility than staying flat-footed. Don't be whimsical while moving and maintain your position with confidence.
Watch These Two Videos Below For More Information on Singles Pickleball Strategy:
8 Pickleball Doubles Strategies for Pickleball Players
1. Hitting
Whether you serve or return, you need to maintain accuracy in your shots. Ask any professional pickleball player and they'll suggest simple shots over fancy shots.
When serving in a doubles match, try to hit the ball deep i.e. the best way to get started. When returning, look for your opponent team's vulnerability. If they have a weak backhand, ask your partner to go hard in that area.
Reference:
2. Returning
As opposed to a singles game where you try to hit the ball wide, a doubles match requires you to hit the ball towards the center. This shot strategy will keep both your opponents on feet and most of the times will lead to confusion.
3. Third Shot Strategies
While serve and return are two most important shots, it's the third shot where the game actually begins. There are many shot options which you can select as a third shot, these include a drop shot – a low hit over the pickleball net angled at the center.
A hard hit –usually common for new players. A hard hit is a good idea if wanting to win a point at baseline but points in pickleball are usually earned near the net.
A dink, a lob, or side drop shot are some of the other and perhaps better important third shot strategies.
4. Minimize Errors
Similar to a singles game, if you just emphasize minimizing the errors, you increase your chance of winning the game. As said earlier, most points in pickleball are won through an opponent committing an unforced error.
The less fouls you commit, the better advantages you gain as the game progresses. The deep middle shot is a great way to drain your opponent's energy.
5. Observe your opponents during warm-up
While warming up, observe your opponents as they are more likely to expose their weakness without knowing about it. Even look at the way they hold the paddle! They may be clutching it a grip that is best used for volleys – indicating they like to rush the net.
Observing your opponent helps you strengthen your defense through understanding their style.
6. Get in-sync with your partner
Beginners often find synchronizing difficult. You might be a good individual player but if you don't work in accordance with your partner, you'll eventually lose the match.
Though chemistry may not develop instantly, understanding your own teammate and their playing style is more important than figuring what your opponent has instore for you.
7. Think Forward
Though a game of pickleball is fun, filled with high energy, and it keeps the players engrossed both mentally and physically, sharp players are quicker than usual ones. As a player playing in a team, you want to be sharp and be able to take on any kind of shot that comes your way. Furthermore, you should be able to make up for your partner's weaknesses and vice-versa.
8. Keep moving
If you stand still, it's certain that you're going to lose the game. Thus, you should be able to set the tempo of a match. That can only take place when you take the initiative.
With clever positioning and deep shots, you and your partner should emphasize on staying sharp and taking initiatives such as hitting a volley, a dink or a lob with full confidence.
With Great Strategy Comes Great Kit
If you want to be the best, you must embrace the best. For exceptional movements, you must wear the right shoes i.e. tennis shoes, avoid the running shoes or any other sports shoes. Additionally, a good quality paddle can provide an extra edge to your game. You don't need to spend big bucks when you're starting out, but as your game progresses, you must keep on upgrading.
Comprehensive Visual Guides:
Professional Pickleball Player Strategies
1. Placement over Power and Speed
Tyson McGuffin, top-ranked pickleball player suggests, "Unlike most sports, the higher the skill level, the game seems to slow down instead of speed up. It's more about placement and spin rather than power and speed."
2. Communication is the key
You won't see two professionals standing and watching each other's face while the shot moves past them. Good partners are always communicating loud and clear. Their call for a shot can be heard quite clearly.
3. Keeping it simple
Many top-ranked pickleball players keep their game simple. Their tire down their opponents mentally and frustrate them into committing an error. At the end of the day, winning a pickleball match largely depends on simple accurate shots and fewer errors.
4. Keeping shots low
Many players are tempted to hit a high shot with power. However, that's not the case with professionals. They emphasize on keeping the shots low and working their opponents.
5. Playing Smart and Not Hard
Keep moving but do not overwork yourself. Even if you're older and not as quick, you can still outplay a stronger, faster and younger opponent. Slow the game down, analyze your opponent's weakness and then target it to win smart points.
Conclusion
I hope this ultimate pickleball strategy guide helped you learn something new. Whether you're a beginner or a cross-over player, your strategies define your style and ultimately what kind of player you become. Thus, spend a great amount of time in understanding your playing style.