Hey! This site is reader-supported and we earn commissions if you purchase products from retailers after clicking on a link from our site.
Maybe you've recently started playing pickleball or have just seen the courts at your local park. But while many people know pickleball is a fast-growing recreational sport, not everyone knows that it's possible to play professional pickle ball.
How Do You Become a Professional Pickleball Player?
So how does someone go from hitting the ball in the park to full-time pickler? The first step is to start playing in tournaments. Make sure you join the USA Pickleball Association (USAPA) as well. This is the governing body for the sport of pickleball in the United States.
Why is this important? If you want to progress to higher-level tournament play, you need a skill rating. USAPA will give you a skill rating based on your tournament performance. These ratings range from 1.0 (the lowest) to 5.0 and 5.5+ (pro level). Once you get to a professional-level ranking, you can compete on the pro circuit. You also might be considered for endorsement deals.
That said, competing on the pro tour circuit can be a challenge. Many players, even professional players, have needed to have a job other than pickleball in order to comfortably afford to live. Traveling to play matches is expensive in itself. In many cases, pro players who haven't yet gotten endorsement deals will supplement their tournament earnings with income from teaching pickleball or offering pickleball clinics.
Do Top Players Make Money?
Pickleball National Champions and others who play at the professional level do earn prize money. In many tournaments, the total winner's payout is fairly low; many winners get $2000 or less.
However, the Professional Pickleball Association (PPA) is an association working to change that. Their tournaments usually offer prize money in the tens of thousands, so it becomes more feasible for expert players to play pickleball full time without juggling the demands of professional training and another job.
Most estimates of how much professionals earn playing pickleball range from $50,000 to $200,000. In most cases, most of that revenue comes from endorsement deals. So your earnings aren't based only on skill. Whether or not companies see you as being good for business make a difference, too.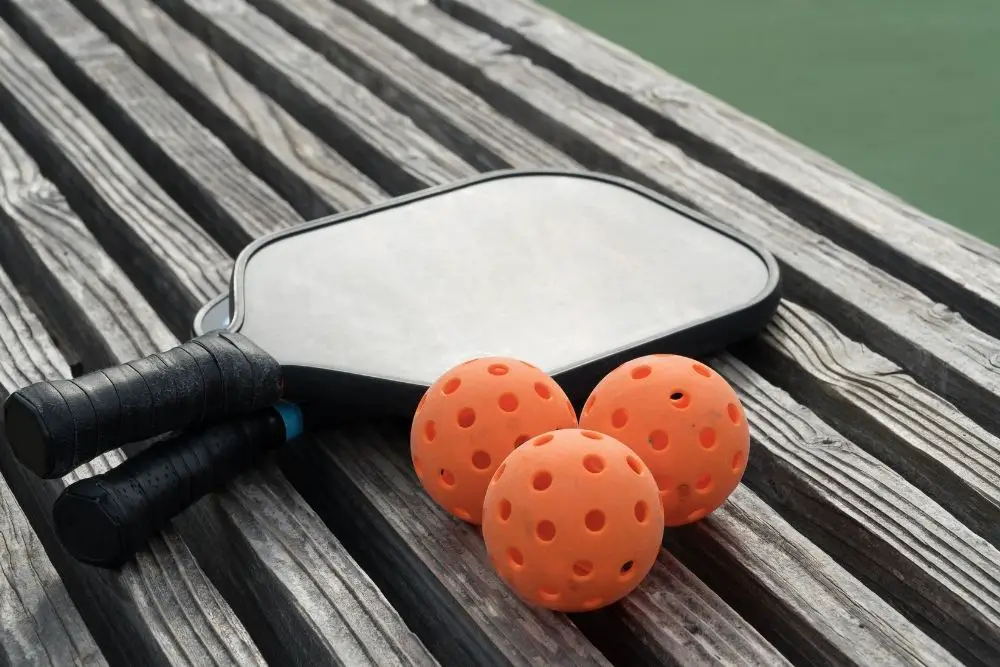 Meet Some of the Top Professionals in Pickleball
Now you know the general information about pro pickleball events and what it takes to go pro. But perhaps the most interesting part of this whole thing is the players themselves. Here's a bit about some of the best players in the country (and the world!) and how they rose to where they are now.
1. Lucy Kovalova
Lucy Kovalova is one of the many pickleball champions who was a successful tennis player before she started playing pickleball. She came to the United States from Slovakia to play college tennis. She went to Wichita State University and played tennis for the school for four years.
But after college, she made the switch to pickleball. Relatively soon after she started playing, she found success in singles, doubles, and mixed doubles. That success led her to a sponsorship deal with Onix. She even collaborated with the company to design a new paddle: the Evoke Premier.
2. Ben Johns
At the time of writing, Ben Johns is the top-ranked player in the game of pickleball. He was a tennis player before he took up pickleball in college, although he didn't compete at a high level in tennis.
Only a few months after he started playing, Ben won the pickleball US Open in men's singles. He has gone on to win medals in doubles and mixed doubles as well. By 2019, he had an endorsement deal with Franklin. And by 2022, he had partnered with JOOLA Pickleball. With the company, he has designed an official paddle he uses to compete, the Ben Johns Hyperion CFS 16.
Ben is a player who has put significant effort into introducing much of the world to pickleball. His social media pages teach followers useful things about the sport while also providing updates on his career.
3. Simone Jardim
Simone Jardim is certainly a big name in pickleball. From 2016 to 2020, she was the top-ranked female pickler in the world. She was an All-American tennis player in college and even was a tennis coach at Michigan State University. Interestingly enough, another top player in the pickleball ranking, Catherine Parenteau, had Simone as her tennis coach when she played for Michigan State University. Lucy Kovalova, mentioned above, is also a former student of Simone's.
Like many picklers who were tennis players first, Simone caught on quickly. She started playing pickleball in 2015. By 2016, she was the women's singles champion at the US Open. Thanks to her long stay at the top of the rankings, Simone has endorsement deals with Prince, Nike, and Jigsaw Health. She has played with one of the most distinctive pickleball pro paddles. It's the Prince Response Pro, a paddle with rounded edges.
4. Zane Navratil
Zane is yet another pro pickler who started out as a tennis player. He won a few championships in his native Wisconsin before taking up pickleball. He initially thought pickleball was a sport for the elderly. But once he began playing as an amateur in tournaments, he quickly rose through the rankings and went pro.
Though Zane has a sponsorship deal with Franklin, he has said that a good bit of his current income comes from the pickleball clinics he hosts around the country. Usually, attendees pay $75 per day.
These clinics are meant to help players of all levels use their paddles more effectively to control the ball, hit with more power, etc. And since Zane is known for his sense of humor, he's a personable teacher to have.
5. Irina Tereschenko
Irina has what is perhaps the most unusual origin story. She played tennis for Texas Tech before she ever picked up a paddle. Irina says that a friend convinced her to try pickleball against two prominent picklers, Chris Miller and Billy Jacobsen.
Chris Miller was impressed enough that he signed her up for the Tournament of Champions in Utah. She went on to win the pro singles division.
Irina has commented before on the relative lack of prize money in pickleball, but she has said that sports organizers hope to soon ensure that at least the top quarter of players in each division will be able to make a sustainable living just from pickleball.
Irina has a sponsorship deal with Paddletek, and the company makes her signature paddle, the Bantam EX-L, out of PolyCore, one of the newer paddle materials known for both its power and responsiveness.
How Are Pickleball Pros Helping the Sport?
Top Pickleball Players: Meet the Pros! Whether you're wondering how to become a professional pickleball player or just want to play recreationally, those on the pro circuit can make a difference! As we saw above, some of the top players still opt for the Certified Instructor designation, so they can help you improve your game.
Pickleball champions are also influencing the new wave of paddles and other gear. It's not uncommon for pickleball paddle brands to team up with players turned pro in order to design new paddles. After all, in most cases, those who have dedicated much of their lives to a sport are motivated to make it better.
Tips for Getting to the Pro Level
If you came here for advice on how to become a pro pickleball player, we hope the stories of some of the pros have offered you some inspiration.
You may have noticed that a lot of pro players started playing tennis at a young age and switched to pickleball. Playing tennis is certainly an advantage, but don't despair if you don't!
Here are some tips for improving your skills to get closer to pro pickleball level:
Build a strong foundation. If you've just started playing pickleball (and especially if you weren't a tennis player before), learning the basics takes a good bit of time. Don't fall into the trap of being so eager to play at a high level that you rush through the fundamentals. Just like with most things, if you skip the important basics, it will have a negative effect on your game later on. It's like trying to do algebra when you haven't mastered addition and subtraction — it just doesn't work.
Play in games and tournaments. As you know, playing in tournaments where you can receive a rating is an essential step if you eventually want to go pro. Just getting the experience of competing is valuable, too. If you're like most people who play tennis or pickleball, it takes a couple of tournaments to get really comfortable with tournament play. If you can, play in doubles and mixed doubles matches, too. All of it will help you improve.
Focus on footwork. With all the focus on the paddle, different types of shots, etc., it's easy to forget just how important your feet and legs are to pickleball. Just like when you play tennis, balance is extremely important when playing pickleball. So is being able to move quickly in a lot of different directions. There's a wealth of footwork exercises out there, but a good place to start is by practicing moving different ways in order to hit the ball: forward, backward, sideways, diagonally, etc.
Do drills. While playing games and tournaments is vital if you want to improve as a player, doing drills is also crucial. Many pros suggest doing drills, especially in your weak areas. For instance, if you want to improve your backhand shot, rent a ball machine or ask a friend to pitch or hit the balls to you on the court.
Develop speed and agility. Like playing tennis, playing pickleball well requires you to be fast and agile. You'll develop some speed and agility just by practicing,but targeted exercises can give you extra power that translates to greater success on the court. Doing sprint workouts and circuits that emphasize agility are great ways to get started.
Eat a healthy diet. Many pro pickle ball players, including the ones we profiled above, cleaned up their diets when they started playing pickleball more seriously. In particular, pay attention to the protein and carbohydrates in your diet. Protein is vital for muscle repair and development, while carbohydrates are essential for sustained energy.
Develop your own playing style. The best players in every sport are those who are inventive. And if you want to succeed at the pro level, do your best to create your own playing style. That's not to say it's a good idea to ignore rules; it isn't. But when you know yourself and your style, you'll be able to approach matches with more confidence.
Be friendly. This might sound like an odd piece of advice, and you might not need it if all you're doing is playing singles. But being personable and humble can help you find great doubles partners. And when you play doubles matches with good partners, you're more likely to win and climb higher on the rankings. Plus, if you have the opportunity to play doubles with a pickler who's a little more experienced than you are, you can get an idea of how to level up your game.
For some more guidelines and advice on how to get to the professional level, check out this helpful video!
How Can the Pros Help You?
Not everyone wants to become a professional pickleball player, and that's perfectly fine. But even if you want to improve your playing style in backyard games, watching a pro match or two can help you get there. At any rate, professional pickle ball players are helping boost interest in the sport and inspire a new wave of players. That's always a good thing!
FAQs
Still have some questions about playing pickleball professionally? Here are some answers:
How much do professional pickleball players make?
The amount you can earn as a pro varies pretty widely, but most estimates say that someone playing pickleball professionally usually makes anywhere from $50,000 to $200,000 per year. In most cases, a large portion of that money is from endorsement deals.
Can pickleball be played professionally?
Yes, it absolutely can be! Most people are recreational players, but players who have turned pro have won tournament money and then earned more from endorsement deals. However, since the sport doesn't often pay out as much as other sports, some pro players still need to supplement their income.
Is there prize money in pickleball?
Yes, there is. But compared to other sports, the prize money for a pickleball tournament isn't a massive amount. Most tournaments (even high-level ones!) have prizes in the low to mid 4 figures. The Pro Pickleball Association (PPA) offers larger payouts — most of their tournament winners get $30,000-$150,000.
Who is the best pickleball player in the world?
According to the Pickleball Association, Global Pickleball Rankings, and World Pickleball Rankings, the best pickleball player in the world is 23-year-old Benjamin Johns. He is ranked as #1 in three categories: singles, doubles, and mixed doubles.