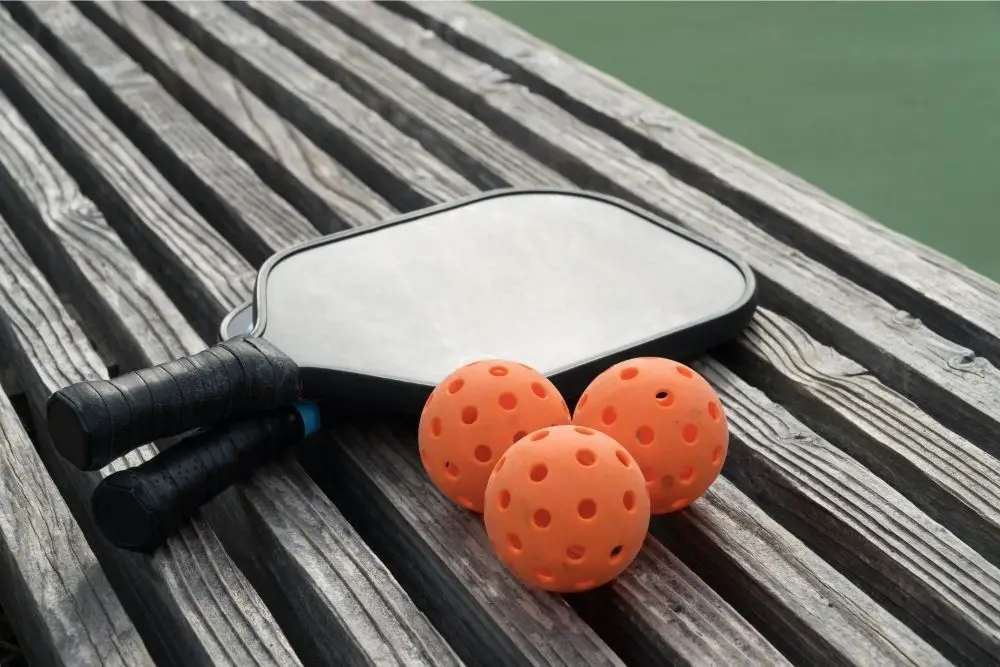 The weight of the paddle is instrumental to how you play. A paddle that's too heavy can feel clunky and cumbersome, disrupting the rhythm that's so important to pickleball.
Quick hands and reflexes are what's needed to score points. For that, you need a paddle that moves with ease.
Lightweight pickleball paddles are a solid choice for a range of players, particularly beginners. They may not have the same power and force of a heavier paddle, but this is balanced by the agility and spin.
We've rounded up the best lightweight pickleball paddles available, to get your shots flying.
Gamma Sports Neutron 2.0 Pickleball Paddle
PickleballCentral Rally Tyro 2.0 Pickleball Paddle
Onix Stryker 4 Composite Pickleball Paddle
Selkirk Amped Epic Pickleball Paddle
Prince Spectrum Pro Lightweight Pickleball Paddle
GAMMA Sports 2.0 Neutron Pickleball Paddles: Mens and Womens Textured Graphite Face Pickle-Ball Racquet - Indoor and Outdoor Racket: Yellow, ~7 oz
PickleballCentral Rally Tyro 2 Pickleball Paddle with Neoprene Paddle Cover Advanced Composite Polypropylene Honeycomb Core and Fiberglass Face | Lightweight
Onix Stryker 4 Pickleball Paddle Features Polypropylene Core, Graphite Face, and Larger Sweet Spot
Selkirk Amped Pickleball Paddle - USAPA Approved - X5 Polypropylene Core - FiberFlex Fiberglass Face - 5 Sizes: Epic, S2, Omni, Maxima, and INVIKTA (Omni Midweight - Ruby Red)
Prince Spectrum Pro Pickleball Paddle | Red | 4 3/8" Large Grip | Light Weight
Gamma Sports Neutron 2.0 Pickleball Paddle
GAMMA Sports 2.0 Neutron Pickleball Paddles: Mens and Womens Textured Graphite Face Pickle-Ball Racquet - Indoor and Outdoor Racket: Yellow, ~7 oz
PickleballCentral Rally Tyro 2.0 Pickleball Paddle
PickleballCentral Rally Tyro 2 Pickleball Paddle with Neoprene Paddle Cover Advanced Composite Polypropylene Honeycomb Core and Fiberglass Face | Lightweight
Onix Stryker 4 Composite Pickleball Paddle
Onix Stryker 4 Pickleball Paddle Features Polypropylene Core, Graphite Face, and Larger Sweet Spot
Selkirk Amped Epic Pickleball Paddle
Selkirk Amped Pickleball Paddle - USAPA Approved - X5 Polypropylene Core - FiberFlex Fiberglass Face - 5 Sizes: Epic, S2, Omni, Maxima, and INVIKTA (Omni Midweight - Ruby Red)
Best Lightweight Pickleball Paddles
Beginner pickleball players should definitely consider the Gamma Sports 2.0 for their first paddle. At only 7.0 oz, it's very light, allowing you to master the swing before moving to something with a little more power.
Gamma is a popular company for pickleball equipment, and part of that is they're so easy to learn with.
The 4-inch grip feels steady in the hand, with a honeycomb texture that absorbs sweat. With a fiberglass face for improved feedback and a honeycomb core that distributes impact, players can respond quickly to every touch of the ball. 
This is on the lighter end of the lightweight scale, which makes it a good choice for children and young adults. Beginner players will certainly enjoy the easy maneuverability, while even experienced players can appreciate the careful construction.
Pros
~7.0 oz weight – Very lightweight, for better control.
Textured fiberglass face – Improved speed, increased feedback.
Aramid honeycomb core – Softened impact to give both control and power.
Cons
No cover – Any cover needs to be purchased separately.
GAMMA Sports 2.0 Neutron Pickleball Paddles: Mens and Womens Textured Graphite Face Pickle-Ball Racquet - Indoor and Outdoor Racket: Yellow, ~7 oz
NEUTRON 2.0 PADDLE: A lightweight ~7.0 oz paddle with a textured fiberglass face offering over-the-top speed and maneuverability, with great feedback and longer, livelier play without dead spots
IMPROVE YOUR GAME: Pick a paddle suited to your skill level to boost your play on the court
ARAMID HONEYCOMB CORE: A blend of power and control benefits beginners and experienced players alike
4" HONEYCOMB CUSHION GRIP: Our paddles feature a soft, sweat absorbing grip to help you hit with confidence
MEETS USAPA SPECIFICATIONS: GAMMA 2. 0 pickleball paddles comply with official USAPA specifications
An advantage of the lightweight paddle is that they offer control that heavier options can't provide. At only 6.8 oz, the control given by this PickleballCentral paddle is immense.
Every hit can be felt exactly across the reinforced fiberglass surface, allowing you to respond precisely to even the strongest spin.
One issue with the ultra-lightweight pickleball paddles is durability. Without the weight, they lack some strength. PickleballCentral has navigated this with a few nifty design features.
The polypropylene honeycomb core is combined with a reinforced composite surface, building durability without adding weight. Superior edge guard bonding technology and a 1-year manufacturer's warranty complete the package. It even comes with a cover.
Pros
~6.8 oz weight – Improved speed and precision.
Composite face – Grabs hold of the pickleball, adding spin and building strategy.
4" grip – The 4" grip with a ~5" length and flared base fits perfectly in almost every hand.
Cons
No USAPA approval – Not suitable for use in tournaments.
PickleballCentral Rally Tyro 2 Pickleball Paddle with Neoprene Paddle Cover Advanced Composite Polypropylene Honeycomb Core and Fiberglass Face | Lightweight
GAME IMPROVEMENT DESIGN – Rally Tyro 2 Pickleball Paddle offers thicker .50" Polymer Core enabling you to drive the ball past opponents. The enhanced sweet spot of the Tyro Pickleball Paddle and light weight offer better ball and control and placement on every shot.
HIGH QUALITY PICKLEBALL PADDLE COVER INCLUDED – Comes with a matching Rally brand neoprene zippered protective pickleball paddle cover
ULTRA DURABLE – High-strength performance polypropylene honeycomb core, powerful composite face and superior edgeguard bonding technology offer ultimate durability. 30-day Return Policy and 1 Year Manufacturer's Warranty covers every Rally Brand Pickleball Paddle made by Pickleball Central
UNIVERSAL GRIP – 4.0" circumference & 5" length offer a pickleball grip that fits nearly every hand, allows for quick wrist action and accepts an over-grip if desired.
PERFORMANCE OPTIMIZED WEIGHT – 6.8 - 7.2 oz pickleball paddle weight offers ultimate ball control and agility, optimized head weighted distribution retains power for driving shots and overheads
The Onix Stryker 4 combines a lightweight body with a larger face to offer beginner to intermediate players total control at the net. The larger face increases the sweet spot, so you can hit the ball better every time.
At only 6.9-7.4 oz, the Onix Stryker moves with speed, supporting the fast reaction of that larger sweet spot. A graphite face adds force to every swing.
Another advantage of the Onix Stryker is the slightly larger grip size. At 4.5" wide and 5" long, it has a bigger width than average. This can be difficult to find on lightweight paddles, making the Stryker a great choice for someone with larger hands.
Pros
Larger sweet spot – A bigger sweet spot allows for a better hit.
Graphite face – Gives power to every hit.
Polypropylene core – Absorbs impact, so you can react better.
Cons
Sale
Lightweight pickleball paddles aren't just for beginners – advanced players can take advantage of the optimized precision that the Selkirk lightweight paddle has to offer. If you're hoping to play like a pro, then the Selkirk Amped might be just what you need.
Selkirk is the brand at the forefront of pickleball technology, creating innovative designs using high-quality materials. The Amped Epic is one of the greatest all round paddles available, thanks to the blend of a FiberFlex fiberglass face and a thicker polypropylene X5 core.
They give better ball cushioning, better spin, and better play. The longer handle and larger face blend for the ultimate in power and control. Ideal for anyone who's looking to take their game to the next level.
Pros
Polypropylene X5 core – A thicker core gives better cushioning, reducing vibration and deadening sound.
Large sweet spot – Selkirk have improved the sweet spot, for a consistent performance.
FiberFlex facing – Designed to absorb spin from your opponent, while giving increased spin to your hits.
Cons
Price – This is a paddle for professionals, and that's reflected in the price.
Selkirk Amped Pickleball Paddle - USAPA Approved - X5 Polypropylene Core - FiberFlex Fiberglass Face - 5 Sizes: Epic, S2, Omni, Maxima, and INVIKTA (Omni Midweight - Ruby Red)
USAPA TESTED & APPROVED - Selkirk pickleball paddles are Tested and Approved for all USAPA Tournament Play and used by over 200 sponsored professional and ranked players worldwide.
LARGER SWEET SPOT DESIGN - With our new AMPED technology, the sweet spot on your pickleball paddle is now Larger and More Responsive than ever before.
X5 POLYPROPYLENE POLYMER CORE - Our AMPED pickleball paddles feature an innovative new thicker patent pending X5 polypropylene core designed amplify your paddle's Power and Control.
FIBERFLEX UNIDIRECTIONAL FIBERGLASS FACE - A re-engineered proprietary FiberFlex fiberglass face design improves your AMPED paddle's match play feel and increases performance.
AMPED OMNI - Midweight Avg.: 7.8-8.2oz - Sweet Spot Index: 8 - Extra Power - Popular weight for Tennis players. Recommended for playing singles.
Prince understood that the ultimate pickleball player needs to combine speed with power, which is what led them to create the Spectrum pro.
The innovative shape of the paddle has enhanced the sweet spot, which reduces the vibration of impact, and provides more energy. Meanwhile, the lightweight model is only 7.2-7.6 oz, for better movement.
But it isn't just about the shape with the Spectrum Pro. A 9/16 extra thick honeycomb center is used to disperse the impact energy of every ball hit. This way, you can respond quickly, with power on demand.
Pros
Grip options – Choose between 4 ⅛ or 4 ⅜, for a lightweight paddle that fits every hand.
Progressive core technology – The core reacts to compliment each shot throughout play. 
9/16 honeycomb core – Thicker, to disperse the energy of impact.
Cons
Extra pop – The reactive technology can feel hard to control.
Sale
Prince Spectrum Pro Pickleball Paddle | Red | 4 3/8" Large Grip | Light Weight
Prince CHANGING THE SHAPE OF PICKLEBALL
REVOLUTIONARY SHAPE | Enhances sweet spot size reducing disruptive vibrations and imparting more energy into the ball.
9/16 EXTRA THICK HONEYCOMB | Disperses impact energy for a more even response over a larger area of the paddle surface.
PROGRESSIVE CORE TECHNOLOGY | Reacts to and compliments every shot and play style. Power up with a hard stroke and youll feel the core react and accentuate your power.
OPTIONS MADE TO FIT YOU | 2 Weight Options (Light 7.2-7.6 or Standard 7.7-8.3) | 2 Grip Circumference Options (4 1/8 or 4 3/8) | Grip Length 5 | Width 8 14 | Length 15 34
Players can avoid the lightweight paddles because they don't believe that they'll deliver on more than speed. However, it is possible to get a lightweight paddle that's quality all around. The Paddletek Bantam TS-5 is one of those paddles.
With a PolyCore interior and a textured fiberglass surface, this paddle has power, speed, and maneuverability. ⅛" edge guard improves durability, so you can play at a consistently high level, game after game.
The Paddletek Bantam is a paddle for professionals, and the lightweight version lets newcomers get to grips with the game quickly. An ideal paddle for those with talent, or someone who wants to get good fast.
Pros
PolyCore honeycomb interior – Hit harder, faster, consistently.
Textured fiberglass epoxy hybrid surface – Increased spin control.
7-7.5 oz – Power, but without the weight. Ideal for maneuverability.
Cons
No cover – It's an expensive paddle, so it's a shame there's no cover included.
Paddletek Bantam TS-5 Pickleball Paddle | Aurora (Purple)
SWING LIGHT. HIT HARD. - The Bantam TS-5 is a lighter version of our popular EX-L. This powerful padde features a reduced weight that combines Bantam PolyCore interior for all the power you expect from the Bantam series, plus increased speed, control and maneuverability. The result is a high-performance paddle unmatched in its weight class.
HIGH PERFORMANCE PADDLE - Paddletek's Bantam TS-5 comes with a textured fiberglass epoxy hybrid that increases spin control and lets you crush your competitors.
PERFECT HANDLE SIZE - This legendary pickleball racquet is comfortable to handle and works well in gameplay. Bantam's Polycore provides responsive returns and incredible power.
ULTIMATE PROFESSIONAL PADDLE - Game after game, this professional pickleball paddle delivers the power and performance you need to win at the highest levels of play.
STANDARD GRIP - This durable paddle is equipped with our ultra cushion high track performance grip. Grip circumference: 4 ¼". Grip length: 5". Total length: 15 ⅝". Width: 7 ¾". Weight: 7-7.5oz.
The Gamma Legend NeuCore is at the slightly heavier end of the lightweight spectrum. At 7.75 oz, it could be seen as a middleweight. However, the balance across the paddle and quick maneuverability makes it a great option for anyone who finds the lighter options a little under-powered. 
One reason we recommend this paddle to anyone after a lightweight option is the NeuCore. This technology is a 25% thicker large cell core, giving a quieter paddle with an incredibly responsive feel.
The textured grip handle feels comfortable in the hand, and gives a solid hold to a lighter frame. Perhaps too heavy for some beginners, it's perfect for anyone needing speed but craving weight.
Pros
NeuCore technology – Thick with large cells, sound is absorbed and impact is responsive.
Elongated face – Better sweet spot for consistent hits.
Honeycomb grip – Ergonomic handle, letting you keep control.
Cons
Square handle – It can take some time to get used to the different shape.
Gamma Compass NeuCore Pickleball Paddles with Honeycomb Grip, Textured Graphite Surface, Elongated Paddle - USAPA-Approved Pickleball Paddle with Thicker Large-Cell Core - Premium Pickleball Equipment
HIGH-LEVEL PERFORMANCE: Experience professional power and control with the Compass Pickleball Paddle from Gamma! Our ~7.75 ounce, middle-weight pickleball paddles feature an elongated face for an enhanced sweet spot.
UNBEATABLE CONTROL: Designed with our signature honeycomb cushion grip, Gamma pickleball paddles combine predictable power and high-intensity control that will keep the ball in play. This comfortable, ergonomic handle helps you hit with confidence!
BALANCE YOUR PLAYSTYLE: This pickleball paddle has NeuCore Technology, a 25% thicker large-cell core that provides a quieter, more responsive feel during play. The textured graphite hitting surface offers an enhanced responsive feel for more control.
READY FOR PLAY: Our pickleball set has been designed to enhance friendly and professional games! Each pickle ball paddle is USAPA-Approved for sanctioned tournament play, so you will be able to master the game and play like a pro.
One of the many great things about pickleball is how easy it is to pick up. Within minutes on the court, you can feel ready and enthused for this incredible game. And if you're someone who likes to get good as fast as possible, the Gamma Poly Core Rzr might be the pickleball paddle you need.
At 7.6 oz, it isn't the lightest available, but the classic shape and comfortable handle make it fast moving. Newcomers can appreciate the easy way it fits in the hand, and how speedy every movement is.
The innovative Sensa Poly Core enhances reaction and touch, for a responsive hit and good control. First time players will find themselves advancing quickly.
Pros
Sensa Poly Core – A balance of touch and power.
Textured graphite face – Grabs the ball, for perfect placement.
Honeycomb grip handle – Feels natural in the hand, like an extension of the arm.
Cons
Price – Beginners may be put off by the higher price tag.
Pickleball isn't really pickleball if you're playing it by yourself, and there's no better way to learn than alongside a friend. This pickleball paddle set by A11N is an amazing lightweight set for anyone excited to start learning.
The set contains 2 paddles, 4 balls, and a handy carry case, all for a bargain price. However, this isn't a set that cuts quality for cost.
Constructed with a textured graphite face and a polymer honeycomb core, this is a quality paddle – especially for a beginner. Low-profile edge guards make this a durable option, with a 7.3 oz weight for extra control.
Pros
Double set – 2 paddles for a good price. Perfect for learning with a friend, or setting up a doubles team.
Polymer honeycomb core – Absorbs impact and distributes energy, giving a high-powered hit.
Cushion grip handle – Comfortable to hold, with an intuitive movement.
Cons
A starter set, so lacking the quality of control an advanced player might need.
Sale
A11N HyperFeather SE Pickleball Paddles Set of 2 - USAPA Approved | 7.3OZ, Graphite Face & Polymer Core, Cushion Grip | 4 Outdoor Balls and 1 Sling Bag
USAPA APPROVED: HyperFeather SE pickleball paddles have passed USAPA testing and are approved for all tournament play. Verify by searching "HyperFeather SE" or "A11N Sports" on the USAPA approved paddle list.
CONTROLLED SHOTS: The textured graphite face allows for accuracy and control so you can put the ball exactly where you want to.
LARGER SWEET SPOT: Return the ball with ease. HyperFeather's wide paddle face reduces mishits while the low-profile edge guard protects your paddle from damage.
MID-WEIGHT PADDLE: Weighing only 7.3oz, this paddle offers you better maneuverability and quicker reactions to the balls. First choice for newbies or players who have elbow/shoulder injuries.
BEST BEGINNER SET: This set is a great gift for pickleball lovers or those just starting out. The set includes two paddles, 4 Outdoor Balls, and 1 Sling Bag
Selkirk are known for creating the highest quality pickleball paddles, which puts them out of the price range for many beginners. However, this set provides the best of both worlds.
The wonderful construction of the Selkirk paddles, with the bargain price of a smaller brand. If you're a new player who wants to learn quickly, this could be the perfect set.
The SLK Neo set uses the same FiberFlex Fiberglass construction as their pro paddles, giving beginners that fast spin needed in pickleball. The graphite face improves speed and power, as well as accuracy. At 7.5 oz, they've got enough weight for powered hits, with the easy movement of a lighter paddle.
Pros
Double set – 2 paddles, 4 balls, and a carry case, with Selkirk's quality.
FiberFlex fiberglass – Elevated performance, balances power and control.
SX3 Honeycomb core – Large sweet spot, delivering speed and absorbing impact.
Cons
Low-quality balls – The balls included in the set can't match the paddles, and break quite easily.
Sale
SLK Neo by Selkirk Pickleball Paddle Set | Polymer Pickleball Paddles Feature a Graphite Face and SX3 Honeycomb Core | 4 Pickleball Balls | Pickleball Rackets Designed in The USA
| GRAPHITE PICKLEBALL SET | Created by the pioneers of today's Pickleball paddle technology, SLK by Selkirk combines the latest developments in paddle technology with comfort, balance, and affordability. SLK features a graphite face that has been trusted by the pros. Using Selkirk's patented FiberFlex Fiberglass technology to help elevate performance for both indoor and outdoor performance.
| SX3 HONEYCOMB CORE | Designed using exclusive honeycomb core technology. SLK Pickleball paddles yield a large sweet spot for constant speed while absorbing the hit and softening the feel.
| LIGHTWEIGHT PICKLEBALL PADDLES | Only 7.5OZ for each paddle, these pickleball racquets are beautifully balanced between lightweight paddles and medium weight paddles. Perfect for the next generation of Pickleball players.
| ULTRA CUSHION GRIP | Combined with 4.25" grip circumference and 5.25" length. SLK Pickleball paddles use Ultra-Comfort Grip material, designed for the highest level of comfort – absorbing both perspiration and impacts as they travel from the paddle face to the hand, allowing you to play without fatigue after long gameplay intervals.
| USAPA APPROVED | All Selkirk Pickleball paddles are USAPA Tested and Approved for Tournament Pickleball Play at US and international pickleball events. If you're enjoying the sport and want to take your game to the next level by competing in tournaments, SLK by Selkirk Pickleball paddles have you covered.
Buyer's Guide
Whether you're new to pickleball or have been playing for a while, picking the right paddle isn't an easy choice. In this buyer's guide, we give you the rundown of the features to look out for.
Weight
Pickleball paddles come in quite a range of weights, from 6 to 14oz. This might not sound like much, but you can really feel the difference when you've been swinging them about for a while. The perfect pickleball paddle is balanced in your hand.
Pickleball paddles fall into 3 weight categories: lightweight, mid-weight, and heavy weight. Lightweight is typically under 7.3 oz, mid-weight is 7.4oz to 8.4 oz, and heavyweight is 8.4 oz and above.
However, considering a heavyweight paddle might be over 10oz, anything up to 7.8 oz tends to feel light in the hand. In this review, we've covered paddles up to 7.8oz, to give a clear picture of the lighter paddles available.
Grip and handle
The grip is as important as the weight when it comes to choosing a pickleball paddle. Grip sizes tend to range from 4" to 5" and above. Many lightweight/ mid-weight paddles come with a 4" grip, which can be increased using tape. The grip should fit comfortably in your hand, to be grasped easily.
Palms can get damp during a game of pickleball, so textured grips are common. These stop the paddle from slipping. Some grips can even absorb sweat.
The handle length is also worth considering. A standard handle is between 4" and 5". The longer handle allows for more maneuverability, and can be used with both hands. Shorter handles can give better control.
Surface
Pickleball paddles normally have a textured surface, which allows them to grasp the ball, reducing spin from your opponent, and returning the shot with more power. The surface material should be strong enough to provide your hit with power, with a large sweet spot for consistent accuracy.
Core
When you start looking for a pickleball paddle, you'll probably see a lot of references to honeycomb. This refers to the structure that makes up the core of the paddle.
A large honeycomb structure can absorb the impact of the ball, deadening the sound and offering more control. The thicker the core, the lower the impact, and the more power you can give in return.
Polymer honeycomb is common, and some brands use innovative honeycomb technologies for the ultimate performance.
Shape
The sweet spot is an important part of the pickleball paddle. It's where you want to hit the ball, to give the most power and spin you can. Paddles are shaped in a variety of ways to try and improve this sweet spot. Some are long, others wide, and some are just bigger. 
Frequently Asked Questions
Why should I get a lightweight pickleball paddle?
Lightweight pickleball paddles give incredible control, which is something that beginners especially can benefit from. A lightweight paddle may lack some power, but they move easily, and you can feel each hit better.
Lightweight paddles are great for learning with, as they react more intuitively. 
Even advanced players can benefit from the control of a lightweight paddle, and many are now constructed from materials that provide increased power. For some, a lightweight paddle will just feel better, working with the natural strength of the arm, wrist, and hands.
What's better: lightweight, mid-weight, or heavyweight pickleball paddles?
There's no weight that's better than the other, it depends on what feature you value most in your paddle. A lightweight paddle offers the best reaction, a medium paddle gives the best balance, and a heavy paddle is all about power.
What you choose will be based on your own style of play.
Lightweight paddles are ideal for those who suffer from joint fatigue, as they don't weigh you down. Heavyweight paddles are good at absorbing impact, but can be tiring. Mid-weight is best for anyone with joint issues.
Who can benefit from a lightweight pickleball paddle?
Anyone! A lightweight pickleball paddle is a useful piece of equipment due to the quick response of the paddle.
They're the best choice for a beginner, as the increased control helps with learning. Intermediate players can appreciate the chance for refinement, and advanced players can enjoy the maneuverability. 
Last update on 2021-11-05 / Affiliate links / Images from Amazon Product Advertising API