Hey! This site is reader-supported and we earn commissions if you purchase products from retailers after clicking on a link from our site.
On the screen, most of us think that a doubles game might be easier when compared to playing singles. The reality though is quite different.
While in a singles match you may have to run more which requires more stamina, doubles definitely requires more skill and strategy. Not only is your positioning and shot selection important but your overall court awareness along with your partner's positioning is extremely important too.
In a doubles match, each team has a defined strategy which they stick to in order to get desired results. These include power serves, setups and positioning to name a few.
Today, we'll learn about the basics as well as some of the most unique doubles tennis tactics and strategies. Before moving on to a more advanced strategy, let us first understand the basics of doubles tennis strategy.
A doubles game is more about coordination than individual talent, skills, and raw power. If Nadal and Federer were to play as partners, they wouldn't be half as effective as they are as individual players.
We've seen in Davis cups how even the best players if paired together find it difficult to overcome actual duos. That's because coordination and understanding between the partners is far more important than just individual abilities.
Basic & Advanced Doubles Tennis Tactics
Control the Net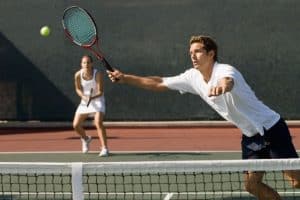 Image Credit: Stock Unlimited
If you're an avid tennis viewer, you'd be familiar with the name Bryan Brothers. This strategy is a basic one used by them as you'll commonly see them rush the net trying to end the point quickly. If you are able to control the net in a doubles match, you will be able to put a considerable amount of pressure on your opponent.
Through net control, you can force them to hit poor shots and even set them back. When you hit volleys close to the net, you're more likely to score the points due to the angle and speed advantage.
Active Lateral Movement
As a beginner starting to play doubles tennis, you should always try to move side to side when near the net. Engaging in a lateral movement when your opponent is about to hit a groundstroke will put them under considerable pressure.
On the flip side, players in doubles game practice excessively to try and not hit the partner on the net. We might have seen some funny incidents on a professional level this year, but that's basics in doubles game.
Target the Feet of Your Opponent at the Net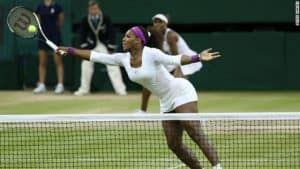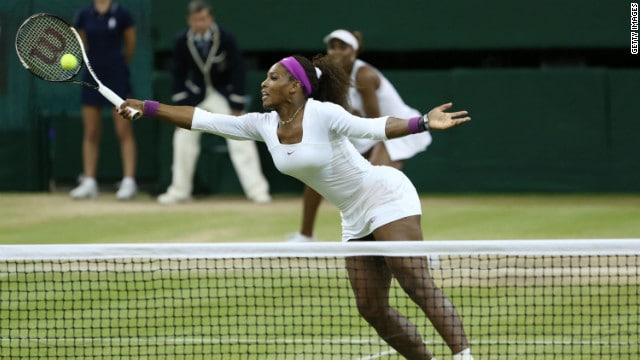 Image Credit: AusApproach
After the initial shots, at every chance you get you should focus on targeting the Net Player's feet. That's because it is very difficult to execute a decent volley with the ball pointed low at your feet.
This shot placement makes it extremely difficult for your opponent to easily return the shot. Whereas, if you aimed at their waist or chest level, it's a much easier shot for them to return.
Even if your opponent manages to reply to the shot, you can already prepare for a poaching shot or a smash so the next shot will be the winner.
Keep Your Opponent Pinned Using Deep Groundstrokes
When you're hitting a return shot using your forehand or backend, try and place the ball as close to the opposing baseline as possible as it will force your opponent backward. Not only will it put them on the backseat but it will allow you to spring forward and rush the net so you can hit a direct volley ending the point.
Most of the time when you hit an accurate groundstroke deep in the court, the return shot turns out to be a weak shot. This is one of the most effective techniques and one of the few that works just as well as singles as it does in doubles.
Conquer the Middle of the Court
We have talked about attacking the net and hitting deep shots. Now, it's time to control the center of the court. If you see doubles game, you'd see that there's a considerable space between your opposing partners.
If you target that area, it causes great confusion among your opponents as they don't know how to deal with it. More importantly, you take away the angles from your opponent's next shot because they are more focused on replying than replying with accuracy.
Thus, targeting the middle area of the court is an effective way to put your opponents on the back foot.
Target Your Opponent's Backhand
Most of the doubles players generally have a weak backhand volley. You can use this weakness and exploit it to gain an edge over your opponents.
If you're good at hard-hitting or even executing angular shots, try and aim the shots towards your opponent's backhand. This will put them in a tough spot and the most they would be able to do is to come up with a weak reply.
Emphasize Shot Placement
Serve and Volleys are basic shots in tennis. Power players use to serve as a stand-alone shot to hit aces whereas players with quick movement look to hit shots which makes returning difficult for their opponent. Shot placement is even more important in doubles than in singles.
In doubles, you want to make extensive use of the doubles alley and target the center of the court to try and cause confusion between the players on the other team.
Try to Anticipate Your Opponents' Moves
No, you don't have to read your opponent's mind. But sometimes, it can be very clear what your opponents intend to do. For example, if you think your opponents are going to hit one groundstroke and then try to rush the net, you'll be prepared and be able to execute your shots accordingly.
In today's time, though groundstroke returns are used more commonly, a well-executed serve makes it really difficult for your opponents to return. Anticipation along with the initial shot is key to score points.
As another example, if you and your partner feel that your opponents might return with an aggressive volley, try to move in the backward direction so you can anticipate and hit the ball at the right time.
Try to Poach Shots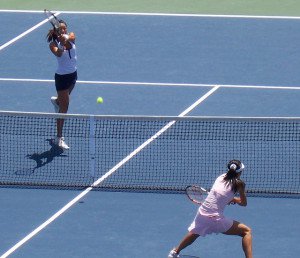 Image Credit: Aus Approach
One of the most aggressive strategies used in doubles tennis, poaching is a great way to keep your opponents off balance and quickly win points. It's a great technique used in doubles games to confuse your opponents.
When a serving team plans a poach, your partner can then do a hand signal that she is going to go for poaching regardless of how effective or ineffective the serve turns out to be. Thus, as soon as the ball is served and the receiver is about to swing, your partner will move forward diagonally.
The poaching technique is extremely effective when your opponent hits a cross-court return. Mind you, as your partner moves forward, you must quickly cover the space so there's no open space.
Poaching is a very high-risk high-reward activity so be sure to plan it out ahead of time with your partner. One of the keys to effective poaching is to choose the right opportunities! You want a slow-moving cross-court shot. That will allow you to easily slide over and smash the ball down into your opponent's court – winning the point!
Engage in Fake Poaching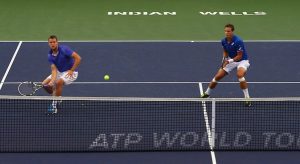 Image Credit: Aus Approach
Fake poaching is exactly the opposite of what we learned above. Herein, you don't actually poach but just lure your opponent into moving into a specific area i.e. to cover the doubles alley. Fake poaching is a great technique to create confusion between your opposing partners.
Use Clear Hand Signals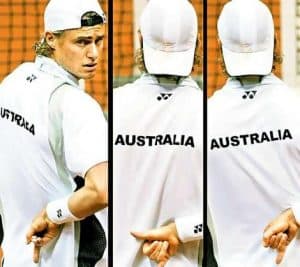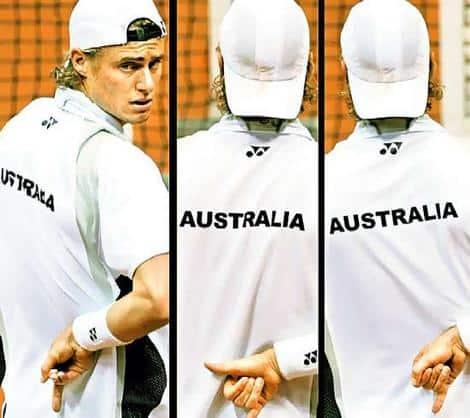 Image Credit: Western Reserve Racquet & Fitness Club
I mentioned hand signals above and you might be wondering what's all that about? Well, hand signals are an integral part of a doubles game. These are used by team members for executing different strategies and shots.
 For instance, one finger signal is given when your partner is to poach after the first serve, two fingers if he/she is to poach after the second serve. Any hand gesture is done right at the start and as a server, you should pay attention and respond with an answer – Yes or No.
Now, though this is not a principle practice but a standard one for better understanding.
Get Into the I Formation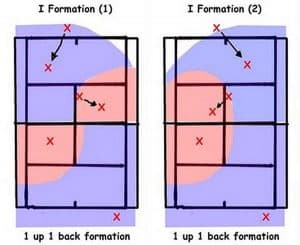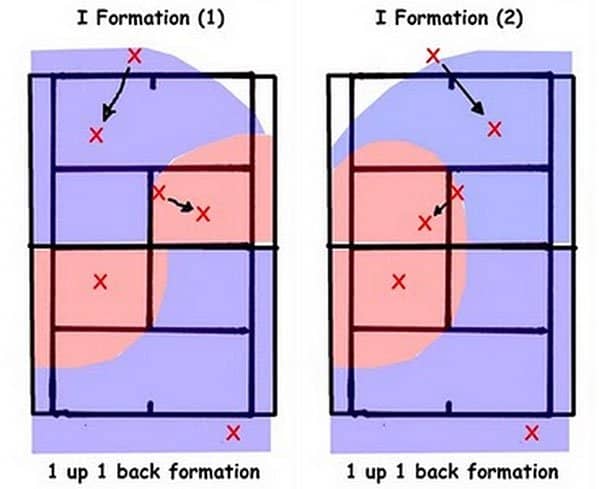 Image Credit: Optimum Tennis
The I formation is a technique that you must have seen in a lot of live events. Herein, the server executes the serve near the baseline whereas his/her partner is positioned at the midpoint. They both are almost in a straight line with the partner near the net crouching so to prevent vision obstruction.
Thus, the server hits the serve and the pass passes over the head of his/her partner and as their opposing team hits the return, they cut diagonally towards the ball. It is similar to the poach strategy except it has a different initiation.
Avoid Playing Offense on Defense
Tennis, similar to pickleball, is a game of errors. Especially in doubles game, 60% of shots are error-prone. Try not to play offensive when defending. Use defense as a way to set up your attack. Use lobs when defending and try to hit the deep shots more often. You have to turn your opponent's advantage against him/her.
Thus, by executing a powerful shot when deep in the court would only result in an impressive reply from your opponent. Most of the time when you tend to attack while on defense, you might lunge too low, get off-balance, fall or put yourself in a difficult position. Thus, play safe and smart.
Attack the Lob, Don't Let It Bounce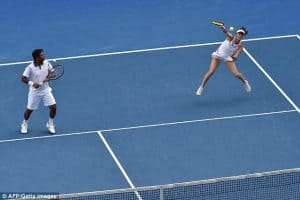 Image Credit: Aus Approach
Replying to a lob coming from a deep end of the court can be quite frustrating. However, you should stay composed and try not to let the ball bounce. When you catch the ball while it's in the air, you make it impossible for your opponents to come up with a response.
Net players by positioning themselves in the middle of the service box can apply maximum pressure on groundstrokes. Closing the distance towards the net and catching it directly is the best solution to this problem.
Use Lob for Return Shots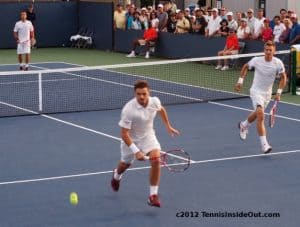 Image Credit: Aus Approach
Using a lob for a return shot is an effective way to make your opponent uncomfortable. When you use lob instead of power, you leave your opponents in chaos. Thus, they are forced to change their position and will often end up with a weak reply shot.
If you have opponents who like to cling to the net and they serve hard to draw weak returns, hitting a well-placed lob as a return can cause turmoil on their end. When executing lobs, ensure that your shots are directed over the non-dominant shoulder.
Two Back for Return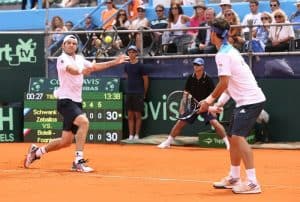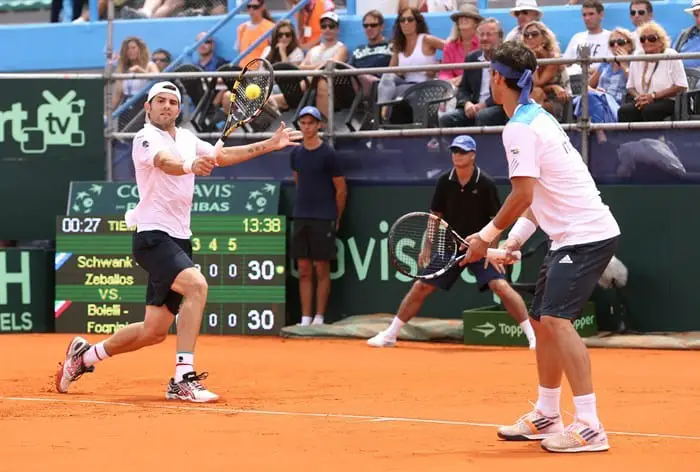 Image Credit: Aus Approach
Occupying the net might seem like an obligation but it's not. Both you can your partner can move back for returns. This technique is used a lot in today's game where serves are quite bigger and the net players are more athletic. The only thing you need to remember is to keep your returns away from your opposing net player.
By moving adjacent to each other, the entire formation chances along with the positioning dynamics and thus it becomes really hard for your opponents to figure it out within a few seconds. I like to use this technique as a lob return. With my partner with me, it's easier to respond to an overhand.
Cover the Zones Not the Spot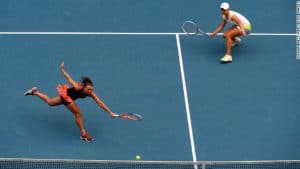 Image Credit: Aus Approach
The most common mistake that amateurs often make is that they stick to the line and position. Doubles tennis is not about beating down the line. Most of the players seem petrified when I tell them to handle the zone and not just the spot.
It's like playing zone versus playing man-to-man in football. You're not going to cover the whole surface but you should master your area and not leave everything on your partner standing behind you.
Move in sync with your opponent and communicate regularly so both of you can take up positions that allow you to execute shots in a better way.
Common Mistakes You Should Avoid in Doubles Tennis
Moving Down the Line From the Crosscourt Ball
One of the silliest mistakes players often make is they change their direction in order to move down the line from a crosscourt ball. In fact, this move results in the most errors than any other pattern.
Not just doubles but even in singles competition, moving down from a crosscourt ball is never a good idea. One of the primary reasons why it doesn't make sense is because the court is shortened when you hit down the line and thus the ball becomes harder to attack.
Targeting the Forehand
Forehand shots are the most lethal weapon in doubles tennis. Directing serves and returns towards your opponent's forehand is like serving them points on a platter. As mentioned earlier, targeting your opponent's backhand is the best way of putting them under pressure.
Backhand shots are harder to execute in comparison to forehand shots. Thus, bait your opponents into taking the risk. Try leaving a small window which tempts them to execute shots from their weaker side. Once they do, exploit the space that they vacate.
Harder Is Better
Most doubles players often carry a misconception that harder works better in a doubles competition, no it doesn't. It's the opposite in fact. The softer and the more accurate your shot, the better it is.
The simple reason why it works is that it sets up a great response. Let me give you an example: Imagine a scenario wherein your baseline opponent floats a groundstroke over the net and you decide to catch it on the volley. However, you failed to connect properly and targeted the wrong person.
What this does is that it puts the ball right back to the baseliner who executes a lob shot and resets the entire move. Thus, here's a general volley rule that you should follow: Attack the net player when the volley is high and hit soft shots when the volley is low.
Don't Stay Stationary
Moving is important even in doubles games because it keeps resetting your opponent's visual target. Don't try to get into positions to hit your favorite shots rather try to get into positions where you can make your opponent's life miserable.
Forget your comfort, try to make your opponent uncomfortable.
By moving across the court, changing formation and positions, you don't give your opponents time to settle and counter against your strategies. Always try and move in new positions to open up new angles so that the placement and angles become harder to reply.
Not Pinching
Pinching involves moving diagonally towards the center net strap. By using this technique, you're able to reduce the angle from your opponent's crosscourt shot. Sure, you give up a tiny bit of alley but that's not a problem since the angle becomes too tight.
Most of the beginners don't use the pinching techniques because they're scared to give up the space. If you're a beginner, visit our best tennis racquets for beginners guide!
Try to use pinching so you can force your opponents to hit uncomfortable shots into a smaller target which you can then attack. Most of the time, their crosscourt returns will be weak and that's where you can put it away.
Conclusion
Any effective doubles strategy requires effective communication. You should focus on forcing your opponents to hit uncomfortable shots. You can create an opening with every good shot and make it really hard for your opponents to come up with a response.
By shifting positions and changing formations, you will be able to get the better of your opponents every time you step on the court. Don't let your opponents get into a rhythm and the best way to do so is by changing your own strategies so they are forced to match up with yours.