Hey! This site is reader-supported and we earn commissions if you purchase products from retailers after clicking on a link from our site.
Whenever you're first in the market for a new tennis racket, the very first thing you have to do is find the correct tennis grip size for you.
This is especially important if you plan on ordering a tennis racket online(hint: Amazon and Tennis Warehouse offer significant savings offer traditional tennis stores).
The good news is that 1, it's really easy to find your tennis grip size, and 2, you can do it at home right now! Follow along as I step you through it.
There are two main methods to finding your grip size. We'll start with the first that requires a tennis racquet. If somebody else in your family plays tennis but you're just starting, ask to borrow it. This will take less than 5 minutes.
Method 1: Using a Tennis Racquet to Find Your Tennis Grip Size
Start off by placing the tennis racquet in front of you on a flat surface.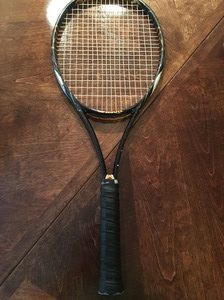 Place the crook in between your thumb and your index right on the tennis racket handle. An example of this is shown to the left. The tennis racket head should be facing horizontal as in the picture.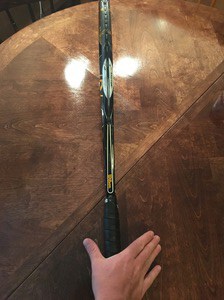 Wrap your fingers around the handle comfortably. Imagine you are gripping somebody's hand. There's no trick to this, just wrap your fingers around the handle.
Remember! It's always better to go with a smaller tennis racquet grip size than a larger one. There are a number of ways to make a grip larger including overgrips and heat shrink sleeves. Guess how many ways there are to make a racket grip size smaller? None!
Method 2: Don't have a tennis racket on hand? Use a Ruler!
For the people who don't have a tennis racquet in the house already, the good news is that you don't even need one! You can also just use a simple ruler and measure your hand. If you don't have a ruler or tape measure though, you're out of luck. However, if you don't have a single measuring device in your house, I think you might have bigger problems than finding your tennis racquet grip size.
Lay your hand out flat. Do you see the lines that crisscross your palm? We're going to use those to help us measure our grip size.
Place the ruler at the base of the bottom most horizontal line. The bottom of the ruler should be approximately in the center of your palm. If you drew a straight line out from the base of your outstretched thumb, the ruler should be a little below the base of that line.
The blue line below shows the measurement for grip size. It should be anywhere from 4 – 5 inches.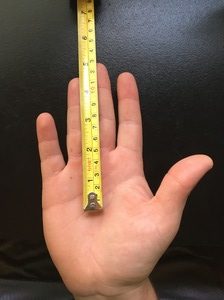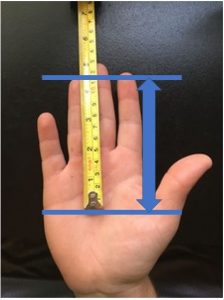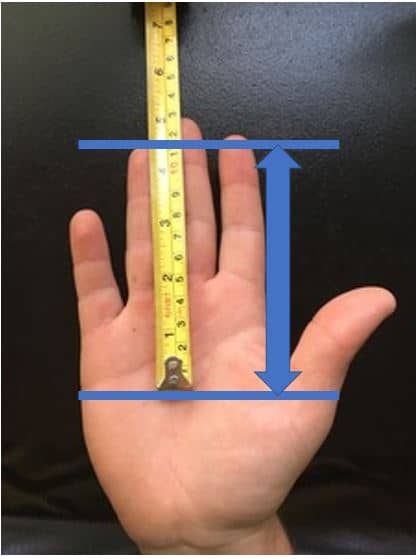 Next to the pinky. Write down the distance to the nearest 8th of an inch.
There you go! You've just found your tennis racquet grip size without a tennis racket in sight. Wasn't that easy?
Why Is Choosing the Correct Grip Size Important?
Have you ever tried to hold something that was too big for your hands? Or have you ever tried climbing? The muscles in your forearms are responsible for your grip and gripping either a very large objects or very small objects tire those muscles out earlier.
With a grip that is too small you will constantly have to grip the tennis racket harder to keep it from twisting in your hands. This can rapidly tire out your forearm muscles leading to you not playing tennis for as long as you could.
The tension in your forearms caused by the small grip can also lead to tennis elbow by causing your entire arm to stiffen up just to grip the racquet. Needless to say, it should be avoided.
With a grip that is too large, you won't be able to comfortable get a handle on the racquet. In brief, it will feel like the tennis racquet is controlling you rather that you controlling the racquet. This can lead to a number of problems in your game including executing a serve properly(you don't want to release the grip right as you serve!) and can lead to problems changing grips mid way through a rally or a match.
I've done this before and it's the worst: don't drop your tennis racquet just because the grip is a wrong size. Take the time now to figure out your grip size so this never happens. Wondering whether it's racquet or racket, visit our guide!