Hey! This site is reader-supported and we earn commissions if you purchase products from retailers after clicking on a link from our site.
The counter puncher. Moonballer. Lobber. Pusher. Dreaded words to be found or heard at the tennis court. What does it mean to be a pusher in tennis? It means to be problematic, that's what. A pusher can be a difficult challenge to overcome, making them a bothersome opponent to have whether you are a recreational or amateur player. Why? Because you are forced to play at their pace. So how do you identify a lobber, and how do you beat them? It's time for you to find out.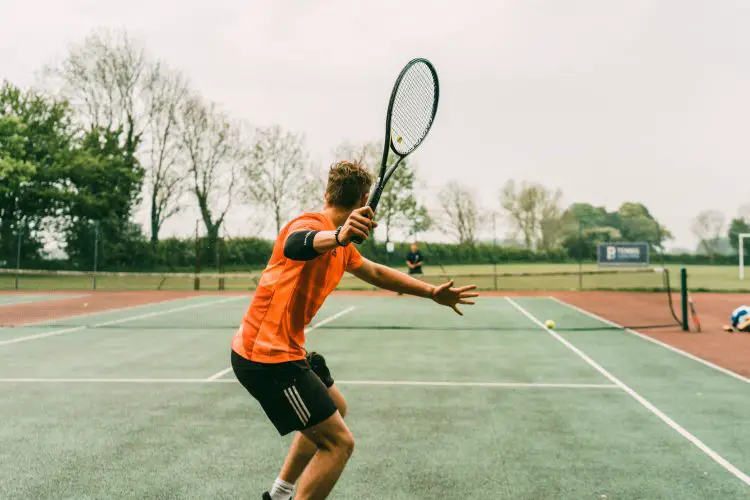 What Does it Mean to be a Pusher in Tennis?
The pusher, also known as a lobber, is a tennis player who just pushes the ball back to you, lacking power, consistency, or even spin. They rely on defense to win their matches, not speed or technical prowess. The difference between a pusher and moonballer is that the later tends to have more skill. Moonballers add spin and offer higher, more difficult to return shots. Pushers understand that they do not have the ability to overcome better, faster, or stronger players, so they instead wait for the opportune moment to bank on your mistakes.
Pushing is an effective play style, make no mistake of that. It is a defensive play that reserves energy. However, from the outside, pushers are boring to watch and play against. They take no risks. They lack firepower.
Lobbers used to be strictly recreational or amateur, but now even professionals are adopting this strategy as more realize the merit of it. However, there are many people out there who believe that tennis is all about the attack and that pushing is harming the integrity of the sport. Whichever side of the fence you are on, you should know how to beat a pusher.
Why Are Pushers Difficult to Beat?
First off, it's important to know what makes pushing such a great tactic and why so many use this style to win matches. Knowing the mental game that pushers play ensures that you won't get ensnared in it.
Pushers lob the ball over the net with no real show of power or control. They have seemingly unlimited stamina, because they don't see the point in moving towards the net. They stay calm. Pressure does not affect them.
For their aggressive opponent, this is frustrating.
But what is separating you from the pusher? How you view the game. You might think that success is scoring points. A pusher believes that success is keeping you from winning said point.
This becomes a complex exchange. You might both be tied. You are pressing hard for the advantage point, and somehow your opponent keeps blocking you. This grows tiring, flustering, and debilitating. Seeing you waffle makes the pusher more confident.
The outcome the pusher is looking for is your mistake. They are focusing on each shot they take, because they know it could be the one you miss. In other words, they are being patient. They know if they keep doing what they are doing, you are going to mess up eventually. That is their mindset.
Now that you know how a pusher thinks, you can start to come up with a method for overcoming them.
Tips on How to Beat a Pusher
Today's the day! You are going to learn a foolproof method for beating any pusher you come across.
This video provide excellent information:
Once you've watched the video, feel free to try the following tips the next time you meet your arch-rival on the court:
1. Bring The Pusher to the Net
Pushers love the back of the court. They find the baseline to the foundation of their soul-crushing tactics. So what do you do? Switch up their rhythm. Start by rallying. Get them into a comfortable rhythm where they feel like they can predict what is coming next.
When you are ready, introduce a cross-court slice that falls short. The slice shot should be aimed right at their feet. This will catch the pusher off guard, and they will end up sending you a short ball. At this point, you can bring them into unfamiliar territory.
Punt the ball back and watch them flounder. Drop shots do wonders, too.
2. Level Up Your Return Game
Club-level pushers are known for having poor technique and below average serves. Few know how to perform or handle a slice or kick serve. As such, their second serve is slower. Naturally, you might want to rocket that serve right back at them, but if you try to pound the ball when it is moving slow, you're only going to end up with one that goes out of control.
Instead, hit the ball back with the same velocity. Use this time to get more control of the ball. Close off your stance and transfer your body weight to the front when making the return on the slower serve.
3. Try a Kick Serve
If you have a decent level of technique, try adding topspin to your tennis serves. Kick serves need to be dealt with early or risk the ball dropping off too late. Thus, you are again forcing the pusher out of their comfort zone. Sometimes, the pusher doesn't know how to react and gets caught in the middle, losing control of the ball as it kicks away or straight into them.
4. Force Them To Use a Backhand
What does it mean to be a pusher in tennis? It means lobbing with the forehand all the time. In short, pushers do not have a strong backhand game. Therefore, if you are having a hard time getting the ball past them, you attack their main weakness. Start targeting the backhand. Aim consistently to their backhand side, providing additional pressure. There is a high chance your pusher is not going to be able to keep the pace for long, especially if you keep making them go for the backhand.
Pro tip: Switch up your shots. Give them a few regular lobs—yes, play their game for a little—and then turn up the heat with a well-placed attack to their backhand side.
They Push, You Pull Ahead
What does it mean to be a pusher in tennis? It means you push or lob the ball rather than attacking. For more aggressive players, pushers are a nightmare of an opponent. Fortunately, there are proven tactics that can help you overcome even the most problematic of pushers. Bring them to the net and pressure them with a variety of serves and shots. So long as you bring the heat, you will pull ahead on the scoreboard.