Hey! This site is reader-supported and we earn commissions if you purchase products from retailers after clicking on a link from our site.
Badminton is one of the most intense sports in the world and it requires incredible skill, agility, technique, and awareness. There are many different types of shots that are viable in badminton, and many of them require a great deal of technique and practice in order to become proficient with.

There is a lot of strategy in badminton and a wider, more effective pool of shot types gives you a huge advantage, allowing you to push your opponent around the court and to totally outmaneuver them.
One of the most effective shots in badminton is the smash shot, and it's probably one f of the most essential offensive techniques in the sport that wins a lot of points and puts huge pressure on your opponent.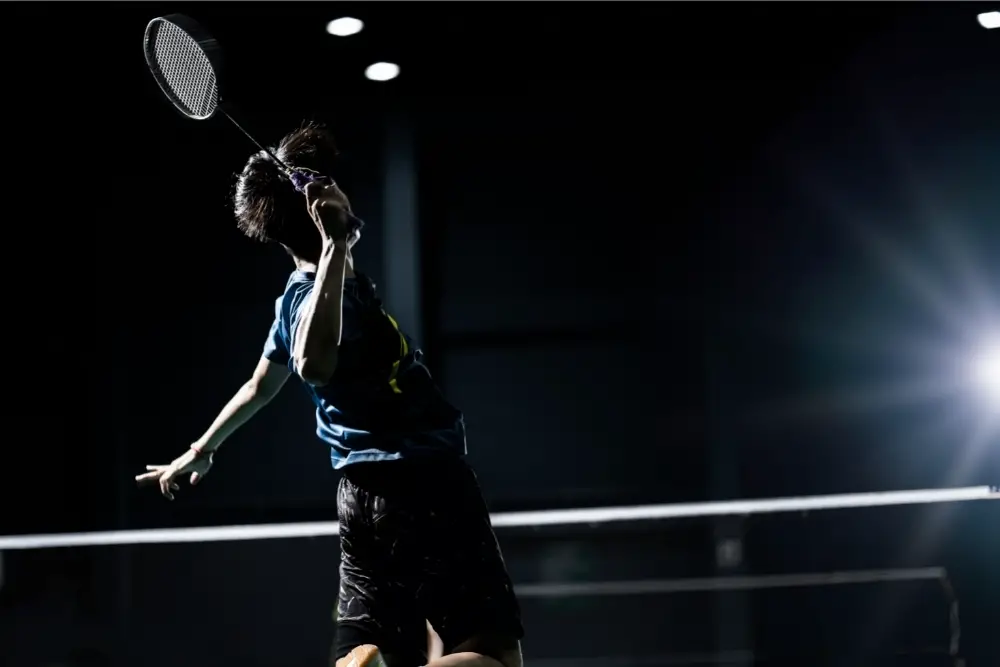 What is a smash shot in badminton?
The smash shot is an offensive shot that is typically used near the rear of the court. The ideal smash shot hits the shuttlecock down at a steep trajectory into the opponent's side of the court, making it difficult for them to reach the shuttle in time to make an effective return, and very often a smash shot will either lead to a successful rally and the winning of a point or at the very least force the other player to make a weak return that sets you up to win on the following shot.

In terms of pressure and tactics, the smash shot is highly effective, and mastering this shot will lead to you gaining far more points at your next game, and will give you much more initiative during a match.
Why Is It So Effective?
The smash is so effective because it gives the other player very little time to respond and forces them to move where you want them to move.

Many times a smash shot will result in the winning of a point as it can be difficult to effectively reach and return a well aimed smash, however even if a return is mustered, the opponent will often be out of position and on the back foot for the rest of the point, giving you a very good chance of successfully taking the point.
While standard badminton shots are designed to be hit high and far with a looping trajectory, the smash aims to send the shuttlecock down at a steep angle to increase the chance of scoring a point or giving your opponent very little time to maneuver and respond.
Naturally, hitting the shuttlecock to this effect is very difficult, due to the power needed for a successful smash and the accuracy that's required.
Types of Smash
There are 4 main types of smash shot that can be used in various situations and to varying degrees of success.
In this section, we're going to identify the main types of smash shots in badminton.
Forehand Standard Smash
This is the most effective and most used type of smash shot and is the default offensive shot in the game of badminton.

Naturally, it is done with a forehand grip and is used on the racket side of the body. Depending on how you time your shot and the power you're able to generate, the trajectory of this smash can be very steep or fairly flat.
The higher you manage to hit the shuttle the more power and angle you will generate, resulting in a very good smash and a good chance of winning the point.
Backhand Standard Smash
The backhand standard smash is the least used smash and is done using a backhand grip on the non racket side of the body.
It is the least popular type of smash as it's difficult to aim and difficult to master and is often used in desperate situations when few other shot choices are available to you. It's difficult to generate enough power using this shot to win a point so it's not the favored offensive option.
Forehand Overhead Smash
This shot is used with a forehand grip on the non-racket side of the body and is a much more reliable option than the backhand standard, however, you'll need to hit the shot at a good height to get the power you need.
Forehand Jump Smash
The jump smash shot is a very powerful and flashy technique that is done with a forehand grip on the racket side of the body.

The difference between this shot and the others is that the player making the shot will jump and hits the shuttle while they're in the air, getting to the shuttle even earlier and at an even greater height which will of course give the smash an even steeper downward trajectory and make it that much harder to reach or effectively return.
While this is a difficult shot to master, it's very effective in the correct situation.
When to Smash?
The best time to go for a smash in a singles game is when you are near the back of the court and are returning a high shuttle. However it's not something you should use too much as it will make you predictable and comes with risks of hitting the net.

Ideally you want to use this shot when you've maneuvered your opponent into a weak position or if they're a little fatigued, or when the most favorable conditions arise to get a very steep and powerful smash.

These shots should be used to close out a rally and secure a point. Most rallies are very strategic affairs in badminton, with players using various other shots to eventually try and set up a favorable smash.
If you try to use the smash in a poor position you will potentially hit the net which will give up a point, or end up being a weak return which your opponent can use against you and likely cost you a point instead of winning you one.
In doubles there is even more strategy involved than singles, and you should be smashing as often as you're able to from the back of the court as you have a partner to cover any potential return, and will allow you to put a lot of pressure onto your opponents.