Hey! This site is reader-supported and we earn commissions if you purchase products from retailers after clicking on a link from our site.
Watching and learning tennis are two of life's little pleasures. Figuring out the scoring system in tennis, though, results in a lot of head-scratching and shrugs. Games, sets, matches, deuces, and love. What does it all mean? Why is tennis scoring so weird? This guide is going to give you all the terms you need to keep playing and watching tennis for a lifetime, as well as help you use the terminology correctly while on the court.
Let's get started.
Tennis Scoring Overview
For those who are new to tennis scoring, here is some context for you. The tennis scoring system gives players a chance to accumulate points within a game, leading to them winning a set. In tennis, the points are counted as 0 or Love, 15, 30, and 40. For some game formats, a player must win those four points before winning the game. Whoever is the first to win 6 games wins a set. To win the match, a player must win 2 sets out of 3. Sometimes, they need to win 3 sets out of 5.
Yes, this is a lot to understand right off the racquet. Don't worry, the full explanation is coming!
Here is Venus Williams explaining love in tennis:
Origin of Tennis Scoring System
In order to understand where the scoring system comes from and why it is so odd, a trip back in time is necessary. For example, when did "love" take the place of zero? Well, no one really knows the answer to that one. In the 1700s, "love" was used to mean "nothing," which could be some explanation. Others believe that "love" is the English pronunciation of the French word "l'oeuf," meaning "egg." And if you have ever seen an egg, you know that looks a little like a 0.
For all the mystery and intrigue surrounding the weird tennis scoring system, it can actually be traced way back to the Medieval period. In 12th century France, there was a game called jeu de paume, which was played by smacking a ball back and forth with the palm of your hand. In the 16th century, racquets became a thing.
Because French nobility started to add some pageantry to the game, tennis became stylized and extremely popular. Within the 16th century, Paris alone had 1,000 tennis courts. Intriguingly, Henry VIII was an incredible tennis player.
One of the earliest accounts of the scoring system was written in poem a couple of years after the Battle of Agincourt in 1415. In the poem, the points of 15, 30, and 45 were used while describing a game between English King Henry V and Dauphin of France. Other poets discussed life as a tennis game, using 15, 30, and 45 regularly.
But Why Increments of 15?
Why are tennis points 15, 30, 40? The reasons for such a method of counting are obscure. During the 16th century, a lot of people had questions about where even the word tennis came from, even though it came about in the 15th century. Some people hypothesized that the scoring was based on multiplication or by scoring based on a measurement of distances from earlier courts. However, no answer was found.
The common suggestion is that the score originally marked progression on a clock, as the scores were once 0, 15, 30, 45, and 60. Later, it was changed to 0, 15, 30, 40, 50 and 60, but 60 was dropped and 50 became known as "advantage." Yet, no one is sure why the 45 eventually became 40. It just happened at some point, and that has been the scoring system ever since.
Recent Changes To the Scoring System
Did you know that on June 22, 2010, there was a match at the Wimbledon Men's Singles Championship that lasted for a total of 3 days. The players logged 183 games during those 3 days, broke several world records, and had a score on the final set of 70-68. Unless the final set rules are changed again, this match will most likely remain the longest one in tennis history.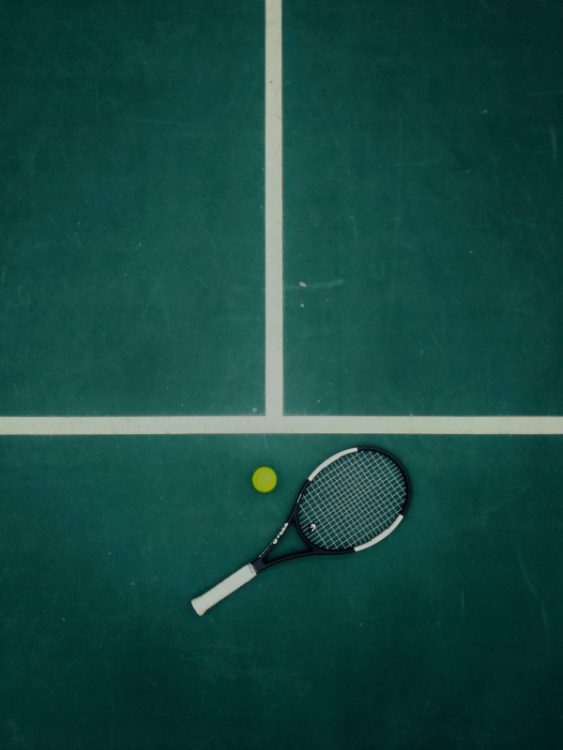 As of March 2022, the Grand Slam tournaments (US Open, Australian Open, Wimbledon, and French Open) stated that they are changing the format of the matches—the first major format change in 117 years. Now, it is a consistent, final set with a tiebreak. Whenever a match reaches 6-6 during the deciding set, there will be a 10-point tiebreak for the win. This takes place of the old scoring that was introduced in 2019, which was as follows:
US Open: First player to achieve 7 points wins a tiebreak at 6-6.
French Open: No tiebreak. Advantage set only.
Wimbledon: 12-12 with a 7-point tiebreak.
Australian Open: 10-point tiebreak after reaching 6-6 (the only one that did not change).
The Point System in Tennis
As with most sports, points are assigned when a player or team scores. In tennis, scoring means getting the ball past the defense of your opponent. Once enough points are accumulated on either side, one player or team will win the game. With enough games, that same player scores a set.
During the first serve, the points are 0-0 or Love-Love. The first point you can score is 15. The second point is called "30," and the fourth is "40." Should you get the deciding point, the referee or umpire will call "game." The score of the person serving always comes first, so if you have 15 and your opponent has 30, you say "15-30" or "15 serving 30."
If you are having difficulty separating points from games and sets, think of them as the regular numerical system. First, you have your scale of 1 through 9, which would represent your points. Then you have 10, 20, 30, and so on to represent games. With enough tens, you get hundreds (100, 200, 300), or a set. Lastly, the thousands, which are your match.
Check out this video explaining the scoring system:
When Do I Use All and Deuce?
Knowing when to use the right terminology is key in a game that still has some of its historic decorum. As you gain points, you may come to a time when the score is tied at 15-15 or 30-30. During your serve, it is acceptable to say "15-All" or "30-All." Yes, you can even say "Love-All." All is used to signify a tie.
Deuce, though, is used strictly for a 40-40 tie. A player will need to score two more points consecutively to win the game. The first point after a deuce is called the advantage. Should a player lose that point, the advantage is lost and the status is once again a deuce.
How to Score Points in Tennis
How do you go from Love to 40 and beyond? The most basic lesson is that you hit the ball over the net and into the opponent's court. Your opponent will attempt to return the ball, but if they can't you score a point. In the event your opponent does return the ball, you begin a rally, where the ball is bouncing back between your court and theirs. Here are some other ways points are gained in tennis:
Your opponent misses two of your serves in a row. If they miss the ball outside of the box, it is called a double fault.
The opponent sends a shot over the net but the ball lands outside of your court, which is called an error.
You hit a shot that flies beyond the opposition, called a winner.
Your opponent hits the net during a rally, also known as an error.
A shot bounces twice in the opponent's court before it is returned, known as a double bounce.
Once you go from 15 to 40, those points then become 1 game. Continuing accumulating points, you may get 2 games.
What Consists of a Game in Tennis Scoring?
You can think of games as the second layer to the tennis scoring system. Past points, there are game points. Basically, a game is an accumulation of 1-6 points. Once a player has gotten 6 game points, they then receive a set point.
Let's explain.
At the beginning of the match, you have 0×0. Someone scores a winner and receives 15, their first point. As players gather points from faults, errors, or winners, they may reach a score of 40 to 40. One of them will need a margin of 2 points to win the game, meaning that they will continue playing until there is a 2 point lead.
When that happens, those points gained are called an "advantage."
Here is a table to demonstrate what is happening:
| | | |
| --- | --- | --- |
| Game Scenario | Player A Score | Player B Score |
| Beginning | 0 | 0 |
| Player A scores a point on a serve | 15 | 0 |
| Player B wins a point after a rally | 15 | 15 |
| Player A wins a point after a rally | 30 | 15 |
| Player B scores | 30 | 30 |
| Player A scores on a serve | 40 | 30 |
| Player B wins a rally | 40 | 40 |
| Player A wins a point | Advantage | 40 |
| Player B wins a point | 40 | 40 |
| Player A wins a point | Advantage | 40 |
| Player A wins another point | 1 Game, 0 Points | 0 |
Since the players could no longer achieve a 2-point margin after both reached 40, they are then given advantages when they score next. After an advantage, they must score again to win the game.
After scoring a game, the points are reset to Love.
What Is a Set in the Tennis Scoring System?
Sets are the next unit of scoring in tennis. There are 6 games in a single set. In order to win a set, players must reach those 6 games before their opponent gets to 5. In some cases, should both players reach 5-5 games before the final set, they will keep playing until one has reached a margin of 2 games, which might end up being 7-5 or 8-6.
Should both players reach 6-6, a tiebreak is initiated.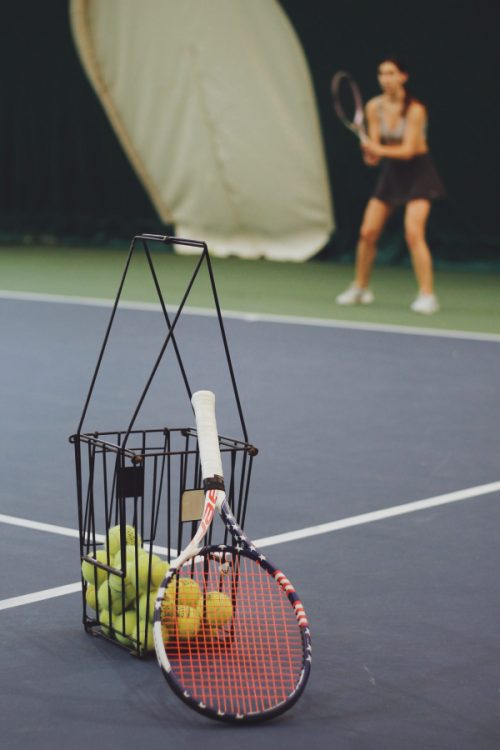 There are some alternative scoring for sets out there, including the Long 5th Set (which resulted in that 3-day long game mentioned earlier), the 8-Game Pro-Set, and the 4-Game Set.
The Tiebreak Explanation
Tiebreaks are being used more regularly now in tennis, particularly in the four Grand Slam tournaments. A tiebreak is a special way to break a tie. In normal conditions, a tiebreak is used when players are 6-6 in game points. Unlike the normal scoring system of 0, 15, 30, and 40, a tiebreak consists of 0, 1, 2, 3, 4 points and more. Some tournaments use a 7-point tiebreak while others are doing 10 points. For example, ever since the 2022 rule change, all Grand Slam tournaments are using a 10-point tiebreak.
The first player to serve will be serving for a single point, while the second player to serve will get 2 points for a winner. After those two initial serves, every serve counts for 2-points. The first person to reach the maximum amount of tiebreak points will win the round, as well as the set. Should players tie at 6-6 or 9-9 (depending on the format), there will be advantage points assigned until someone gets a 2-point lead.
Once a player has won the tiebreak, they are given their set point. The game scoring then reverts back to 0-0, with the regular points (0, 15, 30, 40) restarting.
But is there an upper limit to the tiebreaker scoring if the players need to exceed 10 points to win? Currently, the world record for the longest tiebreaker stands at 25-23. You need a clear 2-point win, after all.
Want to see history made? Here is footage of Wimbledon's greatest tiebreak between Roger Federer and Novak Djokovic:
Winning a Tennis Match
Tennis points first begin with love then ascend by 15, 30, and then 40 before the game. Game points go up to 6, unless a 2-point advantage is needed. After 6 game points are awarded, a player can win a set. To win, a player must win 2 out of 3 sets or 3 out of 5 sets, depending on the game's format. The majority of tennis tournaments out there have adopted the 2 out of 3 set rule, as it saves time and energy (for players with multiple matches in one day).
Some possible final score sets for the 2 out of 3 format include 2-0 and 2-1. The game scores could be 6-3 or 7-5, if the sets are 2-0. For 2-1 sets, game play outcomes could be 6-2, 7-6, or 6-4.
You've Scored Tennis Knowledge
Tennis scoring is weird, without a doubt, but it is also fascinating. Now, you should have scored some valuable knowledge, as well as enough scoring facts to win at tennis trivia! Though much of the origin of tennis scoring is shrouded in urban myths about clocks and eggs, it does give you some appreciation for the longstanding tradition of tennis.