Hey! This site is reader-supported and we earn commissions if you purchase products from retailers after clicking on a link from our site.
Known as the ultimate player's racquet, the Wilson Pro Staff RF97 Autograph Tennis Racquet, 4 1/2-Inch
was designed by the tennis legend himself, Roger Federer. This tennis racquet features a vibrant mix of red and black colors that will stand out on the court.
Picture
Product Name
Review Summary
More Information
Wilson Pro Staff RF97 Autograph Tennis Racquet-4 3/8
Strengths: The RF97 packs a powerful punch on the court making it perfect for aggresive players.
Limitations: Coming in at 12.6 ounces, it takes some time to get used to the heavy weight. Also, with such a stiff frame, people with joint issues should not use it.
Overall: The RF97 is designed to take an intermediate to advanced player to the next level. It can take your game to the next level if you know how to use it.
Check Price Now
Holding the Wilson Pro Staff in your hand, you can feel the weight of this racquet instantly. Depending on your play style, this could be good or bad. On the court though, the autographed RF97 tennis racquet gives you excellent control while being heavy enough to smack the ball with some power as you follow through with your swing.
Now, this racquet is definitely not right for everybody so read our full review below to see if this is the perfect racket for your playing style.
I always like to start my tennis racquet reviews with how this racquet feels while playing because I think that's the most important thing people care about.
Hitting the Ball with the Wilson Pro Staff RF97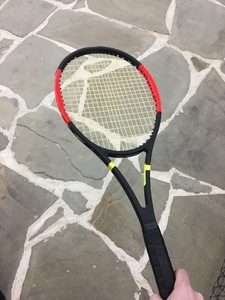 As I mentioned before, weighing in at 12.6 ounces, I felt a little unused to this racquet initially. Make sure to look up the current weight of your racquet before buying the RF97 as it might feel too heavy for you.
With my first forehand across the net through, I could instantly see the appeal of the Wilson RF 97 racquet. The sheer power and control you get from the combination of weight and head size are unbelievable!
I was able to place balls crosscourt and hit winners up the line easily. Running up to the net, I quickly got set for volleys where the RF97 did not disappoint.
The weight allowed me to get the racquet to the right place easily and quickly every time. I liked the heft of the racquet for net work. It made the racquet feel stable and it forced me to take my time when setting up my stance and shots for volleys and smashes.
One recommendation I must say though is that you have tennis elbow or have had past problems with tennis elbow, stay away from this racquet! The weight will pull at your joints and make it much worse. Instead, look at our list for the best tennis racquets for tennis elbow (you'll notice that the RF97 isn't on there).
However, if you're a more intermediate to advanced player, you should definitely be taking a hard look at the Wilson Pro Staff tennis racquet. This racquet was designed for long strokes and for players seeking control over power. If you're the sort of player who can generate their own power with any racquet, look towards the Wilson Pro Staff RF 97 to bring your game to the next level.
Wilson Pro Staff RF97 Specifications
Now no review would be complete without looking at every facet of the Wilson Pro Staff tennis racquet. Let's break it down.
Design
As previously said, the Pro Staff RF97 was designed by Wilson with the aid of one of the most famous tennis players today, Roger Federer. It comes coated in two main colors: black velvet and tuxedo black. Put together both colors are finished with a light-absorbing material that coats the entire racquet.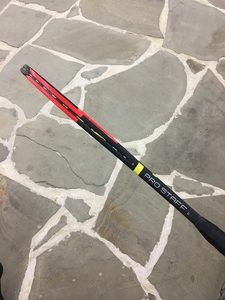 Inside of the racquet's throat there is Roger Federer's signature along with his face laser engraved. There also is a quote that says "Designed with Roger in Switzerland. Engineered in Chicago."
The frame of the entire racket is very stiff which makes it transmit vibrations from hitting the ball to your arm very easily. You can feel this immediately when you swing your next forehand with the Autographed RF97.
Personally, I got used to it rather quickly but if you're used to more flexible tennis racquet frames, this will require some adjustment.
Head Size
Now the head size is one of the most important things everybody should consider when buying a tennis racquet.
The Wilson Pro Staff RF97 has a head size of 97 inches which is one of the smaller sizes you can buy tennis racquets in. As a brief review, tennis racquets heads range in size from 95 inches all the way past 110 inches.
This smaller head size of 97 inches gives players more control than power. As you'll see below, this is a players racquet through and through. It was designed by the best players for the best players and it can take your game to the next level.
This tennis racquet measures 27 inches from end to end which is the standard size among tennis racquets and is the tournament required length. The defining characteristic though and something I personally loved(but many people are iffy about) this racquet is the weight.
Weight
The Wilson Pro Staff RF97 weighs a total of 12.6 ounces when it is strung which definitely puts it in the category of racquets meant for control(the general range for these types of racquets is 11.5 – 13+ ounces). With this 12.6 ounces, you can expect to feel that the Wilson Pro Staff is heavier than most racquets.
Playing wise, you will have to get used to the weight if you previously had a lightweight tennis racket.  You should definitely take it easy the first couple of times you play with this and just be aware, that this can tire you out slightly quicker.
If you want to accelerate the process, focus on having a long swing. Remember, you generate the power, not the racquet! So when you're standing on the baseline, make sure to get your racquet back a little further than you're used to and fully complete your swing over your shoulder. Having the proper form will go a long way towards letting you use the Autographed RF97 to its full potential.
The good news is that when I tested it, it only took me a week or so to get used to it. And once, I did….oh boy! With the extra weight, I produced the strongest serve I ever have and blasted it over the net at my opponent(it turned out to be an ace!).
String Pattern and Balance
Compared to traditional patterns such as 16×18 or 18×20 this has 16 main strings and 19 crosses. I guess you can describe this string pattern as partially open. There are enough strings in the center to easily impart spin on the ball and provide a quick pop when hitting.
As racket focused more on control, the balance is 9 points head light which is pretty severe. Most of the tennis racquet is balanced towards the handle which you can feel by holding it in your hand.
While this does place slightly less stress on your joints, the main advantage of keeping the head of the racquet light is that it allows you to easily maneuver and control the exact point of racquet-ball contact.
Personally, I think the balance is perfect for the heavier frame. It lets you swing freely through the ball while reducing the forces on your wrist and elbow.
Wilson Pro Staff RF97 Autograph Tennis Racquet, 4 1/2-Inch
Developed with the help of Roger Federer and engineered for the next generation of tennis
This Pro Staff delivers even more power which is perfect for the player who is an Attacker
The new Pro Staff has a larger headsize and a bigger sweet spot
Same pure, classic Pro Staff feel that players love
Last update on 2023-05-28 / Affiliate links / Images from Amazon Product Advertising API
Who Should Buy the Wilson RF97?
With a smaller head size and a balance that leans toward the handle, the Wilson RF97 was primarily designed to be a players' racquet. For any intermediate to advanced player who is looking to up their game in a big way, the Wilson Pro Staff RF97 is the right choice.
This racquet provides so much control over the ball that experienced players will be able to upgrade their game immediately. The control aspect makes it perfect for aggressive baseline playing and the weight actually helps it when returning volleys and smashing the ball.
If you're a beginner reading this review and you've gotten this far, don't fret! As a beginner, you should look towards bigger racquets such as the Head Ti S6 series which provides a larger head size and more forgiveness for off-center hits. That racquet, or similar ones, will help you develop quicker into the sort of player who can confidently handle the Wilson RF97.