Hey! This site is reader-supported and we earn commissions if you purchase products from retailers after clicking on a link from our site.
If you are aiming to get proficient at pickleball or participate in any major leagues, you need to make practice a major part of your daily routine. A good and frequent practice schedule can help you improve your performance and also learn some new skills in the process.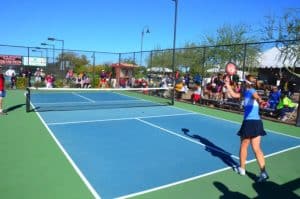 Image Credit: USAPA
When practicing, you need to understand its various aspects and how the pickleball drills can have an impact on your game. Every drill is designed to boost your performance traits such as speed, strength, agility, stamina, etc.
You need to understand and choose the kind of drill that suits you the most and include it in your practice routine.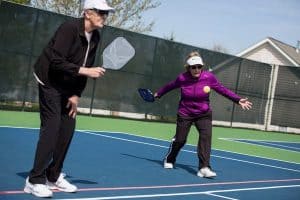 Image Credit: NY Times
To help you choose the perfect drill for your practice sessions we have compiled some of the best ones that can improve your game:
Triangle Dinking
This drill may seem a good way to work towards enhancing your forehand and backhand dinks. You will require a partner for this drill.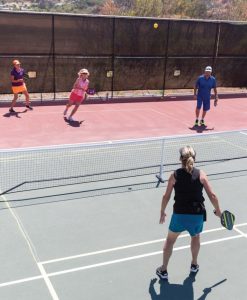 Image Credit: Marin Magazine
It is a very simple drill but there are ways to make it complicated. You have to start by standing near the net and hitting cross court in a diagonal direction. It means you have to hit the ball from your right to your opponent's/partner's left side. Tell your partner to reciprocate the same way.
The constant back and forth of the ball between you and your partner will create a triangle. You can make the drill beneficial by trying different shots and sometimes hitting the ball in the center towards your opponent.
This drill helps in developing better hand-eye coordination and also improves your sense of judgment. Trying different shots will enable you to get variation in the game.
Quick Volleys
Volleys are game-changing shots but you need to time it well for better results. This drill helps you improve your forehand volleys and backhand volleys, along with developing faster reflexes. It is also great for enhancing your decision-making skills.
To learn how to hit a strong and powerful volley you can watch this video here:
You can start by hitting slow, low-powered, and long-distance volleys which gives you and your opponent sufficient time to hit the ball. Then to increase the difficulty level you can increase the speed and distance from the nets. You can also change the direction of the ball for variation.
Once you are standing near no-volley zone lines, you will notice the ball is moving much faster than it was at the start. And by this time you are hitting the ball more frequently. Doing this every time can change the way you react to the volleys and also the way you defend yourself at the nets.
The drill is all about making the right choice between forehand and backhand before hitting the ball.
Distance Control Drill
Covering distance from the baseline to the kitchen is one of the common problems faced by pickleball players. Most of them move forward too fast and most of them stay behind for too long. This drill is about correcting the problem of moving back and forth during the game.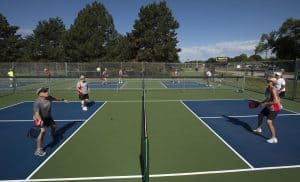 Image Credit: Journal Star
For this drill, you and your partner need to work in coordination. Make your partner stand near the net while you start from the baseline, serving the ball. As your partner returns the ball, move a step forward after every hit. Once you reach the net, your partner starts moving back.
This drill can be helpful if you are looking to improve your drop shot. To make the best use of this drill, you can try different shots as you move and hit the ball in different directions.
Dropshot Drill
Pickleball games usually start with a dropshot and beginners may especially find it hard to return the ball. The common mistake that players make while playing the dropshot or the third shot drop is that they hit the ball high which lands in the wrong place.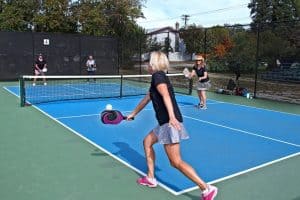 Image Credit; Penticton Western News
Dropshots can be hard to master as the distance from the baseline to the net can confuse the pickleball player making them misjudge the power and swing for the shot.  This drill can help you improve your judgment for hitting the ball and also boost your confidence.
To master dropshot or third shot drop you can watch the video here:
You can start the drill by hitting a dropshot from the baseline while making your partner stand near the net. Tell your partner to give his feedback on the dropshots hit by you. You can try hitting the ball from different directions and aiming at different places on the court.
When you switch your position with your partner you can stand at the net and practice different shots that can enhance your game.
Skinny Pickle
Skinny pickle is an amazing way to put some skills and energy into practice. This drill uses only one side of the court which makes it necessary to use the hitting skills.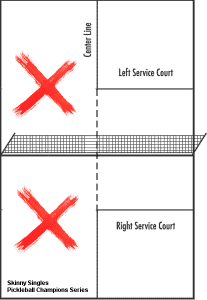 Image Credit: HFC Pickleball club
You can start by playing normally and try the different shots that you wish to implement in a real game. The restricted area enhances your ability to hit the ball at specific points. It also increases the pace of the game which improves your speed and helps you develop faster reflexes.
When playing skinny pickle, you may face problems while serving as you may be accustomed to serving diagonally and in this drill, the serve is played straight.
Conclusion
Practice pickleball drills can be a fun way to polish skills, technique, and your overall game. However, you need to make sure that you spend sufficient time in practice. I hope the above pickleball drills help you in improving your game or preparing for the major leagues. If you have any queries or suggestions you can mention them in the comments.