Hey! This site is reader-supported and we earn commissions if you purchase products from retailers after clicking on a link from our site.
If you have been gaining interest in pickleball lately and are looking forward to giving it a shot, there are some rules that you need to know. You must understand that pickleball rules are very different fromother individual racquet-based sports in the sense that they are an amalgamation of various sports – Tennis, Badminton, Racquetball, and Ping Pong.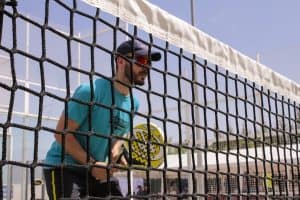 Image credit: Needpix
Pickleball is played on a 30ft x 60ft court which half of a tennis court. This makes it necessary for you to learn the most basic part of the game i.e. serving. Even though it may seem like an easy task but in pickleball executing a perfect serve takes a lot of practice.
How to serve correctly:
In pickleball, the serves should be made diagonally, by starting from the right-hand-service-square and alternating after each serve. For a service to be counted as a valid one, it should cross the seven-foot-non-valley-zone in front of the net and land in the diagonal service court.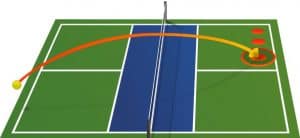 Image Credit: pickleball.tips
To execute a serve, you need to perform an underhand while keeping the paddle below the waist, and you need to keep your feet behind the backline. You must hit the ball into the air before it hits the ground.
To learn how to execute an underhand serve you can refer to this video:
In a singles game, service is only passed on to the other side, if there is a fault in the service.
In a doubles game, both partners get to serve before the other team gets the opportunity to do so.
Common mistakes done by players when serving:
New players often make a lot of mistakes when they are introduced to pickleball. However, it's not uncommon for even the most experienced players to lose points in pickleball.
Here are some common mistakes that you should avoid when playing pickleball:
Keeping foot on the line:
When serving, players often step on the line which according to the game's rule is a fault. You need to position yourself behind the serving line in a way that you don't cross it even after serving.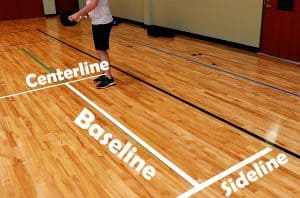 Image Credit: Pickleballkitchen
Running forward after the serve:
Whenever you execute aserve, there is a sudden fear that urges you to go ahead and prevent the other team from scoring. However, in doing so you leave the baseline open and give the opponent a chance to score points.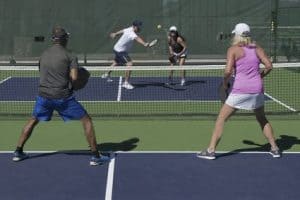 Image Credit: Galeleach
Serving without a plan:
Your serves need to be well planned with your teammate and you need to have good coordination among yourselves to counter your opponents. Before serving, decide the location of the serve, maintain a good net presence and think of the different ways you can serve the ball.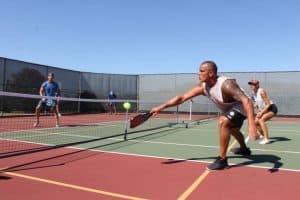 Image Credit: Projectecho
Different types of serves that you can try:
The underhand serve is one of the basic serves that you can start with when introducing yourself to pickleball. But there are other types of serves that can be advantageous once you master the technique of serving.
High soft serve:
If you want to make the game interesting, you can start it by performing a high soft serve.  A high soft serve launches the ball high up in the air while creating a high slow arc. The ball served with this technique usually lands near the baseline.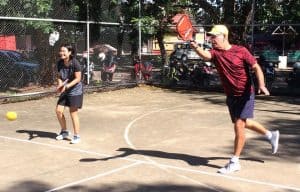 Image source: Yespickleball
Knowing a variety of serves can help to a great extent in the game of pickleball. The high soft serve can be the perfect way to show your skill and confidence to the opponent.
The best thing about high soft serve is that it can be deployed in games of any level.
Soft Angle Serve:
If you are focusing to score points with your serve, you must try the soft angle serve. It is among the advanced and difficult serves in the game but can get you incredible results.
The Soft Angle Serve lands the ball in the no-valley-zone and can be hard to counter.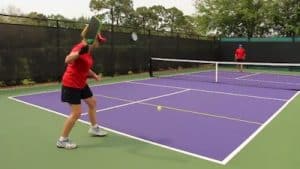 Image credit: applecountrypickleball
This serve comes with an incredible strategy. When you serve the ball which lands in the no-valley-zone, the opponent will come forward to hit it. This will leave the baseline open and give you the opportunity to score a point.
It is a useful pickleball serve, especially when your opponents are side stacking.
Power Serve:
As the name suggests power serve is a fast-paced serve that launches the ball on the other side of the court.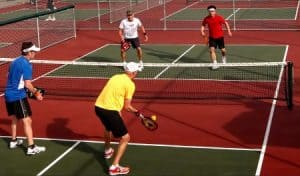 Image credit: pickleballcentral
Since this shot aims for the baseline it has to be played deep and low.
A power shot can be played by aiming at the forehand corner, backend or you can directly aim it at your opponent.  The shot can be played to catch your opponent off-guard; leaving them flustered and forcing them to act quickly.
To make a power shot successful, you need to draw your opponent away from the baseline and into the court. Once the opportunity is clear enough, hit the ball with full power to get a point.
Forehand Topspin:
A spin serve can be an amazing way to trick your opponent and get a quick score. However, to play a Forehand Topspin you have to be skilled enough, to land the ball in the right region. The best region for this serve is the kitchen.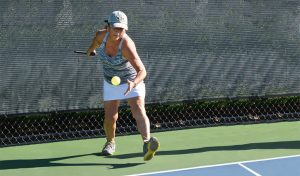 Image credit: pickleballfix
Forehand Topspin is a spin serve which means it has a technique that has to be deployed to make it a perfect serve. The technique involves scrubbing the ball with the paddle while the ball is in the air while ensuring that the face of the paddle is tilted slightly upwards.
The execution of a Forehand Topspin needs to be timed very carefully, a badly time spin serve can put you in a dilemma.
To learn how to serve like a pro you can watch the video below:               
What are the different techniques you need to know for the perfect serve?
Serving is the most important part of pickleball. Your chances of winning also rely on your way of serving. You can only perform a winning serve if you train with the right techniques. The best way to master a technique is to practice as much as you can.
Here are some techniques that can make you a better server:
– Keep your serving motion easy and natural:
Many players who play pickleball try to learn to serve as quickly as possible.  This rush not only leads them to serve the wrong way but also makes them learn the wrong technique. 
– Pick the spot
Serving blindly without an aim can be futile and will not get you any points. The best way to make the most out of your serves is to plan the location well. Before taking the serves you need to observe the opponent's behavior and find the right spot to land the ball.
This technique will surely get you an amazing result on the game field.
– Directing the ball
In pickleball directing the ball in certain directions to reach the perfect scoring sport may seem like a pro-level move. However, you can do that too with a simple trick. All you have to do is point your lead shoulder while serving to the spot (left shoulder for right-handed players) and the ball will reach there.
– The underhand bowling movement
If you have played bowling in the past, landing a good service should not be a problem for you. The underhand serving motion in pickleball is similar to the motion of throwing the ball in bowling. You need to recall the smooth motion of transferring your weight from back to front.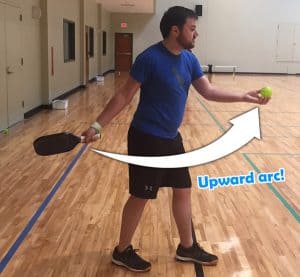 Image credit: pickleballkitchen
– Ending the swing right
Amateur players often get their serve wrong by misjudging the right time to end the swing. When the ball makes contact with your paddle, it needs some momentum to reach the opponent's court. So you need to make sure that you don't end your swing on contact.
The swing of a perfect serve ends approximately at shoulder height.
How to strategize your serves?
Just like every other game you need a strategic approach to play pickleball. Even though getting the first chance to strike to create a dominating impression may seem like a win, the reality is very different. Unlike tennis, in pickleball the serving side can be a disadvantage. The reason is very simple, the receiving teams get to the position before you.
However, to turn things to your advantage you can deploy these strategies when on the serving side:
– Get a serve in
Players tend to get excited when it comes to the serving. And most of them try to execute difficult serves with the aim of scoring direct points. In doing so, the players generate too much or too little power. So, the best way to start your game is to get a basic service in and then play on.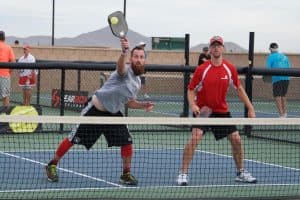 Image credit: wenatcheeworld
– Going for the third shot
When playing pickleball in doubles, keep in mind that you don't typically get point for the number of serves or return serves. The first potential place to score a point in the double game is to aim for the third shot.
This move needs to be planned and executed well or your team may lose points.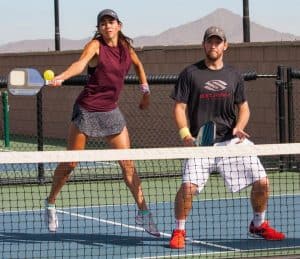 Image credit: wenatcheeworld
While you are at the serving position and the receiving team is ready to send the ball back to your court, you need to play smart. Your plan for the third shot should begin by drawing your opponents closer to the net.
You can play some easy and low shots to get them closer to the net. When you and your teammate are in position, all you have to do is aim for the kitchen and hit the ball with enough speed that it lands at the end of it.
So remember, start with the inbound serves first and then go for outbounds.
– Have a variety of serves
You cannot rely on one serving style for the entire game. Having a variety of serves in your game can be great to keep your opponents guessing. You can combine speed, velocity, and location every time you serve.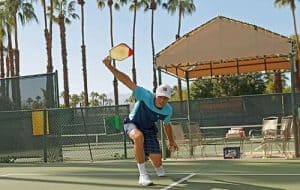 Image credits: USAPA
Your goal should be to make your serves unpredictable for the opponents.
The most effective way and easiest way to keep youropponents busy is to hit on specific locations that may seem weak or far for your opponent. You can also try playing higher balls to your opponents as some players can barely manage to hit a sudden high ball.
– Backhand serves
The best way to win a game is to find your opponents weakness and exploit for your gain. It can be hard to identify your opponent's weakness during the game. Hence you need to target the most common weakness that people have i.e. Backhand.
Very few players around the world are able to defend backhand shots, as it requires commendable reflexes and body control. You can try hitting the ball in your opponent's backhand area, to score points easily.
– Advanced serves
As you keep playing the game you will get familiar with factors like angles, speed, velocity, and power. Including them your serves will enhance your game and help you in scoring points easily.
You can also try heavy spin serves, sharp angle serves, and other types of unconventional serves that can increase your chances of winning. You may take time to learn the different types of advanced serves but once you master them using them in the real game will be easier.
Conclusion
Pickleball serve can be mastered over a period of time with diligent practice but you must also play with a strategic approach to win.