tennis equipment
is essential if you want to be at the top of your game.
We all understand the importance a pair of shoes can have on your performance, and when a bad match ends with aching feet, we may be tempted to blame our sneakers. But the answer could actually lie underneath.
Tennis can't be played in a pair of normal socks. At least, good tennis can't be played in basic socks.
They bunch up, they get sweaty, and you can feel every inch of the court pressing against your sole. Bad socks don't move with you, and they might be the cause when your playing seems off.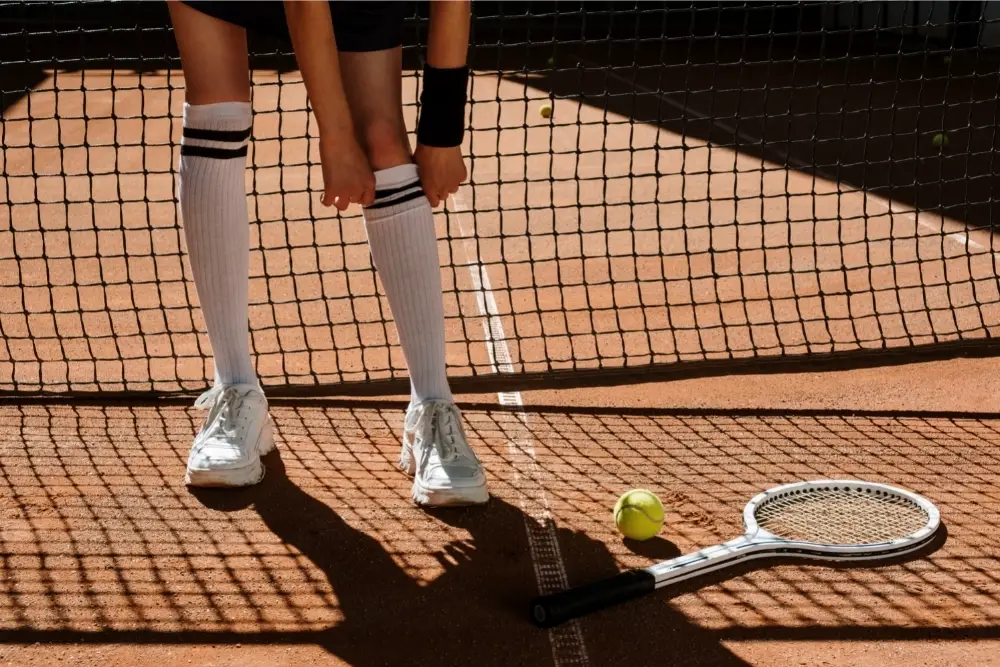 The right tennis socks are so comfortable you can almost forget you're wearing them. The right pair becomes an essential part of your kit, but choosing that pair isn't easy.
In this guide, we've put together the best socks available, so you can be at the top of your game.
Nike Men's Dri-Fit Training Cotton Cushioned Crew Socks
Prince Men's Low Cut Performance Socks
HUSO Performance Sports Ankle Compression Socks
Thorlos Unisex TX Max Cushion Tennis Crew Socks
Warrior Alpaca Socks Unisex Sport Mini Crew
NIKE Dri-Fit Classic Cushioned Crew Socks 6 PAIR White with Black Swoosh Logo) LARGE 8-12
Prince Men's Low Cut Performance Socks for Running, Tennis, and Casual Use (6 Pair Pack) (Men's Shoe Size 6-12 (US), Black-White-Grey)…
Tennis Ankle Socks HUSO Extra Cushion Reinforced Compression Support Running Low Cut Socks for Men White 3 Pairs
Thorlos Unisex TX Tennis Thick Padded Crew Sock, White, Large
Warrior Alpaca Socks - Unisex Sport Mini Crew, Alpaca Wool Socks - Anklet with Terry lined Cushion Footbed (Off White/Gray Large)
110 Best Tennis Socks Reviews
What makes these Nike socks so good is pretty easy to tell from the name – they're dry, and they fit.
Dry and fitting may not seem like much, but think about your socks at the end of a match. They're loose, sweat soaked, and so bunched up you can't wait to take them off.
Nike keeps their socks comfortable by using an essential blend of spandex and cotton. The spandex gives the socks their close fit, and the cotton is soft.
All of this is bundled into a design that's sleek and classic, topped with the iconic Nike swoosh. A quality sock, ideal for serious tennis players.
Pros:
Cotton and spandex blend – Moisture wicking, while retaining shape.
Half cushion – Supports the food with arch compression, but isn't bulky.
Reinforced heel and toe – Extra strength where the shoe needs it most.
Cons: 
Nylon fabric blend – Can be uncomfortable in warmer climates.
NIKE Dri-Fit Classic Cushioned Crew Socks 6 PAIR White with Black Swoosh Logo) LARGE 8-12
When it's time to restock the sock drawer, go for the comfortable convenience and sleek dri fit of Nike's six pack of athletic crew socks.
Spandex for better fit and shape retention / Moisture Wicking Cotton Helps Keep Feet Dry And Comfortable
Half cushion foot for less bulk in the shoe/Supportive Fit With Arch Compression
Reinforced heel and toe for durability in high-wear areas / Fabric: 76% Cotton/21% Nylon/2% Spandex/1% Polyester
Size: LARGE (8-12) Men's / (10-13) Women's-UNISEX / Color: Classic White With Black Signature Swoosh Logo
---
For a sock with almost a budget price, there's some serious quality to be found here.
Prince creates some of the most popular tennis socks around, and it's easy to see why. The construction is smart, the fabrics are comfortable, and the price is low.
Prince socks have combined some impressive features in these low cut socks. The toe seam is smooth, to prevent uncomfortable bunching inside the shoe.
Synthetic materials are supported with mesh zones for breathability. And the spandex material mixture helps the sock to retain its shape across use.
Pros:
Smooth toe seam – No bunching, avoids rubbing and protects against blisters.
Mesh zones – Thick materials can be warming, but the mesh zones allow this sock to breathe.
Spandex blend – Gives the sock a comfortable fit that lasts.
Cons:
Thinner cushioning – Prince socks use a non-bulky cushioning on the sole, but it can be a little thin for some.
Prince Men's Low Cut Performance Socks for Running, Tennis, and Casual Use (6 Pair Pack) (Men's Shoe Size 6-12 (US), Black-White-Grey)…
SIZE: Fits Men's Shoe Size 6-12 (US)
Premium Comfort Fit: The cushioned sole gives Prince athletic socks shock absorbing protection in high impact areas, where you need it most, and the spandex blend forms to your foot for superior shape retention, support, and compression.
Moisture Wicking: Breathable zone mesh design coupled with our lightweight synthetic blend increases ventilation to control moisture and keep your feet cool and dry during sports and exercise.
Smooth Toe Seam: Eliminates bulky seams to reduce abrasion and provide extra blister protection.
100% Satisfaction Guarantee
---
The moisture wicking of HUSO socks make them a particularly good choice for anyone who finds that their feet get uncomfortably warm during exercise.
They use an unusually balanced blend of fabrics – 42% polyester, 38% nylon, 5% cotton, 5% elastic, and 10% spandex – for socks that stay dry. You'll feel cool and comfortable, no matter how intense you play.
HUSO has used this fabric in an intelligent design, with compression that stretches from the mid-foot to the plantar fascia.
That can make them uncomfortable on wide arches, but it provides extra support for smaller feet. Light padding is used on the toe and the heel, taking the pressure off the impact zones.
Pros:
Deep heel cups – Prevent the sock from slipping.
Left and right sock – A specific design for each foot gives a perfect fit that's well tailored.
Blended fabric – Sweat wicking fabric, so your feet stay dry and cool across the day.
Cons:
One size only – Only designed for US size 9 – 13.
Tennis Ankle Socks HUSO Extra Cushion Reinforced Compression Support Running Low Cut Socks for Men White 3 Pairs
COMPRESSION starts from mid foot to plantar fascia to offer arch support and provide more comfort.
HIGH PERFORMANCE SOCKS use dry fit fabric to wick sweat away and resist odors, thus keeping your feet dry and cool all the time.
LIGHTLY PADDED at the heel and toe to enhance comfort and eliminate abrasion as well as foot stress.
DEEP HEEL CUP keeps the socks from slipping off while specific left and right design making them fit perfectly to your feet.
ONE SIZE fits US sock size 9-13. Each pair is packed in an individual zip-bag, making them best gift socks for Wedding, Birthday, Anniversary, Holiday and our quarter socks are perfect match with sports dressing.
---
Thorlos creates socks that are designed specifically for cushioned comfort. If you have particularly sensitive impact zones, then Thorlos could be what you need.
Quick movement is absolutely essential in tennis, and it's impossible to react when you dread each time your foot touches the ground.
Thorlos have loaded their socks with cushioning, taking the pressure off your impact zones. The result is you can play better, for longer.
The reinforced padding can be found in the forefoot and heel, but it also extends through the ankle. This both prevents slip, and protects the Achilles. It's also moisture wicking, to stop blisters.
Pros:
Reinforced padding – Thorlos specialty padding keeps the foot protected.
No rub toe seam – Prevents bunching.
Sculpted heel – Improved fit, prevents the sock from moving and rubbing.
Cons:
Bulky padding – Can be uncomfortable in the shoe.
Thorlos Unisex TX Tennis Thick Padded Crew Sock, White, Large
Maximum comfort and protection for the longest matches or anyone who wants maximum comfort and protection
Features Thorlo legendary padding in the heel, forefoot, sidewalls, and over the toes to protect against the forces inside your shoe
High durability fibers embedded in the forefoot and toebox area to resist wear
Padding is clinically shown to reduce blisters, moisture, pain, and pressure
Anatomical design consistent with natural contours of foot helps promote a better fit
---
Alpaca is one of the best fabrics for sports socks, even if it isn't the most obvious choice. They're particularly useful in colder climates, because they keep the feet insulated while remaining moisture wicking.
Warrior Alpaca are one of the best brands around for alpaca fabric tennis socks.
The alpaca material isn't the only thing that makes this sock special. The sole is lined with terry fabric, which provides extra cushioning.
It's also low friction, to keep away those dreaded blisters. The thin arch and thicker base work together for a breathable sock that shouldn't rub.
Pros:
Alpaca fabric – Insulating in the winter, cool in the summer, and breathable all the time.
Terry cushioned sole – Reduces the pressure on impact zones, and prevents slip.
Hypoallergenic – Extra breathable.
Cons:
Can shrink – Be careful when washing, because these socks need care to prevent shrinking. 
Warrior Alpaca Socks - Unisex Sport Mini Crew, Alpaca Wool Socks - Anklet with Terry lined Cushion Footbed (Off White/Gray Large)
Far more than just a basic anklet sock! This alpaca sock is light, yet the terry foot bed cushions every step, it's perfect for all indoor/outdoor activities.
Made from Natural Alpaca and other synthetic fibers and is 100% wool free, hypoallergenic, allowing feet to breathe, keeping them happier no matter what your doing.
Terry lined foot pad allows for comfort and cushions feet, reducing friction, so that they eliminate blisters while being odor free. The thin top arch panel aids in cooling feet, keeping them the perfect temperature.
Alpaca keeps feet warm in cold climates and cool in warm climates, a perfect all-season property.
Machine wash cold water, tumble dry on cool/air, or air dry.
---
CelerSport creates some of the most popular tennis socks for sale, which can be surprising as they aren't the biggest of brand names. But the all around good design and quality fabrics make them a solid choice for a tennis sock.
It's easy to see how much attention CelerSport have paid to design. The tab back allows for easy removal, the mesh ventilation reduces sweat, and the thick cushion keeps the sole comfortable.
The socks are well priced, and they come in a range of sizes. If you're looking for a value pack of socks with some useful features, CelerSport could be what you're after.
Pros:
Arch support – Compression in the arch provides protection and comfort.
Seamless toe – Prevents bunching and rub, to lower the chance of blisters.
Full cushion – Extra thick padding adds incredible comfort and reduces pressure.
Cons:
Mixed fit – The small socks are pretty small, but the large socks are very large.
---
Adidas are known for some impressive sporting gear, but they've been behind in the tennis sock market. However, these socks are good quality and a good price, from a brand with a history of quality.
These socks cover the basics that you want from a good tennis sock. They're made of high quality moisture wicking yarns, so your feet can breathe comfortably.
There's good arch compression, making them comfortable and supportive. Adidas have also included a cushioned footbed, to reduce the amount of pressure on the foot. Simple, but useful.
Pros:
Arch compression – Supportive and protective.
Known brand – With a big name brand, you can get a good idea of the quality to expect.
Cons:
Thinner than other options – If you're used to a thick sock, then you may need to double up.
Sale
---
If you're a fan of the classic retro sock design, then the look of these Danish Endurance socks may be what draws you in. They're stylish and attractive, with a splash of personality that's missing from a lot of the athletic socks.
But you don't just want them to look good on the court – they need to feel comfortable. Thankfully, Danish Endurance has everything covered.
They were originally designed for those competing in the Ironman tournament, so they know how to stand up to a high level of exercise.
Ventilation lanes provide moisture wicking to keep the foot cool and dry, combined with anti-blister cushioning for high-level performance.
Pros:
Ventilation lanes – Helps moisture to dry, leaving your feet comfortable.
Anti-Blister zones – Carefully designed cushioning is targeted for the areas that experience the most pressure.
Fun design – The simple stripes look good, but single color options are available.
Cons:
Run small – Uncomfortable fit for larger feet.
DANISH ENDURANCE Performance Crew Tennis Socks for Men & Women, Sports & Everyday Wear, Retro, 3 Pack (Multicolor Retro 3 Pairs (1 x White, 1 x Red/Blue stripe, 1 x Green/Yellow stripe), US Women 11-13 // US Men 9.5-12.5)
RETRO DESIGN FOR EVERYDAY WEAR & SPORTS: Add some retro flair to your wardrobe with our organic cotton tennis socks in crew-length. With their fashionable retro look, light cushioning and ventilation lanes, these performance crew tennis socks are the perfect socks for every day and sports
PREMIUM COMFORT FOR YOUR FEET: Our moisture-wicking tennis crew socks are made of high-quality organic cotton and crafted with technical cooling lanes and targeted cushioning to keep your feet comfortable, blister-free and dry for the whole day. Available in: Small - US Women 5-7 / US Men 3.5-6, Medium - US Women 8-10 / US Men 6.5-8.5, Large - US Women 11-13 / US Men 9.5-12.5. We recommend to size down if you are in-between sizes
DESIGNED IN DENMARK - MADE IN EUROPE: Our Danish Endurance design team develops these performance crew socks in Copenhagen, Denmark. The production facilities are located in Portugal, where we ensure fair working conditions. These tennis socks are OEKO-TEX standard 100 certified to ensure they are free from harmful substances
RECOMMENDED BY IRONMAN ATHLETE: Our cotton performance crew socks are developed and recommended by Danish ironman and entrepreneur Anders Hofman. In 2020, Anders completed the first-ever long-distance triathlon in Antarctica. His purpose is to inspire other people to dare and pursue their craziest dreams
EXCELLENT CUSTOMER SUPPORT: We want our customers to be happy - In case you have any questions or issues, do not hesitate to contact us. Our customer service team is always ready to help and find the best solution for you
---
Although you may think your biggest foe on the court is the person playing opposite you, the tennis player's real enemy is the dreaded blister. Trying to play with your socks rubbing against a blister is a lesson in endurance that few of us want to go through.
Balega creates blister resistant socks thanks to the incredible blend of multiple fabrics. They use 52% drynamix polyester, combined with 14% mohair, 14% wool, 7% acrylic, 5% nylon, 3% microfiber, 3% neofil, and 2% elastane.
The result is a sock that eliminates a build up of moisture, keeps the foot cool in the summer, and insulates in the winter. The fabric is supported by a clever construction, which focuses on premier fit and advanced support.
Pros: 
Wide arch band – The wider arch gives superior support.
Hand-linked seamless toe – No bunching or slip, so blisters are eliminated.
Deep-heel pocket – Advanced support, for a better fit.
Cons:
Price – A single pair of these Balega socks costs what you might pay for a triple pack from cheaper brands.
Balega Blister Resist No Show Socks for Men and Women (1 Pair), Legion Blue/Grey, Medium
Natural fiber no-show running sock features the best of nature and technology by combining natural mohair with Drynamix for ultimate anti-blister performance
Soft, durable mohair features a hollow fiber structure that regulates temperature, keeping feet cool in summer and warm in winter
Drynamix wicks moisture away from skin, and specially constructed, reinforced microfiber mesh ventilation panels keep feet dry
Seamless toe box minimizes friction, preventing chafing on top of the foot; high heel tab and extra deep heel pocket prevents socks from slipping down
High-volume cushioning ensures comfort for extended training; race-tested, natural fiber is ideal for sensitive, blister-prone skin
---
Tennis socks are, for the most part, a unisex design. However, sometimes the tailored design of a women's sock provides the comfort and support that's needed. This Under Armour set is one of the best available for female tennis players.
Under Armour have used a dynamic arch support and flat knit construction to sculpt this sock around the traditional shape of a female foot. The pull on closure fits them around the ankle, for a design with minimized slip.
Pros:
Flat knit construction – Feels comfortable, and conforms to the foot.
Spandex blend – A close-fitting material for limited slip.
Design range – Multiple colors and shades, so you can pick a fun sock that shows some personality.
Cons: 
Thin – Not as durable as the cushioned socks. Doubling-up may be needed.
Sale
---
Buying Guide 
With so many rackets to choose from, it can be difficult to narrow down which is best for you. The weight distribution, shape, and flexibility of a racket all contribute to your performance. The following presents the core features to look for in a great badminton racket. 
Head Heavy Rackets 
A head heavy racket (also known as a power racket), is a racket with additional weight distributed at the top of the racket. This enables a player to deliver more momentum for a more powerful swing.
These rackets are best suited for players who require more power and maneuverability and are ideal for more aggressive players. These rackets are best suited for those who want to play a powerful game at the back of the court. 
Head Light Rackets 
Head light rackets are designed with a balanced point towards the handle. These rackets are easier to handle giving a player more stability. These rackets are suitable for defensive players as they allow players to react quickly.
These rackets are ideal for fast play. The lightweight head ensures quick returns. However, smashes won't be as powerful as a heavy head racket. 
Balanced Racket
An even balanced racket is a racket that is designed to give the best of a head heavy racket and light head racket. These rackets are designed to deliver enough power from the back of the court whilst enabling players to maintain control and maneuverability at the front. 
String Tension
The tighter the strings are on the head of the badminton racket, the more tension it will have. This feature ensures more controlled and accurate shots.
If the string tension is less, strings will be more repulsive and can produce more powerful shots. The lifespan is also longer for lower tension rackets. 
Oval Head Shape vs Isometric Head Shape 
An oval-shaped racket head offers greater control and more durability as a result of a smaller sweet spot. Whereas an isometric-shaped head offers a larger sweet spot which makes for more powerful smashes. 
Frequently Asked Questions
What Equipment Do You Need To Play Badminton?
A net
A shuttlecock
A racket 
Where Can I Find The Badminton Rackets Listed?
Amazon.com 
Last update on 2021-11-28 / Affiliate links / Images from Amazon Product Advertising API