Hey! This site is reader-supported and we earn commissions if you purchase products from retailers after clicking on a link from our site.
Being that Greece is where the Olympics began, it is no small wonder that the country produces some incredible athletes. Although Greek tennis players are not usually on the radar, there are some who have risen to great heights. Others continue to make a name for themselves, gaining massive popularity. Whether retired or current, these top Greek tennis players of all time have fascinating stories, so let's dive right in.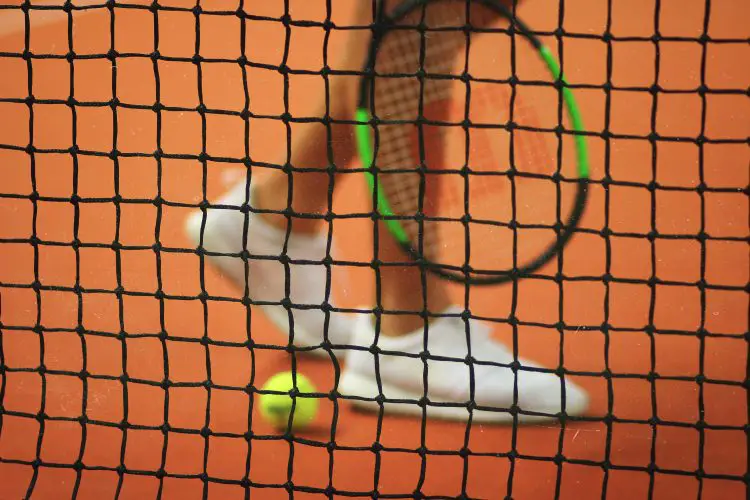 1. Marcos Baghdatis
Recently retired, Cypriot Marcos Baghdatis has had a long career, ranging from 2003 to 2019. Known for his impressive speed on the court, Baghdatis wowed spectators and his opponents. Unfortunately, he also experienced many injuries during his career, and it is believed those injuries led to an early retirement.
However, Baghdatis made a mark on history. He was the runner-up during the 2006 Australian Open and was a semifinalist the same year at Wimbledon. In 2016, he was in the top 40s and was a Dubai Tennis Championships finalist. His career high ranking was No. 8, attained in 2006.
Although Baghdatis only received four career titles in singles and one in doubles, his play style continues to inspire others. These days, he coaches others in tennis.
2. Stefanos Tsitsipas
Born in 1998, Stefanos Tsitsipas is an up-and-coming professional tennis player from Greece with a lot of promise. Ranked No. 3 by the ATP (first attained in August 2021), Tsitsipas is among the highest ranked Greek tennis players of all time. In 2019, he won the ATP Finals, making him the youngest player to win the championships in 18 years. Tsitsipas has also won nine ATP singles titles so far and made it all the way to the 2021 French Open. Although he lost to Novak Djokovic, he played an excellent game.
Tsitsipas credits much of his success in tennis with growing up in a tennis-loving family. Julia Apostoli, his mother, was also a WTA professional who had gone on tour, and his father worked as a tennis coach.
Since becoming a professional, Tsitsipas has become the first Greek male of the Open Era in tennis to win a Grand Slam junior title in 2016 at Wimbledon. In 2019, he was named Greek Male Athlete of the Year. Here is one young player who will be doing great things in the future!
Check out this amazing win:
3.Maria Sakkari
In March 2022, Maria Sakkari reached a career-high of No. 3 in the world for tennis singles, marking her among the best Greek tennis players in history, alongside Stefanos Tsitsipas. In September 2019, Sakkari held a ranking of 169 for doubles. She has had much success in her professional career so far. As a semifinalist in the 2017 Wuhan Open, Sakkari gained popularity after defeating Caroline Wozniacki. In 2019, she won a singles title at the Morocco Open. The same year, she also reached the Premier 5 semifinal in the Italian Open but was sadly defeated.
In 2020, Sakkari reached the fourth round of both the US Open and Australian Open. The following year, she went farther—to the semifinals—of both the US Open and French Open. That marks Sakkari as the first Greek female tennis player in history to make it to a Grand Slam semifinal round.
The Women's Tennis Association also announced that, in 2020, Sakkari had the sixth highest number of aces served—a whopping 144 aces in 31 matches.
Watch these highlights from the 2021 US Open Final, where Sakkari took on Raducanu:
4. Eleni Danilidou
Now retired, Eleni Danilidou experienced much fame during her time as a professional tennis player. In fact, she set many of the records that both Tsitsipas and Sakkari have surpassed in recent years. She is widely considered one of the best Greek tennis players of the Open Era. Danilidou has won five WTA singles titles and three doubles titles. She also reached the mixed doubles final of the 2003 Australian Open, making her the first Greek player to reach a Grand Slam final.
During her career, Danilidou reached No. 14 in singles rankings, making her the first Greek player reach the top 20s. In the 2005 Wimbledon Championships, Danilidou defeated another top player, Justine Henin, making her the first player to ever defeat the reigning French Open champion during the first round at Wimbledon.
5. Eirini Georgatou
Here is an interesting addition, as most people may have never heard the name Eirini Georgatou. Born in 1990, Georgatou started and ended her tennis career early. However, she was incredibly skilled on hard and clay courts. Despite having a consistent WTA rank of 176 in singles and 171 in doubles (achieved in 2011), Georgatou had much success on courts that most tennis fans miss, particularly those in Turkey and Uzbekistan, as well as the Fed Cup competition.
She has a total of five ITF singles titles and two ITF doubles titles. In 2011, Georgatou also reached the quarterfinals of every single Grand Slam tournament.
6. Konstantinos Economidis
Having turned pro in 1998 and retired in 2016, Konstantinos Economidis is one of those players most tennis fans may not recall. Yet, if you do, you know that he commanded the courts well. Like Georgatou, Economidis did not play many games within the ATP. Instead, he focused on Futures and Challengers matches and won quite a few. 23, to be exact.
Economidis does not have any career titles to his name, but he did achieve a career high of No. 112 in 2007. He also made it to the quarterfinals of the US Open in 2002 and 2004. For many of the others, he dropped out of the standings during the round robin stages.
No Wonder Tennis is an Olympic Sport
Greek tennis players may not have always paved the way in tennis, but the rising stars are putting Greece back on the map. Both past and present Greek tennis players alike have achieved many great things. Hopefully, Sakkari and Tsitsipas continue carrying the achievements of their retired follows all the way to the Olympics and into the tennis hall of fame!