Hey! This site is reader-supported and we earn commissions if you purchase products from retailers after clicking on a link from our site.
In tennis, there are dozens of tournaments held each year, where professional male and female players attempt to gain rank points. Should these individuals receive one of the three qualifiers—ranking, qualification match wins, or a wildcard—they are then allowed to play in one of the four major tournaments, also known as the Grand Slam tournaments. But unless you are a die hard tennis fan (or player yourself), you may not know the answer to the question, "What is a Grand Slam in tennis?"
In that case, you are in the right place. Today, you are not only going to learn what a Grand Slam is but also about the four tournaments held throughout the year. Let's get started!
What is a Grand Slam in Tennis?
One of the most commonly misused phrases in the world of tennis is the Grand Slam. Many people will call the Majors—Australian Open, French Open, Wimbledon, and US Open—the Grand Slam tournaments and think that winning just one is a grand slam. However, winning one of the Majors is just that: winning a major tournament. Meanwhile, winning a Grand Slam means you have won all four of the Major tournaments within a single year.
In short, a Calendar Grand Slam is the ultimate achievement: Winning the Australian Open, French Open, Wimbledon, and US Open within a 12-month period.
Where Does The Term Grand Slam Come From?
Time for a brief history lesson. In 1877, when Wimbledon first opened its doors, there was no such thing as a Grand Slam achievement. It took a couple of decades for tournaments like Wimbledon to become established as big-time events. Up until 1932, it was not a rare occurrence for tennis players to compete in the four Major tournaments, but there was little to no chance of them winning all four. At most, the same tennis pro would win two out of the four.
But then, Jack Crawford, an Australian tennis player, made history in 1932. He won the first three Major tournaments back to back. Then he got to the finals at the US Open, where he would face Fred Perry from the UK.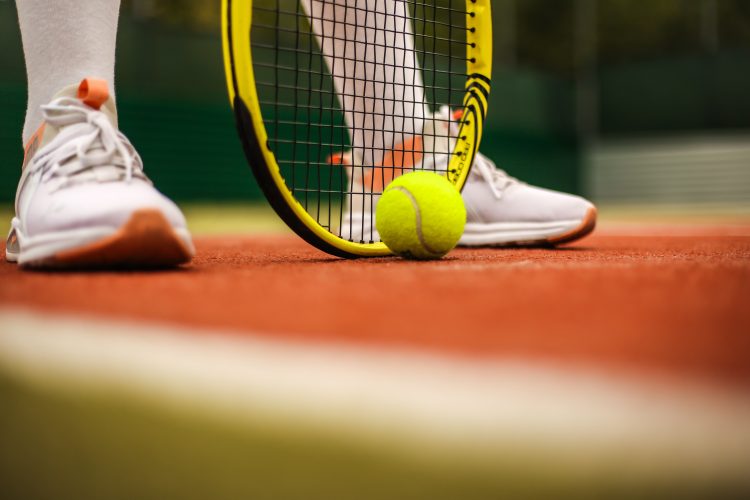 Prior to the match, a journalist from The New York Times, John Kieran, stated that Crawford's fourth win would be a Grand Slam, alluding to a bidding convention found within Bridge, a popular card game. Crawford was, unfortunately, unsuccessful in his bid for four wins, as he lost to Perry, but the term "grand slam" had stuck.
Fred Perry also missed his chance to win a Grand Slam the following year during the French Open. Five years later, Don Budge, an American player, achieved the first real Grand Slam.
Other Ways "Grand Slam" is Used
As mentioned, the term "Grand Slam" was once the name of a very specific achievement. Some people will still only use Grand Slam to define the momentous occasion, but the term has been generalized in more recent years. You may hear "Grand Slam" used to refer to the four Major tournaments by tennis fans.
For example, you might hear someone say, "Emma Raducanu won the US Open Grand Slam in 2021."
Others might say, "The first Grand Slam of the calendar year takes place in Australia."
However, if you want to be technically correct, these are Grand Slam events. But, since the term is so widely used, you do not have to be specific. The term Grand Slam is accepted and understood throughout the world.
What are the 4 Major Tournaments?
The four Major tournaments—also known as Grand Slam events or tournaments—take place throughout the calendar year. If a tennis player is shooting for a Calendar Grand Slam, they would need to win all four in the same year. These four tournaments are significant for several reasons, including the attention given by the fans, ranking points, prize money, size of the event, and the history.
The video below explains the four Grand Slams in detail:
Indeed, the ATP and WTA tours and season finals are important, but nothing gets fans excited like watching a match at one of the following four events:
(Please keep in mind that the prize money and attendance numbers shown below are pre-pandemic estimations. Since 2020, numbers have been lower, but this may change in the near future.)
Australian Open
Being that the Australian Open is the first of the Major tournaments, it is famous in its own right. Each year, the Australian Open takes place at Melbourne Park in January. Originally, the courts were covered in grass, but that later switched to a hard surface in 1988.
The Australian Open is unique. The tournaments held here started as early as 1905, but it wasn't named a major event until 1924. For many years, this tournament was often overlooked, because few players wanted to make the long trip by boat. If they did, they would miss important holidays, like Christmas. Thankfully, air travel arrived in the 1950s, and more players started to take part. It wasn't until the 1980s that player and fan attendance started to increase dramatically.
Australian Open Stats:
Location: Melbourne, Australia
Surface: Hard
Draw: 128 singles and 64 doubles
Ranking points for winner: 2,000
Prize money: $42,000,000
Annual attendance: Estimated 812,000
French Open
Otherwise known as the Roland Garros tournament, the French Open takes place at the end of May. It is the only Major tournament with a clay court. Where does the name Roland Garros come from? First, the tournament is held at Paris's Stade Roland-Garros, which was named after the French World War I aviator, Roland Garros.
The stadium opened its doors to tennis in 1891. It took until 1925 for it to be designated as a Grand Slam tournament. At that time, the court opened to both amateurs and professionals.
French Open Stats:
Location: Paris, France
Surface: Clay
Draw: 128 singles and 64 doubles
Ranking points for winner: 2,000
Prize money: $47,995,331
Attendance: Estimated 480,575
Wimbledon
Considered the oldest and most prestigious of the Majors, Wimbledon is the biggest tennis events of the season. Since first taking place in 1877, The tournament has been held every year at the All England Lawn and Croquet Club. It is the third major tennis event and occurs in July. Fascinatingly, in the beginner, the tournament was open to amateurs. They were encouraged to bring a racket and pay an entrance fee of eleven shillings.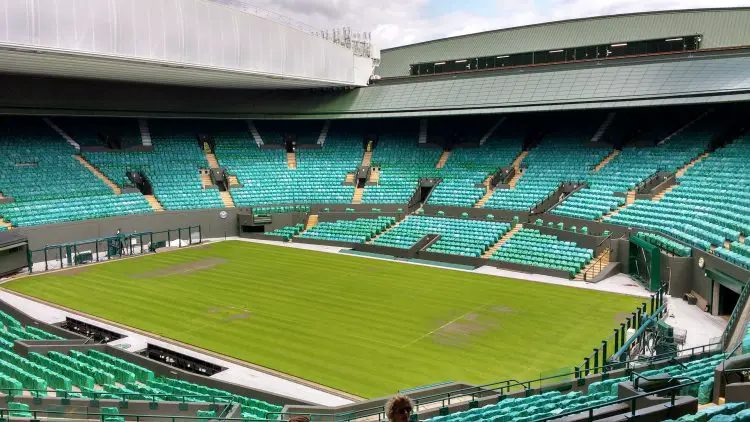 Wimbledon also has its fair share of traditions that make watching a game here intriguing. For example, did you know that Wimbledon has an all-white dress code? There is also a chance to see a celebrity or member of the royal family.
Wimbledon Stats:
Location: Wimbledon, London, UK
Surface: Grass
Draw: 128 singles and 64 doubles
Ranking points for winner: 2,000
Prize money: $50,829,750 (as of 2019)
Attendance: Estimated 500,397
US Open
Being that the US Open is the second oldest major tennis tournament, it is also one of the most popular. The US Open is held at the end of August or beginning of September at the USTA Bille Jean King National Tennis Center in New York, NY. Similar to the Australian Open, the US Open has hard courts.
However, the US Open was not always at its current location. In 1881, the tournament was held at the Newport Casino in Rhode Island. Now, the International Tennis Hall of Fame can be found there.
In 2019, the individual winners were Bianca Andreescu (first Grand Slam win of her career) and Rafael Nadal.
US Open Stats:
Location: New York City, NY, US
Surface: Hard
Draw: 128 singles and 64 doubles
Ranking points for winner: 2,000
Prize money: $57,426,000 (as of 2019)
Attendance: Estimated 631,134
Summer Olympics
While there are only four Grand Slam tournaments throughout the year, some people refer to the Summer Olympics as Slam Number 5. This is a special occurrence, and it gives some of the top tennis stars a chance to seize an even more prestigious version of the Grand Slam, which is called the Golden Slam (more on that below).
How Do Players Qualify For Grand Slam Tournaments?
There are three distinct ways a player can qualify for one of the Grand Slam tournaments in singles. For doubles, it is mainly based on rank. Singles, however, can be among the top 104 ranked players of their respective organization (ATP or WTA) who signed up to compete in the Majors. If they do not meet that standard, they can then participate in qualification rounds, which are open to players between the rank of 105 and 232. Only 16 players are chosen out of 128.
The last method of qualifying for a Grand Slam tournament is the wildcard. Tournament organizers are the ones who hand these out, and so it is based on their discretion. However, there are only 8 wildcards available, including exchange wildcards. Furthermore, wildcard players do not have to do any preliminary rounds. They go straight to whichever Major tournament they got the ticket for.
Doubles matches can also receive wildcards—7 in total. Qualifying matches do not exist for doubles.
Want to learn more? Check out this helpful video that explains how tennis players qualify for the Majors:
Has Anyone Won a Grand Slam?
As you can imagine, it is extremely difficult to win a calendar Grand Slam. These tournaments are where the most talented champions go to win, and they will put everything on the line to do so. To date, there have been only five players to achieve a calendar Grand Slam. As previously mentioned, Don Budge from the US was the first one to do it. In 1953, Maureen Connolly was the second to claim the title. After that, Rod Laver, Margaret Court, and Steffi Graf followed suit.
Has Any Doubles Won a Grand Slam?
Winning a Grand Slam in singles is hard; the same can be said for doubles matches. In 1951, Frank Sedgman and Ken McGregor were the first duo to win a calendar Grand Slam. In 1960, Maria Bueno won a doubles Grand Slam, but she had two different partners throughout the four tournaments. Following Bueno were Pam Shriver and Martina Navratilova in 1984. One of the more recent wins was in 1998 by Martina Hingis, who achieved it with multiple partners.
Mixed doubles winners include Ken Fletcher and Margaret Court in 1963. Margaret Court went on to win the doubles Grand Slam again in 1965, though she had three different partners. In 1967, Owen Davidson also took home a calendar Grand Slam.
Which Players Have the Most Grand Slams?
There are many players throughout tennis history who have accomplished spectacular feats, including repeated calendar Grand Slams. For men, Rod Laver was the only one to achieve two Grand Slams throughout his career. However, if you want to know who has the most individual Grand Slam tournament victories, that would go to Rafael Nadal, who has 21 wins so far.
The male player with the most Grand Slam victories in both singles and doubles is Roy Emerson, who has 28 wins combined.
There are a lot of women who won some of the largest number of Grand Slams in tennis history. For the ladies, the honor goes to Margaret Court, who has 23 Grand Slam victories in singles only. Billie Jean King, the founder of the Women's Tennis Association (WTA), however, has 39 wins by combining singles, doubles, and mixed doubles.
Achievements Related to Grand Slams
Since there has been a lot of talk about achievements like the Grand Slam in tennis, it makes sense to briefly mention the other accolades tennis professionals can obtain.
Non-Calendar Grand Slam
While a Grand Slam within a 12-month period is an incredible feat, you cannot overlook how impressive it is to win Grand Slam after Grand Slam, even if it isn't within the same year. When this happens, it is called a Non-Calendar Grand Slam.
How does this happen?
Say a player qualifies for the French Open and loses but then goes on to win the Wimbledon and US Open. Then, the following year they seize the Australian Open and French Open. This is still impressive, but there is not as much weight to a non-calendar Grand Slam.
Sometimes, when a player misses a Grand Slam by a single event, this is also referred to as a Three-Quarter Slam. Fans then cross their fingers and hope their favorite player can win a Non-Calendar Grand Slam or Career Grand Slam.
Here is a short list of tennis professionals who have this achievement under their belt:
| | | | |
| --- | --- | --- | --- |
| Player Name | Date | Country | Singles or Doubles |
| Billie Jean King | 1967-1968 | United States | Mixed Doubles |
| Natasha Zvereva | 1992-1993 & 1996-1997 | Belarus | Women's Doubles |
| Steffi Graf | 1993-1994 | Germany | Women's Singles |
| Serena Williams | 2002-2003 & 2014-2015 | United States | Women's Singles |
| Venus Williams | 2009-2010 | United States | Women's Doubles |
| Mike Bryan | 2012-2013 | United States | Men's Doubles |
| Bob Bryan | 2012-2013 | United States | Men's Doubles |
| Gigi Fernandez | 1992-1993 | United States | Women's Doubles |
| Novak Djokovic | 2015-2016 | Serbia | Men's Singles |
Career Grand Slam
You have probably heard of the Career Grand Slam more often than the others. When a player has won four Grand Slam tournaments throughout their career, it is said they have a Career Grand Slam. Since this is non-consecutive and not gated by time, the nature of this Grand Slam is less impressive than the other two. That said, any player who takes home gold from one of the Majors deserves respect!
Interestingly, only 18 singles players have achieved a Career Grand Slam, while 62 players have gotten this in doubles. Here are the names of 10 singles players with Career Grand Slams:
| | | | |
| --- | --- | --- | --- |
| Player Name | Career Era | Country | Times Completed |
| Fred Perry | Amateur | UK | 1 |
| Rod Laver | Amateur | Australia | 2 |
| Roy Emerson | Amateur | Australia | 2 |
| Novak Djokovic | Open | Serbia | 2 |
| Margaret Court | Amateur | Australia | 3 |
| Chris Evert | Open | United States | 2 |
| Martina Navratilova | Open | United States | 2 |
| Serena Williams | Open | United States | 3 |
| Steffi Graf | Open | Germany | 4 |
| Maria Sharapova | Open | Russia | 1 |
The Golden Slam
Remember how the Summer Olympics are considered the fifth Major tournament of the year? What would happen if a tennis player gets through all of the Grand Slam tournaments and also completes the Olympics with a gold medal? You get the coveted Golden Slam.
Considering how the Summer Olympics occur once every four years, obtaining a Golden Slam. Do note that, between 1924 and 1987, tennis was not considered an Olympic sport, so there are many wonderful players throughout history that never got a chance to aim for this achievement.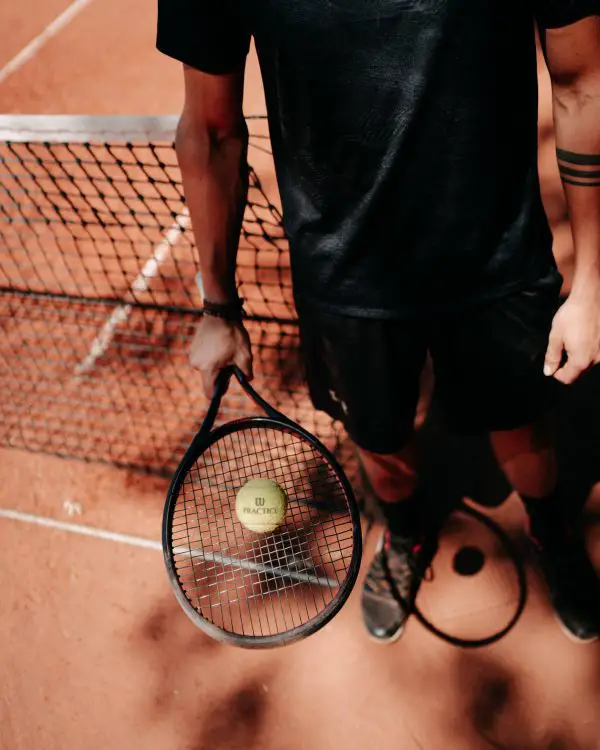 Interestingly, between WTA and ATP players, only one has achieved a Golden Slam. That would be Steffi Graf from Germany. However, when counting the Special Olympics, both Dylan Alcott and Diede de Groot have also achieved the Golden Slam.
Steffi Graf nailed the Golden Slam in 1988, and her win brought about the term. In 2021, Diede de Groot and Dylan Alcott accomplished this feat.
Of course, as with Career Grand Slams, there is also the Career Golden Slam. Not as phenomenal, but still worthy of applause. Some tennis pros that have gotten a Career Golden Slam include Serena Williams, Venus Williams, Rafael Nadal, and Steffi Graf.
The Super Slam
Ready to have your mind blown? There is also something called the Super Slam.
To obtain a Super Slam, a tennis player would have to win each Major tournament in a calendar year, the Olympic Gold of that year, and the season-ending final tournaments. As of 2021, this includes the WTA or ATP finals or the Wheelchair Tennis Masters.
Until 2021, no one had achieved a real Super Slam. Then, Diede de Groot became the first player to take home the title.
Steffi Graf was able to achieve a non-calendar Super Slam between 1987 and 1988, having completed the Golden Slam one year later.
Surface Slam
As the name suggests, a Surface Slam is a Three-Quarter Slam that includes all three playable surfaces. In other words, a player who wins on grass, clay, and hard courts throughout the year obtains a Surface Slam. This also means that players do not have to win all four. Since the Australian Open and US Open are both hard, they do not have to attend or win both of those—only one.
108 players have gotten Surface Slams throughout the years. Of course, Career Surface Slams and Non-Calendar Surface Slams are also a thing.
Grand Slam-mary
What is a Grand Slam in tennis? The "grand slam" is a major achievement which means that someone has accomplished the miraculous feat of winning every single one of the majors: the Australian Open, French Open, Wimbledon, and US Open. Every professional is desperate to win at least one, but to win 4 in a row is something that could make anyone's career immortal. Therefore, if you ever get a chance to attend even one of the major tournaments, you should. It's a place where the real drama of tennis unfolds.