Hey! This site is reader-supported and we earn commissions if you purchase products from retailers after clicking on a link from our site.
When most of us think about racket sports, tennis is probably the first to come to mind. However, as it turns out, badminton is actually the most played racket sport across the world!
Because of its popularity (and its fast-paced nature, which makes it a highly skill-based sport), badminton also happens to be quite professionally lucrative for those who play well enough to become household names.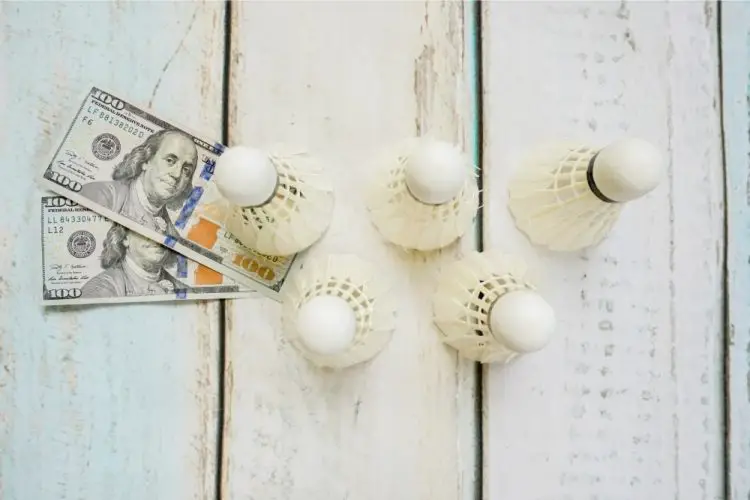 In this article, we'll be exploring how professional badminton players make their money, how much money they make on average, and how to start making money through professional badminton!
How Do Badminton Players Make Money?
So, first thing's first: how do badminton players make money? 
There's no simple answer to this question because there are, in fact, several ways to make money from playing badminton.
One of the most common ways to make money in badminton is through winning (or placing in) tournaments. Badminton tournaments of various sizes and levels of proficiency often hand out monetary prizes.
The smaller tournaments will usually only provide financial recognition for the top-scoring players (usually the top 4 or the top 8), but larger, more renowned tournaments frequently give out awards in earlier rounds. 
Performing well in badminton tournaments can be extremely lucrative, but only as long as you place highly on a consistent basis.
For example, if you take a look at the top Men's Singles badminton tournament players, you'll see that Kento Momota has won over $1,250,000 in prize money. However, Momota certainly had to put in the time and effort to make this much, winning a total of 11 World Tour tournaments. 
Tournaments and championships take place at different levels. There are State-level tournaments, National-level, and International-level. Naturally, because the stakes and competition are both higher in National and International championships, the monetary rewards are also higher. 
Once badminton players get their names out into the public sphere, opportunities such as brand and company sponsorships might begin to present themselves.
This is an exchange that often involves players promoting a relevant brand's products in return for monetary payment – either up front or as a percentage of the brand's profit from the sponsorship. 
There are also some other means of getting paid for playing badminton professionally, but these are typically restricted to the best of the best. In the world of badminton, this generally means Professional League players. 
An example of a professional badminton league is the Premier Badminton League in India. The Premier Badminton League receives enough funding to pay players up to the equivalent of $110,000 per year. 
Plus, although it may not be what most aspiring badminton players have in mind when they start their careers, it's also possible to make money from teaching or coaching badminton. The average annual salary for a badminton coach is $48,645, which is above the average U.S. salary. 
How Much Do Badminton Players Make?
Now that you know the different avenues badminton players can take to make money, you might be wondering about the specific figures. If that's the case, you're in the right place! 
The monetary prizes available through playing badminton tournaments vary significantly depending on the level of the tournament and where a player places. 
For example, if you place high enough in a State-level tournament, you might win a few hundred dollars. At International level, you could be in with a chance of winning up to $500,000!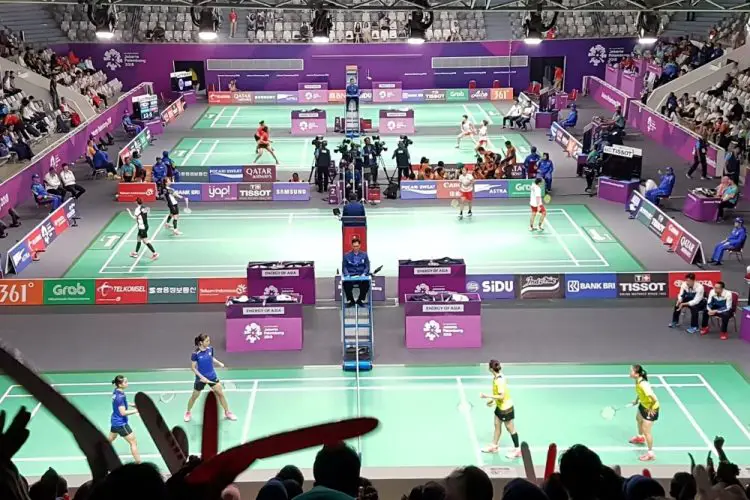 Once a player's name is out there, doors to brand deals and sponsorships begin to open up, which creates an opportunity to make even more money.
It's difficult to put a solid estimate on how much a badminton player could make from sponsorships because offers from different brands vary according to the products being promoted and the popularity of the player promoting them (usually measured in social media followers). 
As we mentioned previously, playing badminton for a professional, premiership league often comes with significant government funding.
Of course, this isn't an easy way to make money. It involves being ranked amongst the very best badminton players on either a national or international level, which isn't a position many people will have access to.
However, players who are able to rank at this level in countries where badminton is very popular can earn anywhere from $20,000 to $110,000 through government funding. 
Alternatively, choosing to coach rather than play badminton professionally can also land you a decent salary. On average, a private badminton coach can expect to make $48,645 per year, at an hourly rate of $23.39. 
How To Start Making Money As A Badminton Player
Assuming you're an aspiring professional badminton player, the best way to start earning some money from your talent is to enter into State-level badminton tournaments. 
These tournaments have entry fees, but if you place high enough, you could walk away with a prize of several hundred dollars along with enough recognition to proceed to National level. 
From there, it's a case of playing as many tournaments as you can, not only to make yourself known in the sport but to earn as much money as possible. National-level badminton tournaments also come with the opportunity to be spotted by brands, who may sponsor you in exchange for the promotion of their products. 
If you can then progress to International tournaments, you'll earn even more and be in with a chance of being selected for professional leagues. 
Final Thoughts 
Ultimately, making money as a badminton player is not an easy task. Earning enough money from playing badminton to support yourself financially largely depends on being in a country where badminton is sufficiently popular and being good enough to place in National and International tournaments. 
However, making a lucrative career in badminton is not impossible if you have the talent and the motivation. Some of the top badminton players in the world have been able to earn millions of dollars from a combination of tournament wins and government sponsorship at Premier League level. 
Many badminton players who compete in National tournaments are also able to make money from brand sponsorships.