Hey! This site is reader-supported and we earn commissions if you purchase products from retailers after clicking on a link from our site.
When evaluating which racket to spend your hard-earned money on, you no doubt consider how price and quality compare. Will buying a racket that is slightly more expensive than your last one give you an edge? The good news is that there is a wide variety of rackets out there, many that can be purchased on even a low budget. So how much do tennis rackets cost these days? And are there any hidden costs to consider when making your decision? Let's find out!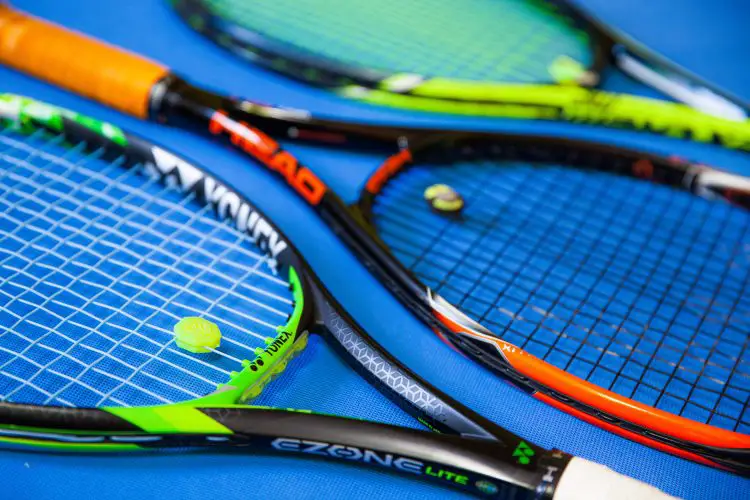 The Average Cost of a Tennis Racket
Choosing the best tennis racket can be a difficult decision. Throughout the US, you will find that tennis racket prices vary between a reasonable $15 to much higher, around $300. If you are just starting out, you may aim towards the more budget-friendly end of the price spectrum. If you play often and are advanced, the average cost of a tennis racket runs around $150-$250. This is especially true for those who want the latest and greatest technology.
Check out this chart:
| | | | |
| --- | --- | --- | --- |
| Brand | Player Type (Age) | Tennis Racket Model | Price |
| Wilson | Junior (Age 5-6) | US Open 21 Kids Tennis Racket | $29.00 |
| Wilson | Junior (Age 9-10) | US Open 25 Kids Tennis Racket | $29.00 |
| Head | Junior (Age 8-10) | Head IG Speed 25 Junior Racket | $59.99 |
| Head | Junior (Age 8-10) | Head Graphene 360+ 25-Inch | $99.00 |
| Babolat | Junior (Age 6-8) | Babolat Drive Junior 23-Inch Tennis Racket | $69.00 |
| Babolat | Junior (Age 11+) | Babolat Pure Aero Rafa Junior 26-Inch | $114.00 |
| Wilson | Beginner | Wilson Pro Staff Precision XL 110 | $39.00 |
| Wilson | Beginner | US Open Tennis Racket | $59.00 |
| Head | Beginner | Tour Pro | $40.00 |
| Head | Beginner | Geo Speed | $60.00 |
| Babolat | Beginner | Evoke 102 | $59.00 |
| Babolat | Beginner | Aero 112 or Aero G | $139.00 |
| Wilson | Advanced | Burn 100LS | $129.00 |
| Wilson | Advanced | Pro Staff 97 v13 | $279.00 |
| Head | Advanced | Instinct LITE | $129.00 |
| Head | Advanced | Extreme TOUR | $229.00 |
| Head | Advanced | Radical PRO | $249.00 |
| Babolat | Advanced | Pure Aero LITE Unstrung | $199.00 |
| Babolat | Advanced | Pure Drive Tour Unstrung | $229.00 |
| Babolat | Advanced | Pure Strike Team Unstrung | $209.00 |
| Dunlop | Professional | Dunlop Srixon Revo CX | $225.00 |
| Yonex | Professional | Yonex Astrel 105 | $250.00 |
| Yonex | Professional | Yonex VCORE Tour G 330 | $199.00 |
| Prince | Professional | Tour 100 | $189.00 |
Now, there are designer tennis rackets out there that cost upwards of $1,800. One Chanel racket has been sold for around $5,000. Keep in mind that designer rackets are identical to the favorites used by professionals and don't have significant technological advantages.
How Much Do Kids' Tennis Rackets Cost?
Why does a child's racket cost so little? That is because the rackets are not built to last and do not contain the same grade of materials as one a professional might use. For that reason, kids' tennis rackets are around $15-$30. This range remains true for all kids tennis rackets, even the larger ones. Most rackets designed for smaller hands are around about 19-23 inches long.
Once your child has outgrown their 23-inch racket, it is time to switch to a 25-inch racket and green compression balls. Advanced junior options are a little more expensive, because they are designed to resemble the tournament rackets utilized by professionals. Advanced junior rackets run around $100, but you may be able to find some that are much cheaper.
The next stage is 26 inches long. Both yellow standard and green compression balls can be used with 26-inch long rackets for children. The most expensive examples exceed $100. Fortunately, children who are only interested in playing at the recreational level will not need a 26-inch long advanced junior racket. A serious player, though, will need high quality equipment.
How Much Does a Beginner Tennis Racket Cost?
There are many kinds of rackets out there. For those who have just picked up a racket for the first time, you do not need what Nadal or Djokovic are using. The recommended rackets for beginners are often made from graphite or aluminum and have a decent grade of nylon for the strings. You can learn how to play tennis well on such a racket, and you won't have to invest too much in your equipment. If you want to continue improving and increase your skill level, you can then consider choosing a racket of higher quality.
For that reason, you may first spend about $20-$50 on a racket to begin. Later, you may want a slightly pricier option, but it should not cost you more than $100.
How Much Do Intermediate Tennis Rackets Cost?
When you have put in a good amount of time practicing tennis, the next step beyond your beginner racket is an intermediate one. Starting at around $100, intermediate rackets incorporate technologies favored by the professionals.
But are intermediate rackets necessary? Yes. Consider it an investment towards the betterment of your skill. By buying a racket designed for your skill level, you unlock the next phase of advancement. The better the racket, the better you can control the ball and start to add variety to your game.
If you don't want to shell out $100 to $300 immediately, think about looking for older versions of intermediate rackets on sites like eBay. Old versions are just as good as the new ones, though they may lack some of the technological advances.
How Much Do Professional Tennis Rackets Cost?
You might think that professional tennis players in the upper echelons of the rankings would be using rackets worth thousands of dollars. That is not the case. A lot of professionals use the same advanced rackets that you can pick up at the sporting goods store today. The difference is that they often modify their rackets.
For example, a $230 racket used by Federer may actually be valued around $500, due to the tweaks he had done to the design.
Why Are Rackets Expensive?
One of the questions that many tennis enthusiasts and players find themselves asking is why rackets cost so much. Well, it is because rackets are not manufactured equally. Those differences boil down to four points:
Materials used and overall design
Utilized technology
Construction quality
Brand endorsements and marketing
Let's delve a bit further into these factors.
Materials & Design
The materials used can make a huge difference in the performance and durability of a racket. Therefore, the price is affected. One thing you will notice is that many high-end rackets utilize graphite or a composite. These materials are more expensive than aluminum, for example. Cheaper entry-level rackets often feel heavier and more cumbersome because they are made with materials that are heavier and less resilient.
Related Read: Parts of a Tennis Racket
Furthermore, the overall design of the racket influences the cost. The materials used are often bolstered by the design, which is not created on a whim. Engineers and other individuals are employed to come up with rackets that not only look good but performs well. Naturally, the more people needed to design the racket, the pricier it becomes.
Technology
A lot of new technology has been released throughout the years. Entry-level rackets for beginners tend to use a lot of fancy words for things that come standard. For example, Wilson like to call their aluminum rackets "AirLite Alloy." It sounds good, but it really is no different from regular aluminum. Some beginner-level rackets have larger heads to increase the sweet spot. Some have shock sleeves to reduce vibrations.
A professional level racket, though, is going to have much more. For example, Babolat rackets use things like FSI Spin, where the grommets are spaced out to improve snapback and generate way more spin than an entry-level racket. The more expensive the racket, the greater the chance that you are getting something with far more integrated technology.
Construction
How well something is designed and constructed is also important to consider. Take, for instance, the Wilson Energy XL, a decent entry-level racket for a beginner. The entire racket is made of aluminum and is composed of several pieces of metal. That disperses some of the strength and durability that you would see in a professional grade racket. The Babolat Pure Aero looks strikingly similar to the Wilson Energy XL, but the Pure Aero is a single piece of graphite, not separate pieces.
Endorsements & Marketing
How a brand markets itself and who uses said racket is also going to play a role in how expensive that racket ends up. For instance, when Rafael Nadal decided to start using the Babolat Pure Aero 2019, the demand—and the price—skyrocketed. Rackets that are used by professionals are naturally going to have a higher price than those that are used by the common person. However, there is nothing wrong with picking up the Honda Civic of tennis rackets, especially when you are just starting out.
What Kind of Rackets Do the Pros Use?
Curious to know what the top players in the world have paid for their rackets? Below is a list of players, the rackets they use, and how much those rackets cost:
Roger Federer's Tennis Racquet: Before his retirement, Federer used and endorsed the Wilson Pro Staff 97 RF, which costs about $250.00-$300.00. However, his racket has undergone modifications, which would increase the market price.
Williams: Serena Williams, prior to her retirement, was using the Wilson Blade SW104 Autograph V7, which runs about $250.00. Like Federer, her racket may have undergone customization.
Barty: Head Speed X Limited Edition MP, $220.00.
Osaka: Uses the Yonex EZONE 98 Blue, which goes for $220.00.
Nadal: Uses the Babolat Pure Aero, which costs $230.00.
Djokovic: Smashes his competition with the Head Graphene 360 Speed Pro with additional customization applied. Without modifications, the racket costs $230.00.
Medvedev: He has used the Technifibre ATP TFight 305 XTC for a couple of years now. Tecnifibre is a bit hard to get your hands on. The ATP TFight 305 XTC is 11.4 oz, has a 98 square inch head, and costs $219.00.
Tsitsipas: Uses the Wilson Blade 98, a racket that costs $219.00. Fun fact: The Wilson Blade 98 is also used by Milos Raonic, Sebastian Korda, Ugo Humbert, Kiki Bertens, and Simona Halep.
Thiem: Babolat Pure Drive. Price: $219.00-$250.00.
Zverev: Head Graphene 360+ Gravity Pro for $261.00.
Nishikori: Wilson Ultra 95 Countervail for $190.00.
Related Read: The Best Women's Tennis Racquets
As you can see, the professionals do not have extremely expensive models at their disposal. Instead, they buy the same rackets available to everyone else then customize those rackets to suit their style better.
Should You Get an Inexpensive or Pro Model?
Upon reading through what rackets cost and which models are selected by the professionals, you may be wondering which route is better: to buy a less expensive model for practice or to make an investment right from the start.
The answer depends on your skill level. Top tier rackets are not ideal for those who are just learning the game. See, rackets are designed and priced out based on your skill level. Lower level, cheaper rackets are made to show you the ropes. You can learn solid technique with a beginner's racket. However, an advanced-level racket is going to have all kinds of little features that you will not know how to make use of, and thus be unable to enjoy the racket.
If you want to focus on improving your technique first, go with a beginner's racket. If you are aiming to test your mettle in tournaments, go with an intermediate or advanced racket.
Check out this video detailing the differences between an inexpensive vs expensive tennis racket:

Additional Racket Costs to Consider
As with all kinds of sporting equipment, there are additional costs you need to think about when considering how much do tennis rackets cost. Each extra fee boosts the price of the racket you are looking to purchase, particularly the ones that come unstrung.
Yes, you need to restring your racket once in a while. Depending on the kind of strings you want, you can be shelling out $10 to $40 every time you need new ones. Plus, it can be difficult to string or restring your racket alone. Thus, you may end up paying someone else for their time, which tacks on an additional $15-$30.
Secondly, you may need to modify or replace the grip. Although the overgrip on the racket does not cost much to replace, it is an additional expense that adds up overtime.
Aftermarket customization is also expensive. Some customization options include:
Adding weighted tape to the sides of the racket to increase the sweet spot
Increasing the string gauge by decreasing string thickness
Increasing or decreasing string tension
Tightening or opening the string pattern
Weighted tape to the handle
Increasing weight of racket handle
Adding silicone to handle to improve dampening
Where Can You Buy a Tennis Racket?
You now know how much a tennis racket costs. Let's discuss where you can find a wide variety to peruse.
Local Tennis Supply Shop
One of the best places to look is the local store run by tennis lovers. Those who run tennis shops will have the knowledge and experience to support your search. They will be able to help you find the best options that suit your skill level and play style. Most often, these shops allow you to demo the racket, which comes at a minimal cost of around $5-$10.
If you do not have a tennis shop near you, then you should approach club members or your coach. They may be able to guide you towards a good option.
Online Tennis Retailers
If you do not want to go to a physical store, your next option is an online retailer. Stores like Tennis Plaza, Tennis Warehouse, and Tennis Express are great places to find tennis rackets of all sizes and skill levels. Since these sites are aimed at tennis players, most of the reviews tell you exactly what you need to know about the racket.
Furthermore, if you have any questions, these specialty stores are often like the local tennis shop whose employees know what they are talking about.
Amazon
Although you are not going to find many tennis experts on Amazon to help you, there is a wide variety of items that can be shipped immediately to your door. Those who want something cheap to start playing tennis should head here first.
Big Box Stores
Another option for players who are just starting out or want to buy a reasonably priced child's racket, head to a big name store like Walmart, Target, or Dick's Sporting Goods. The models in these places are extremely basic. In some places where tennis is popular, you may find a larger selection. The price is often comparable to Amazon, but you get the advantage of picking up the racket and giving it a few test swings.
What a Racket
How much do tennis rackets cost? It depends on materials, design, technology, and construction quality. Tennis rackets are one item where you definitely get what you pay for! Most of the time, you will find that rackets run between $30 and $250, though there are some exceptions. Professional players tend to spend around $200-$300 on a racket, including added modifications. Now that you know how much tennis rackets cost and why, you should be able to narrow down one that suits you best.