Hey! This site is reader-supported and we earn commissions if you purchase products from retailers after clicking on a link from our site.
Tennis balls. Some bounce high, some low. Others fly in an arc or whiz along the ground. You may think this is the result of a slow or fast court or the player's skill, but it can also be influenced by the weight of a tennis ball. How much does a tennis ball weigh? It depends! And while discussing the weight the ball is rarely seen of consequence among fans, there are weight variances among tennis balls that can lead to a significant difference for the tennis players.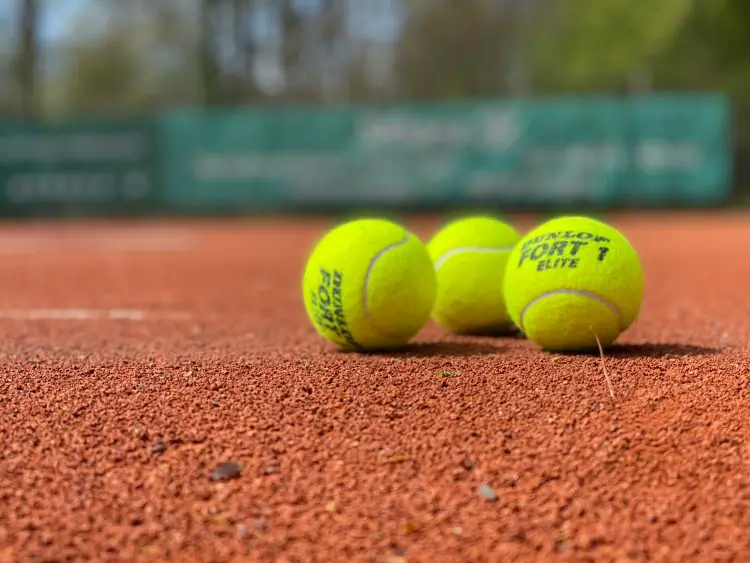 How Much Does a Tennis Ball Weigh?
The International Tennis Federation (ITF) is the governing body in charge of how much a tennis ball weighs. According to the ITF, the accepted weight range is between 1.975 and 2.095 ounces (56-59.4 g) to allow for individual weight variances. Some of those weight differences are attributed to the way a manufacturer constructs the ball. For example, the way the nylon-wool blend on the outside is woven can affect the weight.
Unfortunately, there is no uniform ball. No brand is used for every single Grand Slam tournament. Dunlop balls are used throughout the ATP Tour. Meanwhile, the Roland Garros tournament switched from Babolat to Wilson, which has a slightly different weight and construction than Dunlop. Furthermore, Wimbledon uses a brand called Slazenger, which is notably the heaviest ball on the market. The choice may even seem a bit odd, because Slazenger balls have so much nylon-wool that they fluff up and become even larger during matches.
Are Weights Different For Men and Women?
If you are interested in finding an answer to the question "how much does a tennis ball weigh in WTA vs ATP matches?", you may be shocked to find out that there is no difference. Women's and men's matches use the same commercially available balls.
However, most ATP matches tend to use the same brand of ball, so that the male players know which one to use during their practice. WTA matches have not followed suit. That can make it more difficult for a female tennis player to prepare for a game when they do not know their opponent or are on an unfamiliar court.
The Dimensions of a Tennis Ball
You might be interested to know that among the different kinds of tennis balls, they should all weigh between the same range of 1.975 and 2.095 ounces (56 to 59.4 grams). The type 1 (fast) and type 2 (medium) tennis balls are both 2.57-2.70 inches (6.54-6.86 cm) in diameter. High altitude tennis balls are the same. Slow type balls, also called type 3, are slightly larger—around 2.76-2.87 inches (7.00-7.30 cm).
Can Tennis Players Tell The Difference in Tennis Ball Weights?
How much does a tennis ball weigh? Maybe you should ask a seasoned tennis player! Interestingly, players start to favor one type of ball over another. This is because the availability of certain brands, as well the court used, means that each tennis player has unique experiences. You might find that Dunlop tennis balls are ideal, while someone else will love Wilson tennis balls.
For example, someone who likes Dunlop will find that Wilson balls will look large in diameter but feel smaller in the hand. Why? Because Wilson tennis balls use less felt on the outside. That makes the balls feel incredibly different to someone who uses only Dunlop or Penn.
In short, every ball has its own bounce. Every player has their favorite tennis ball.
This video details how professional players choose a tennis ball (including some of their rituals):
What Happens If a Player Uses the Wrong Ball Weight?
Imagine this for a moment: You are preparing for a match with a lighter, faster tennis ball. The same one you have always used. When you get to the match, though, you find that the court is a slow court, and that the ball is heavier than what you are used to. Unfortunately, your opponent has trained with these kinds of tennis balls before, and they are more prepared for this game than you. What do you think happens?
The type of tennis ball you use—and the ones that you practice with regularly—will have an effect on your play style and game.
Let's return briefly to the Slazenger used at Wimbledon. Already heavy, the ball gains some mass when the felt fluffs up and gets moist on the grass. As the heavier ball moves through the air, it will face more resistance, becoming slower. The bounce is also larger. If you are an aggressive player who relies on speed, it will alter the way you finish a point or even serve. A more defensive opponent would be a true problem in this situation.
How a player hits the ball will also be affected by the weight. Someone who adds topspin to their strokes will cause more damage to the outer felt. The ball fluffs up faster, and the game slows down. Flat hitters do not cause such a disturbance, and so the ball keeps its original shape for longer.
Heavier Tennis Balls, More Injuries
When considering how much a tennis ball weighs, don't overlook special high altitude tennis balls. Pressureless balls tend to weigh more than the ones that have been pressurized. When players use non-pressurized tennis balls, they end up damaging the soft tissues around their shoulder, forearm, and wrist far more often.
Of course, this can also translate to players who are used to playing with heavier, slower tennis balls having to chase down faster ones. When a baseline player is unexpectedly forced to deal with quicker, lighter tennis balls, they may find themselves jerking their body in ways they are not used to. That could lead to ankle and knee injuries.
Does Weather Affect Tennis Ball Weight?
Tennis balls are made of vulcanized rubber and felt. Some of those balls will have a hollow core, while others are non-pressurized and made of all rubber. Regardless, heat will alter the properties of the rubber. Tennis balls behave differently depending on the temperature. On a cool day, a ball will bounce less. Hot days increase bounce.
Because of that, most manufacturers have changed the way tennis balls are constructed. Did you know that balls used to be made of leather stuffed with fur or hair? Sometimes animal stomachs wound in wool and rope were used. In the 18th century, tennis balls were cork covered in wool. Vulcanized rubber changed everything in the late 1800s, however. Flannel was used as the initial covering, but wool and, later, nylon-wool were utilized.
Nylon-wool is an excellent choice, because it regulates bounce and speed. Though fluffing does alter the weight of the ball, temperature is less of an issue.
Ball Weight is a Game-Changer
So how much does a tennis ball weigh? The accepted range is between 1.975 and 2.095 ounces (56 to 59.4 grams). The construction of the ball, as well as the brand, will introduce some variances in the weight—and that can be a game-changer. Knowing which brand and type of tennis ball is used in a match can truly alter your game. Make sure you are preparing with a variety of tennis balls, so you can approach the game ready to play.