Hey! This site is reader-supported and we earn commissions if you purchase products from retailers after clicking on a link from our site.
Have you been inspired by tennis greats like Rafael Nadal or Serena Williams to become a professional? When watching the advanced players, tennis may look almost effortless. The neon ball sails back and forth over the net until one person makes a mistake. So it should be relatively easy to learn the game and become a professional, right? Turns out, there are many steps required to getting good enough to go pro and make a name for yourself. Here is how to become a professional tennis player in 6 steps.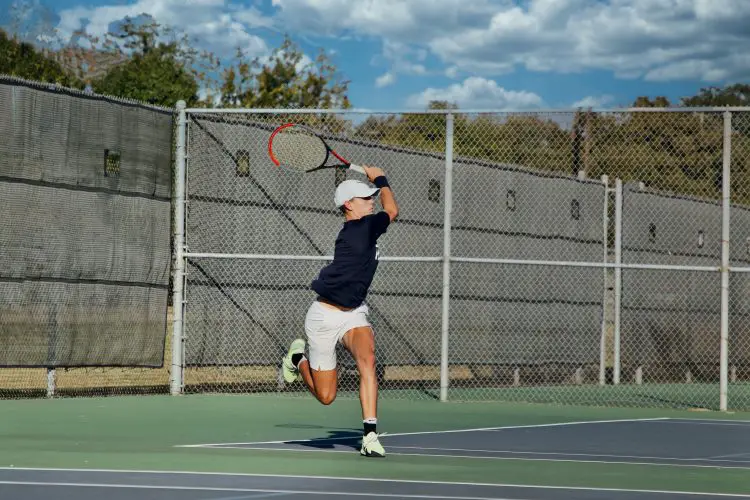 1. Begin Early and Practice Often
The recipe for success is the same for numerous sports: Do the thing repeatedly. It is no secret that the famous Williams sisters began at 3 years old and practiced endlessly. They have clocked enough hours to become masters of tennis. That is why it is important to begin as early as possible if you want to be a professional. Only a handful of tennis professionals have ever started as adults. Blooming late is rare.
Professional-level tennis requires a lot of skill and practice. However, don't let that get you down if you are already past 20 years old. There is still a chance to progress through the ranks.
Curious what the skill gap is between a professional and amateur tennis player? Check out this video:
2. Compete a Local Junior Tournaments
If you started as a child (or want to see your own progeny at Wimbledon one day), one of the most important steps is to enter into a junior tournament. In junior tournaments, you get a taste of competition. Even players who are not the best when competing can learn a valuable lesson or gain confidence on the court.
For those who are older, consider asking for a few matches from the local junior competitors. Gauge your skill and athleticism against them. If you have trouble holding your own, then you need a bit more practice.
3. Play in National Tournaments
Once a junior player attains a decent ranking within their age bracket, they may be able to compete in national level tournaments. The USTA has a long list of tournaments throughout the year. However, there are qualifiers, and it takes a lot of work. Yet, those who aspire to go pro take reaching the National Junior tournaments just as seriously as adults heading to one of the Grand Slam tournaments.
4. Advance in ITF Future Tournaments
Since tennis is international and most professionals must travel to compete, the next step after national junior tournaments is those put on by the International Tennis Federation. Future tournaments are a wonderful place to begin for older places, as well as young rising stars. You can play against a variety of players and potentially earn some prize money.
You can find Future tournaments throughout the world. For many, this is the first real taste of how the professional world of tennis operates. The schedules are grueling. The good news is that you do not have to be at the professional level to compete in these tournaments. If you accept prize money as a pro, however, you give up amateur status forever.
College students must be mindful of this. If you go pro, any college scholarship you have also goes out the window!
5. Enter in Challenger Tournaments
The next step from ITF Futures are Challenger tournaments. Both amateur and professional level players can enter. Interestingly, there are many tennis players out there who focus on winning Challengers. Each win gains the player some points and boosts their ranking. With enough points, they may qualify for the major tennis tournaments. If you want to make a name for yourself and win a lot of prize money, attend Challengers whenever possible.
6. Qualify for ATP or WTA Tournaments
This is the most challenging part. In order to qualify for professional level ATP or WTA tournaments, you need points. However, there are some players who skip Challenger tournaments and aim straight for ATP and WTA events. This can be a draining process, because many players find themselves without a single win for months on end. That said, simply qualifying for ATP or WTA tournaments often grants more prize money than winning an entire Challenger tournament, so if you want financial stability while playing tennis, consider making that jump.
Junior players who advance into a professional career have the best chance at this. They often spend 3 to 4 years trying to boost their rankings. Players who start later may need more time. However, if you keep playing and moving up in the rankings, you may one day arrive within the top 100.
Who knows? If you are promising enough, you could even receive a wildcard to one of the Grand Slam tournaments! Now wouldn't that be a story to tell?
Do Not Forget About Points
Professional tennis players are faced with a unique challenge that recreational and amateur players do not. They have to constantly think about their points. Rankings can fluctuate rapidly. Do well in one tournament, and you can power through the rankings. However, if you make a mistake and end up losing a title at the end of the year, your name will plummet back down to where you came from. Thus, while there are many professional tennis players out there, it is a status that you must continuously fight to maintain.
Ready To Go Pro?
Now that you know how to become a professional tennis player, what do you think? There are many trades and careers out there that require a specific credential or degree to become a professional. Tennis is not one of them. The title of professional comes as part of a long journey with few, if any, shortcuts. You must compete often and gain enough points. The good thing is that anyone can make this attempt so long as they are determined to do it!