Hey! This site is reader-supported and we earn commissions if you purchase products from retailers after clicking on a link from our site.
Every year, millions of people tune in the Grand Slams and the major tennis tournaments to watch the pro's play. But what do the pro's play with in these tournaments? My name's Julian and this is an ongoing post in a series called The Pro's: Racquets and Equipment. 
Our player today is Marin Cilic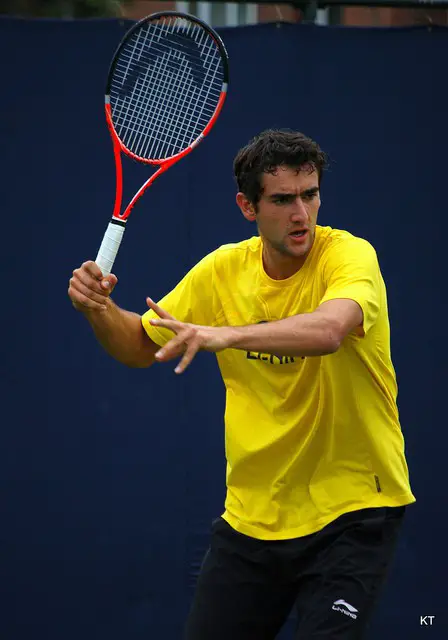 and the question we're answering is
What racquet does Marin Cilic play with?
Marin Cilic's Racquet:
Marin Cilic is sponsored by Head which we know is notorious for saying professionals play with one racquet when they really don't. His racquet is painted like a Head Graphene Touch Prestige Mid but is that what he actually plays with? Let's dig deeper.
Marin Cilic does not play with the Head Graphene Touch Prestige Mid like people think. He actually plays with a pro version of the Head Microgel Radical MP with a 16×19 string pattern. The pro stock code is TGK 231.3 if you want to look into the frame more.
I've reviewed the Head Microgel Radical MP before and it seems to be a very popular frame for some of the world's top tennis players. Marin Cilic does make some modifications. He adds lead tape to the frame in order to slightly increase the swingweight resulting in more powerful shots. Cilic is known for his powerful ground strokes which are quite possibly a result of this racquet
Marin Cilic's tennis racquet also has a custom molded L4 grip. Head racquets typically have rectangular grips but Cilic's is much more Wilson-like. To see the full specs for Marin Cilic's real tennis racquet look below.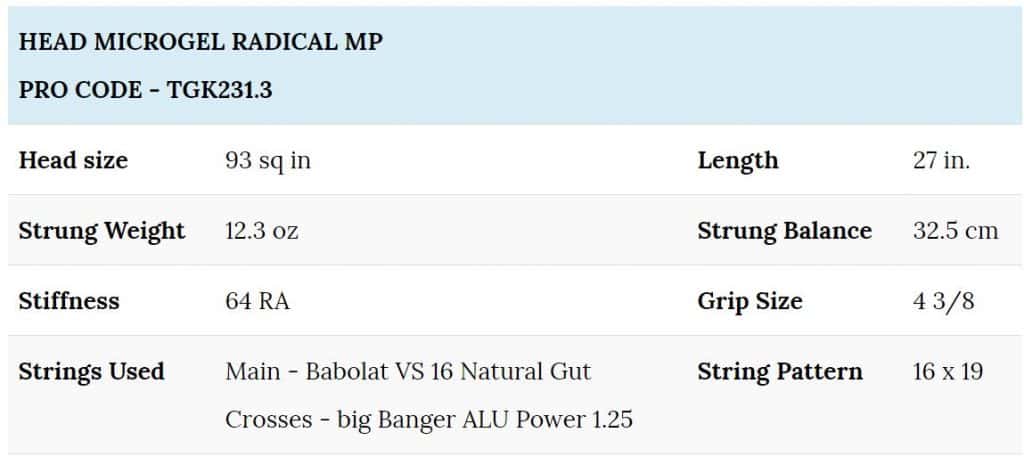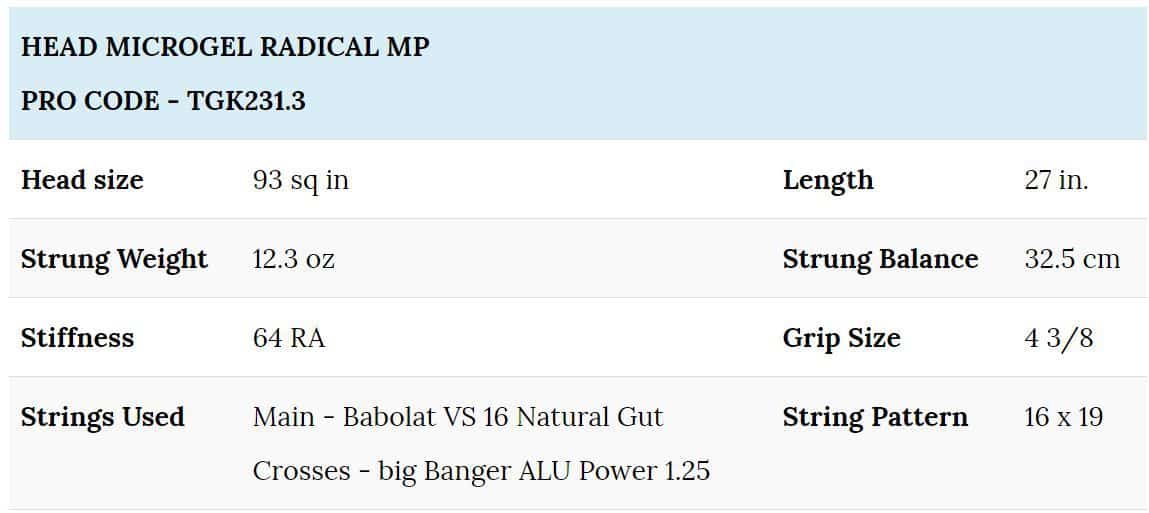 Marin Cilic Bio:
Now 29, Marin Cilic has had a storied tennis career. He was born in Croatia in 1988 and started playing tennis as a kid in Bosnia before moving to Zagreb, the capital of Croatia for more advanced training. While training as a kid, he met Goran Ivanišević who he hired as his coach after quickly befriending him. Goran was his coach up until 2016.
During his time in professional tennis, Marin Cilic has won 17 ATP singles and achieved a top ranking of #3 in the world. He has quickly grown to become a top contender for existing tennis legends such as Roger Federer. Recently he was the runner up at the 2017 Wimbledon championship and the 2018 Australian open. In both tournaments, he lost the final match to Roger Federer.
Marin Cilic is known on the court for his extremely fast serve of greater than 150 mph and his powerful ground strokes.
As of the time of this writing, he is ranked #4 in the world.