Hey! This site is reader-supported and we earn commissions if you purchase products from retailers after clicking on a link from our site.
Tennis is a game played throughout the world and on a number of courts. The different types of tennis courts each have unique characteristics. Some courts are hard, causing the balls to bounce higher. Others are squishier, in a sense, and slow down the game. Thus, understanding tennis court surfaces is essential to not only learning how to play the game but also finding more enjoyment when watching a match.
Today, you are going to learn about the different types of tennis court surfaces, as well as what those courts are made of and how they affect the game. Let's get started!
What Are The Different Types of Tennis Court Surfaces?
Many people know that there are three commonly used types of tennis courts out there—hard, clay, and grass. Yet, throughout the years, more surfaces have been introduced (and some removed) from the tennis world. Here are ten different court surfaces that you may come across when playing or watching tennis matches:
Hard Tennis Court Surfaces
The most common type of tennis court is the hard court. The surface is derived from either acrylic or polyurethane. Beneath the top layer of acrylic or polyurethane is a base of asphalt or concrete. Some courts may also be constructed with a cushion beneath the acrylic to adjust the speed of the court. If sand is added to the acrylic, for example, the court becomes slower.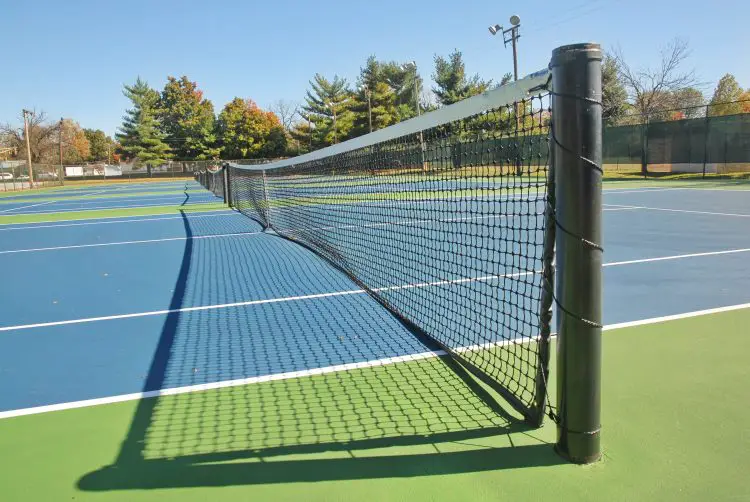 You may play on one hard court that feels exceptionally fast, while another is a bit slower. Hard courts are also bouncy. You will find that longer rallies are made possible on hard courts. Under the sun or during the summer, the materials become ever faster. You could potentially have two different experiences on the same court, depending on time of day or year.
Most professional tennis tournaments are held on hard courts, including the Australian Open and US Open. The Indian Wells, Miami, Cincinnati, Canadian Open, Paris, and Shanghai tournaments in the ATP 1000, as well as the ATP Finals, also make use of acrylic and polyurethane courts.
Asphalt Tennis Courts
What makes an asphalt tennis court different from an acrylic or polyurethane court? The top layer. Asphalt and acrylic courts are more or less the same, except there is no acrylic added to the asphalt layer. While this decreases the cost of installation, it does leave the finished tennis court incredibly susceptible to environmental damages. Asphalt tends to soak up heat, forming cracks that will need to be repaired before tennis games can be played.
Public tennis courts, such as those used by recreational players at parks or clubs, tend to be made of asphalt, not acrylic. No major tournaments use asphalt courts, only those that have the final wearing surface of polyurethane or acrylic.
Do asphalt courts play the same as acrylic courts? Yes, when they are not damaged by the heat and cold.
Concrete Courts
A tennis court made out of concrete is nearly identical to the look and feel of an asphalt court. They are also constructed the same way. The only difference is that concrete is made with different materials. Furthermore, concrete tends to crack less than asphalt courts.
No professional tournaments utilize concrete surfaces, but you may find them at sports clubs and parks.
Grass Tennis Courts
Once upon a time, grass courts were the favored tennis court surface. Between 1905 and 1974, the Australian Open, US Open, and Wimbledon were played on grass. Now, only the Wimbledon Championships are played on grass. Not a single ATP 1000 plays on grass. What made them fall out of favor, though?
As with any lawn, grass tennis courts require a lot of upkeep. Since they are made with natural grass, they need to be watered during the hotter months. When it rains, grass courts become dangerously slippery and cannot be used for matches. Because of that, hard and clay tennis court surfaces became preferred.
This video explains why the Australian Open swapped out their grass courts for something else:
Grass courts are a unique playing experience. Since the ball slides around when it bounces, it accelerates the game. Plus, the grass absorbs some of the momentum, causing the ball to fly closer to the ground after it bounces. Balls with a topspin are less effective than those with a slice. If you hit a flat shot or love volleying, then you will find much success on grass.
Interestingly, some of the longest matches in history have been played on grass courts. Why? Because it is very difficult to break a serve!
With all that said, how are grass courts constructed? They are a cake of clay, stone, silt, sand, and real grass. Grass courts require a considerably large foundation layer to assist with drainage. Otherwise, water would accumulate on the court.
Artificial Grass Courts
Similarly constructed to other artificial courts or carpet courts, artificial grass is placed over a regulating base that provides a stable surface. Artificial grass looks exactly like a natural grass court when installed. The main difference is that there is far less maintenance. Artificial grass is also easier on the players' bodies.
Play is generally the same. As a fast court, the ball stays low to the ground, and the players and ball both slide around. That said, artificial grass is a little less slippery, providing increased traction.
While you will not see artificial grass courts used in any major tournament, they are popular options for private residences and parks.
Clay Tennis Courts
Extremely popular in South America and Europe, clay tennis courts are one of the three main types of tennis courts. Much slower than hard courts, clay uses a top layer of crushed aggregate, so fine that it may be powder. That aggregate usually consists of brick, shale, stone, and other unbound materials. Under the top layer is another thick layer of the same materials but compacted together.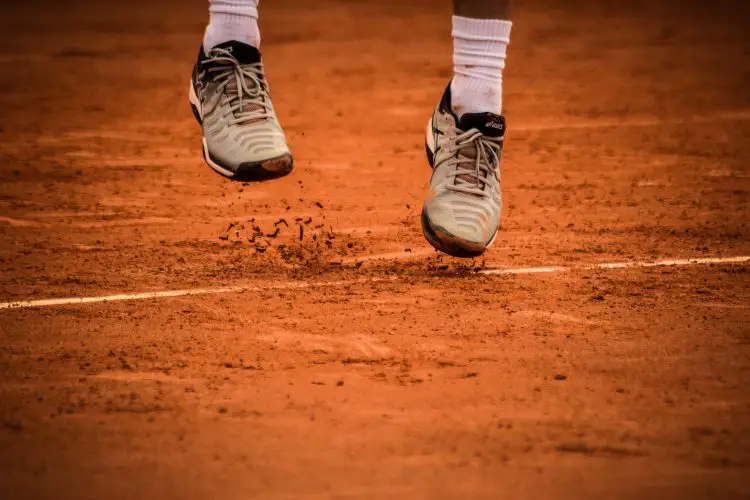 Because of that, clay courts are bouncy underfoot. Baseliners prefer the slowness of clay courts, as well as those who add loads of topspin to every shot. Due to the characteristics of clay courts, players can also slide around like baseball players trying to get to a base before they are struck out. There is one player who owns any clay tennis court he steps on: Rafael Nadal.
There are two main styles of clay courts: green and red. Green clay courts are popular in the United States, since they are faster. Red courts are used widely in Europe and South America, as they are slower. You will see red clay courts at the French Open and three ATP 1000 tournaments.
There are some disadvantages to clay tennis courts. High maintenance clay courts need to be brushed, rolled, and irrigated to keep them in top condition for matches.
Artificial Clay Courts
Despite looking and feeling nearly identical to a regular clay court, the construction of an artificial clay court is astoundingly different. To make an artificial clay court, you lay down a carpet base rather than a layer of crushed aggregate. On top of the carpet goes a top layer of clay or sand. Similar to regular clay courts, you can slide around on artificial clay. However, artificial clay is slightly harder than normal clay, making the game feel faster.
Artificial clay was fabricated with one goal in mind: reduce the amount of maintenance required. With these courts you do not need to apply water or roll it smooth. Presently, artificial clay is less popular than regular clay, but it is expected for the number of these courts to increase as more and more people discover them.
Hybrid Clay Courts
Another type of clay court that has recently hit the market is called "hybrid clay." Europe is one of the few places to currently recognize this court type. The International Tennis Federation (ITF) named it a new surface for use and calls it slow. The biggest benefit to hybrid clay courts is that they look and feel like a natural clay court, but they require far less maintenance.
Hybrid clay courts are currently rare, and you won't see any tournaments played on them yet. Not much is known about these courts, as the design is patented by the Har-Tru brand. Har-Tru named their invention "ClayTech." According to the official website, ClayTech is a layer placed onto an adhesive that goes over asphalt or concrete or an existing hard court. The surface is resistant to sun damage, and it does not freeze. The courts also remain cool even in direct sunlight.
Carpet Tennis Courts
Here is a court surface that you may not have seen in many years—carpeting. Carpet tennis courts are made with asphalt layers, much like hard courts. On top of the hard surface, a special layer of carpeting is laid out. Usually, the carpeting comes rolled up and must be carefully installed. Carpet courts are said to be exceptionally fast, a favorite of stronger hitters and powerful servers. Those who enjoy a good volley will also love carpet tennis courts.
Carpet courts used to be all the rage in the world of tennis. Professional tours, such as the ATP 1000 in Paris, used this type of tennis court often. All that changed in 2009 when ATP decided to no longer use carpeting on their major tournament courts. With that, the number of accepted court types in tournaments dropped from four to three—hard, clay, and grass. However, the ATP Challenger tour continues to use three carpet courts: Eckental and Ismaning courts in Germany and Kaohsiung court in Taiwan.
Check out this rare match featuring Robert Federer and a carpet court:
Other Types of Tennis Court Surfaces
The International Tennis Federation also recognizes some rare court surfaces, including canvas, tile, and wood. Keep in mind that these courts are not commonplace. No tournaments use such tennis court surfaces regularly, because they can be too fast and too difficult to play a good match.
There may be a rare occasion, however, when a tennis tournament is moved indoors due to inclement weather and onto a wooden floor. Those with such an experience remark how hard it is to play or even return serves on wood or tile.
Indoor Tennis Courts
Although indoor courts may not be a unique surface, they are worth discussing. The roof over the court changes things. Since indoor tennis courts do not have windows and are not regularly exposed to the elements, the courts are not weathered the same way. Zero sunlight means less breakdown. Similarly, the lack of natural sunlight makes it easier for places to see the baselines and to aim more accurately. Thus, players often find themselves making riskier shots on indoor courts.
Many players feel that indoor tennis courts are much faster than the courts outside, even ones of the same type.
Only a handful of tournaments make use of indoor tennis courts, including the ATP 1000, which is held in Paris. Several ATP 500 and 250 tournaments are played on indoor courts, as are some Challenger matches. However, as of 2020, the Grand Slam tournaments were given retractable roofing. That means that, in the event of bad weather, any Grand Slam tournament could be technically played on an indoor court.
Types of Tennis Courts Compared
Check out the table to see the various court surfaces compared side-by-side:
| | | | |
| --- | --- | --- | --- |
| Types of Tennis Courts | Materials Used | Speed | Tournaments |
| Acrylic or Polyurethane | Resin-bound coating that is textured and pigmented | Medium/Medium Fast | Australian Open, US Open, Indian Wells, Canadian Open, Miami, Shanghai, Paris, and Cincinnati |
| Clay | Unbound mineral aggregate and clay | Slow | Madrid, Monte Carlo, Rome, and French Open (Roland Garros) |
| Artificial Clay | Rubber or sand-dressed surface appearing like clay with a carpet base | Slow/Medium Slow | None |
| Grass | Natural grass grown from seed | Fast | Wimbledon |
| Artificial Grass | Synthetic surface that looks like grass | Fast | None |
| Asphalt | Bitumen-bound aggregate | Medium/Medium Fast | None |
| Concrete | Cement-bound aggregate | Medium/Medium Fast | None |
| Hybrid Clay | Carpet matrix dressed in clay | Slow | None |
| Carpet | Textiles or polymeric materials that rolled out or laid in sheets | Fast | Challengers |
| Miscellaneous | Tiles (modular) or wood | Fast | None |
Most tournaments are played on one of the three main types of tennis courts: hard, clay, or natural grass. However, that does not mean you will come across tennis courts in a park that are made of hybrid clay or artificial grass. Sports clubs or gymnasiums may have indoor courts built with modular tiles or wood, since those spaces may be converted into courts for other sports.
How Are Tennis Courts Made?
Now that you know what makes the different types of tennis courts, you should know a little bit about the construction of them (building tennis courts can be expensive!). Tennis courts, regardless of their type, are made with layers. On the top is the surface layer—hard, clay, or grass—which is the thinnest of them all. Next comes the regulating base, then the foundation. Underneath all that is the formation layer.
Here are the details of each layer, starting from the ground up:
Formation Layer
When constructing a tennis court, the starting layer—called the formation—acts as a barrier between the court and the ground. It is more or less a foundation without being called a foundation. You may also see the formation called "subgrade," because it keeps organic matter from destroying the court over time.
Foundation Layer
Now for the foundation layer, which has a primary purpose of preventing frost from forming on the court. The foundation layer, also called the sub-base, is made of materials that allow draining. It typically measures between 14-28 mm and rests around 150 mm below the ground. Depending on the surface type of the court, the drainage will be different. For example, clay and grass courts need a little moisture to retain their best characteristics. As such, 100% drainage is not favorable.
Regulating Base
Next is the regulating base. The composition of this layer depends heavily on the type of tennis court. It is designed to provide a stable, flat ground upon which the top layer is laid out.
Wearing Surface
The last layer is known as the wearing surface. It is the part that you see when running around on the court. The wearing layer may be a single layer or consist of several smaller ones.
The video below shows you the "layered cake" that makes up the Roland Garros tennis court:
Slow vs Fast Courts: How Tennis Court Surfaces Affect Your Play Style
When playing tennis, you may have developed a taste for one court over the other. Maybe you trained regularly on grass courts at home and find them to be better for your play style than a clay court. This is due to one court being fast and the other being slow.
Slow Tennis Courts
Why are the slow type of tennis courts called slow, anyway? Because the ball bounces higher but also moves slower. Players can run up to the ball with more time to prepare for their stroke. Clay courts are the most notable in this category. Due to being a slow court, tennis players tend to find it harder to play fast-paced matches. The clay surface tends to absorb energy better than the fast types of tennis courts.
If you find yourself favoring baseline play and remaining at the back of the court instead of drawing close to the net, then you may feel right at home on a slow court.
Fast Tennis Courts
Fast courts—mainly hard and grass courts—are known for making the tennis ball whiz fast and low through the air. Matches of fast tennis courts require the players to be swift and have shorter, more controlled hits. The speed of the ball gives little time for preparation and aim. More aggressive players tend to do well on fast tennis court surfaces, because they can remain close to the net.
Fast courts also support those with strong service. Players can use a powerful serve to gain control over the court and remain aggressive throughout the match.
A Tennis Court Surface For Every Player
Isn't it amazing how many types of tennis court surfaces exist? Although you may encounter hard, grass, and clay tennis courts when playing in tournaments, you may find that much of your recreational games are spent on artificial turf or asphalt. It truly depends on where you are and the outside conditions! Which courts have you played on? Which type of tennis court is your favorite? Let us know in the comments below.