Hey! This site is reader-supported and we earn commissions if you purchase products from retailers after clicking on a link from our site.
Rafael Nadal is one of the best tennis players of all time, with a joint-record 20 grand slams. Astonishingly, 13 of these titles have come at Roland Garros, the only grand slam tournament to be held on clay.
His dominance on the surface – which has stretched from his first French Open triumph in 2005 to the present day – has led many people to question, what is it that makes him such a superhuman on clay?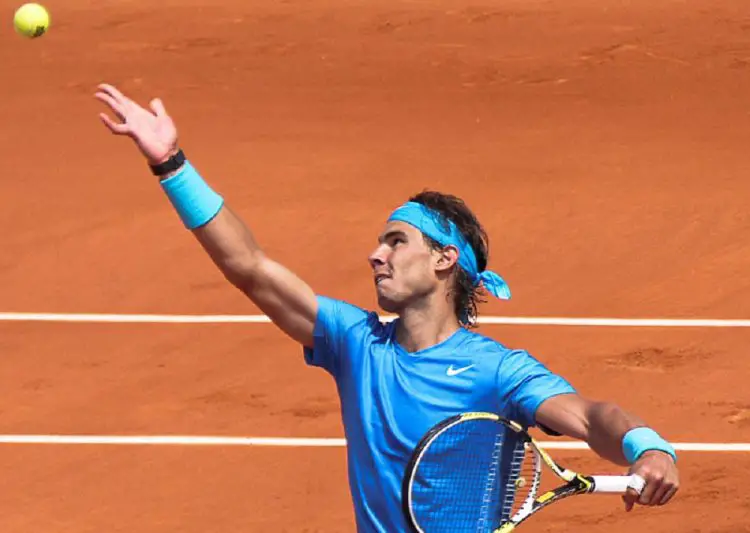 The simple explanation is that clay courts slow the ball down and allow a higher bounce, something which suits Nadal's style of play perfectly. However, there are a number of other reasons why the Spaniard is so dominant over his rivals on the surface. 
Yes, there are other examples of a player being particularly dominant on a single surface. In the same era as Nadal, there's also been Novak Djokovic and Roger Federer who've won eight titles each at the Australian Open and Wimbledon respectively. 
Yet neither have commanded quite the same aura of invincibility as Nadal has on clay. With this in mind, we'll now take a look at five of the main reasons why the Spaniard is so good on his favorite surface. 
The Conditions 
Perhaps the most significant reason why Nadal is so dominant on clay is the surface and its unique characteristics. The conditions are completely different to those on grass and hardcourts, with the clay slowing the ball down and offering a lot more bounce through the court. 
This allows Nadal to make the most of his excellent athleticism to patiently construct points and tee up his ferocious forehand.
What's more, Nadal's heavy topspin strokes are perfect in warm European weather – the conditions in which all the main clay court tournaments are held. The courts play harder and the ball bounces higher in higher temperatures. 
To further prove this point, it's notable that the Spaniard's successes in Rome and Monte Carlo – two of the ATP Tour's three clay court Masters tournaments – outnumber those in Madrid, the third.
Unlike Rome and Monte Carlo, the high altitude of the Spanish capital means the ball has less topspin and subsequently bounces a little lower. 
This doesn't suit Nadal quite as well, instead opening the door for some of the Tour's biggest servers and hitters to attempt to penetrate Nadal's defences and blast the Spaniard off the court. 
Growing Up On Clay 
Clay is the most natural and accessible surface for Spanish tennis players with roughly 100,000 red-dirt courts across the country.
Therefore, it's hardly surprising that 18 of the past 28 champions at the French Open have come from Spain – Nadal (13), Sergi Bruguera (two), Albert Costa, Carlos Moya and Juan Carlos Ferrero (all one). 
Nadal first stepped onto a clay court at the age of four and soon started to practice with his Uncle Toni at a local tennis club in Manacor. Uncle Toni remained the Spaniard's coach until retiring in 2017. 
According to Spanish journalist Joan Solsona, "playing on clay is the best surface for children to learn on because it's easier to move on and means they don't get injured as much. Rafa (Nadal) started moving on clay from a young age and it shows." 
Listed below is a full record of Nadal's major titles on clay since the start of his career:
French Open
2005, 2006, 2007, 2008, 2010, 2011, 2012, 2013, 2014, 2017, 2018, 2019, 2020 
Monte Carlo Masters 
2005, 2006, 2007, 2008, 2009, 2010, 2011, 2012, 2016, 2017, 2018 
Rome Masters
2005, 2006, 2007, 2009, 2010, 2012, 2013, 2018, 2019, 2021 
Barcelona Open
2005, 2006, 2007, 2008, 2009, 2011, 2012, 2013, 2016, 2017, 2018 
Madrid Open 
2005, 2010, 2013, 2014, 2017 
Persistence 
Point construction is one of Nadal's greatest strengths. He typically demonstrates an impressive amount of patience while constructing the rally, running his opponent ragged, waiting for an opportunity to unleash a heavy, decisive winner. 
Unlike grass court and hard court tennis, it's near-on impossible to finish a point on clay with a single swing of the racket. Instead, it requires astute decision making, patience and persistence – all of which are defining qualities of Nadal's game.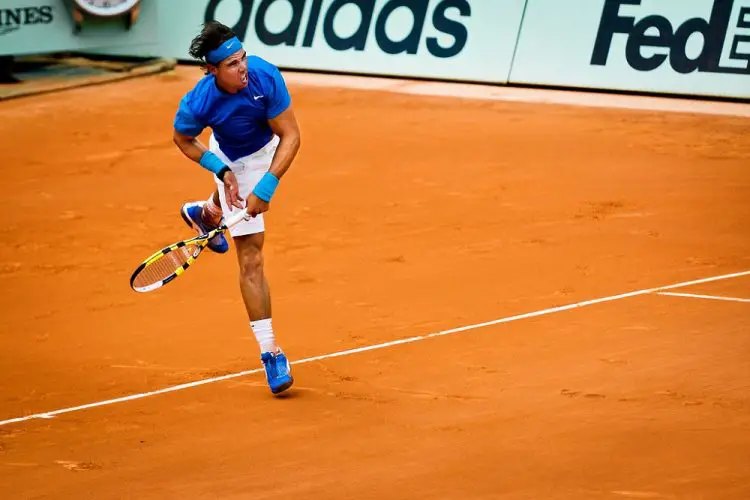 Being A Left-Hander
The Spaniard is a left-handed player which many people believe – in conjunction with his other attributes – is a key factor to his success. According to former French Open champion Michael Chang, "if Nadal was a right-handed player, I don't think his game would be quite as effective."
This theory certainly carries some truth. Being a left-handed player means that all your shots spin the other way.
In Nadal's case, his strong forehands always go into a right-hander's backhand, hooking them off the court, while the inside-out can go back the other way. Needless to say, this is incredibly difficult to cover for an opponent. 
Serve And Forehand Combination 
Nadal's serve has long been considered his biggest weakness in comparison to his main rivals. He seldom has the luxury of booming down a quick couple of aces to get himself out of trouble when the groundstrokes aren't quite hitting the mark. 
Despite this perceived weakness, the Spaniard has been able to use his left-handed serve on the ad side (to a right-hander's traditionally weaker side) to his advantage.
This pushes an opponent wide into their backhand corner and makes returning the ball considerably more difficult.
The vast majority of the time, Nadal is left with almost the entire court open to fire his most potent weapon – the whipped forehand down the line.
Statistically, he's won a staggering 71% of points where his first shot after the serve was a forehand. This further proves just how effective his "one-two punch" has been throughout the past 15 years.