Hey! This site is reader-supported and we earn commissions if you purchase products from retailers after clicking on a link from our site.
If you play pickleball or want to play pickleball, you know that it's a fast-paced, intense sport. A lot of that comes from the sheer speed of the ball every time you hit it. As is the case with most sports using a ball, the type of ball used plays a huge role in the dynamics of a sport.
So what kind of ball is used in pickleball? What is a pickleball made of? And why?
What Material Is a Pickleball Made Of?
Pickleballs are generally made of lightweight plastic that is lighter than the plastic used to make a wiffle ball. They are marked with varying numbers of holes. The durability of pickleball balls varies depending on the exact type of plastic used.
The weight, texture, and number of holes in a given pickleball will vary depending on whether you are using indoor pickleballs or outdoor pickleballs. Here are the general differences between the two:
Indoor Pickleballs
Softer material
Weighs 0.8 ounces
Has about 26 holes
2.87"-2.97" diameter
Designed for quieter play
Outdoor Pickleballs
Harder material
Weighs 0.9 ounces
Has about 40 holes
2.87"-2.97" diameter
Indoor and outdoor pickleballs are usually made of either solid plastic or a composite. Solid plastic is the cheaper option, but it doesn't tend to play as well. Composite balls are a bit more expensive, but if you're more serious than recreational pickleball players, they're well worth the extra money.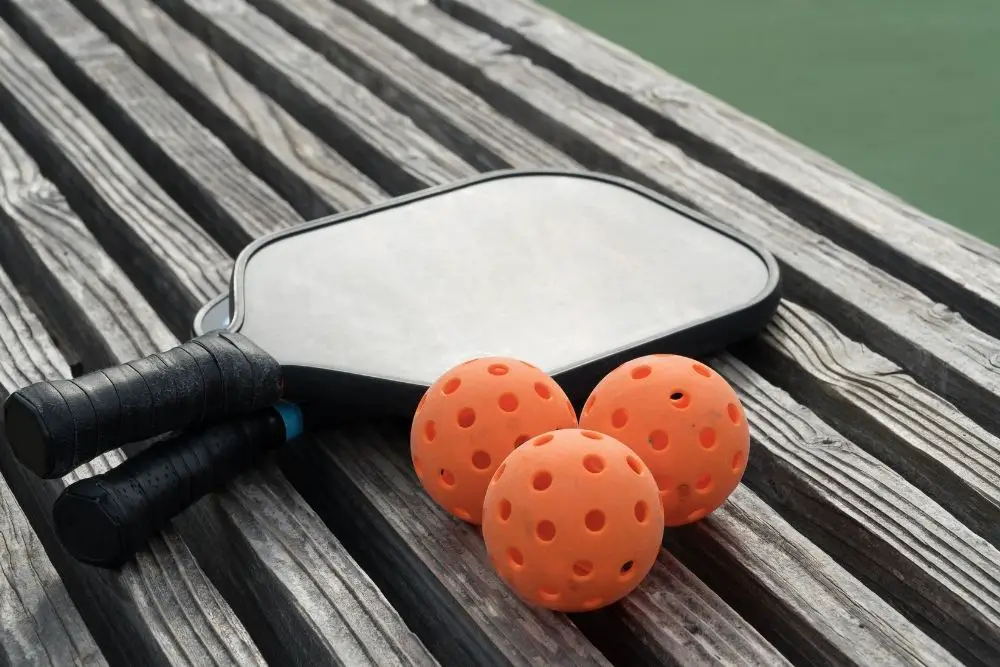 Some companies even make special pickleballs designed to be quiet. These aren't approved balls for pickleball tournaments, but they're great for recreational players. The sound of a pickleball hitting a paddle is surprisingly loud, and when many games are going on at once, the sound can get overwhelming. In a bit, we'll talk about these special foam balls.
Why Is It Called Pickleball?
The name of pickleball itself makes it sound as though the sport's name comes from the ball. So you might wonder: how did the sport get its name?
The name pickleball doesn't actually come from the ball itself. In fact, nobody 100% knows the origin. Pickleball was invented by three dads whose kids complained of boredom.
One theory of the name comes from the wife of one of the dads. She was a competitive rower, and the strange new sport reminded her of something called a "pickle boat" in rowing. In a race, the losing boat is sometimes called the "pickle boat."
That's usually due to a mismatched crew. Pickleball combines mismatched elements of other sports — the original sport used ping-pong paddles, wiffle balls, and a modified tennis court.
The other theory comes from a dog owned by the same couple. The dog's name was Pickles, and when the kids played the newly-invented sport of pickleball, she would come over and steal the ball. As a result, the sport came to be called pickleball.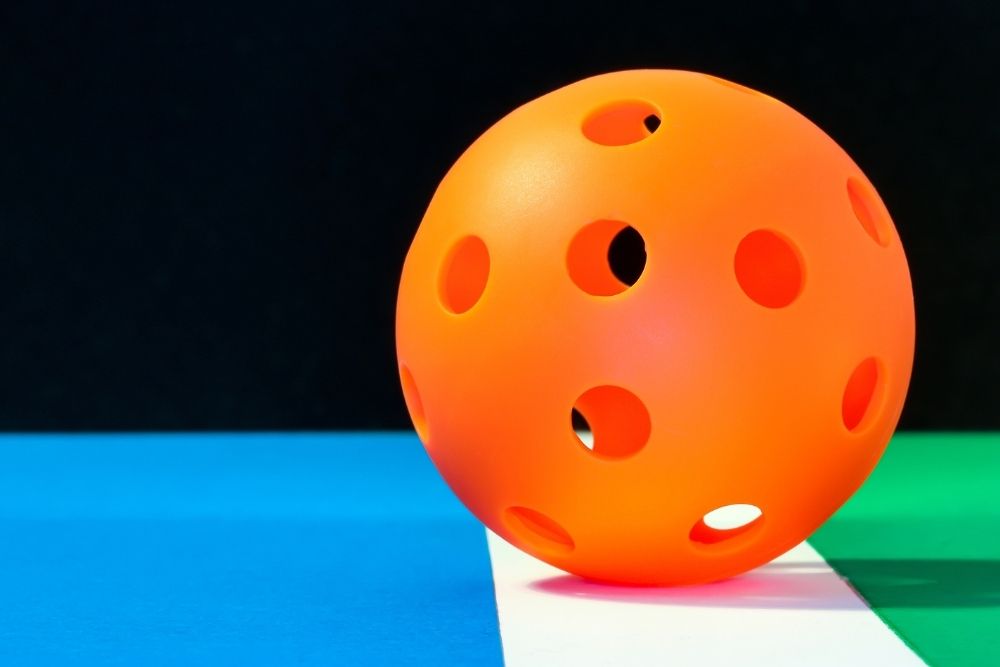 Indoor Pickleballs
Pickleball balls for playing indoors are made with lighter, softer plastic than outdoor balls. That's because the indoor playing surface is a lot smoother; it's usually a gym floor or a similar surface. This surface isn't as hard on the ball as an outdoor playing surface, so a lighter material is more suitable.
Indoor pickleball balls don't bounce as much as outdoor balls, either. This can be an advantage to players, as they end up having a bit more control, especially when serving. The style of play itself is a lot different from outdoor play.
As you saw above, indoor balls weigh slightly less than outdoor balls. The weight difference may be slight, but it results in less power being generated when the ball hits the wooden paddle. As a result, indoor games generally have more extended volleys than outdoor games.
Often, you can tell indoor balls from outdoor balls based on the size of the holes. Indoor balls have fewer holes, but the holes are larger. When playing indoors where wind resistance is not a factor you need to worry about, these larger holes make the trajectory of the ball a lot more predictable.
You might hear some people say that indoor balls have 26 holes, but this is not always true. USA Pickleball requires balls to have 26-40 holes. Indoor balls will have closer to 26 holes, but many have more than 26.
Indoor pickleballs do eventually wear out. However, the lifespan varies dramatically based on how much or how hard you play. These balls generally will wear out by becoming overly soft as opposed to breaking.
Outdoor Pickleballs
Outdoor pickleballs are a good bit different from indoor pickleballs. An outdoor pickleball is made of harder, more durable plastic. After all, outdoor pickleball games are usually played on concrete or asphalt surfaces. Some are played on tennis courts that have been re-lined for pickleball, while others are played on special pickleball courts. An outdoor pickleball ball is exposed to both hard surfaces and the elements, so more durable construction is a must.
The hard plastic plus the hard surface means that an outdoor pickleball with bounce more forcefully off the court (as well as off the wooden paddle)!
Outdoor pickleballs also have more holes and smaller holes. The smaller holes are essential to give players more control. As you know if you've ever played tennis or pickleball, wind can wreak major havoc on a game.
Though a pickleball needs some holes to allow it to move quickly through the air, it also needs to have a smooth enough surface to follow a relatively smooth trajectory. Like a wiffle ball, when it is hit hard enough, it will follow a relatively straight path.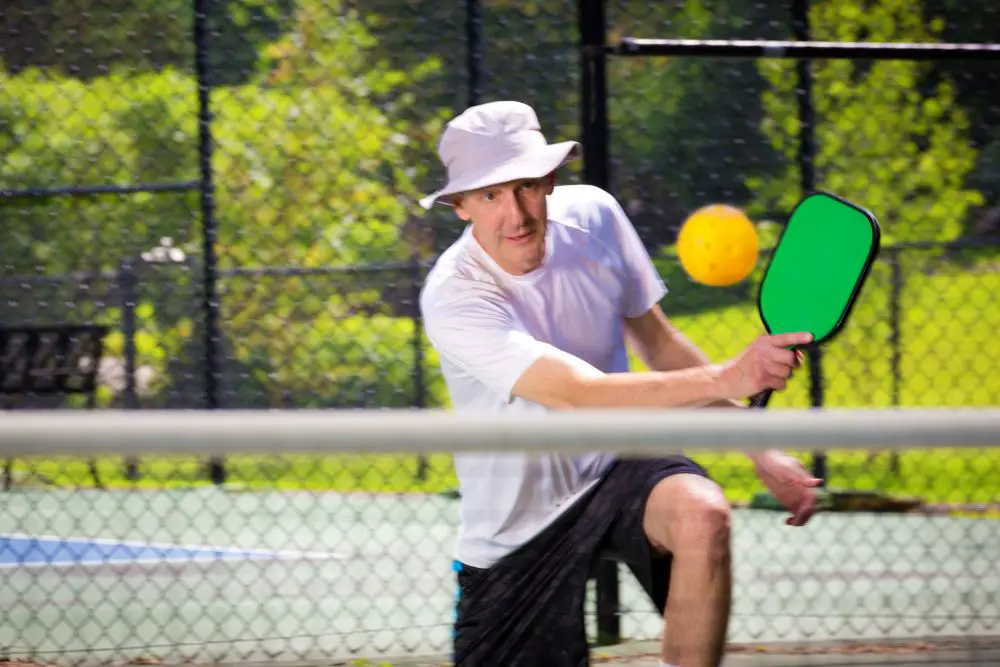 Notably, a ball designed for outdoor play is a lot louder than one designed for indoor play. When it hits the paddle, it makes a loud "pop" sound. It's significantly louder than the sound of a tennis ball!
And lastly, if you play outdoors, it's a good idea to buy extra outdoor pickleballs. Most players say they burn through far more outdoor pickleballs than they do indoor pickleballs. This is largely due to the outdoor exposure and the unforgiving surface of pickleball courts. A pickleball designed for outdoor play is more likely to crack or break than it is to become misshapen over time.
Quiet Pickleballs
Though they aren't allowed in pickleball tournaments sanctioned by USA Pickleball, quiet pickleballs are a great choice for recreational play, especially in parks and neighborhoods. Pickleball is a loud sport, and in some areas, there have even been court cases about the noise levels involved.
Quiet pickleballs that are made of foam help you to avoid the noise issue. But that being said, quieter pickleballs react somewhat differently than regular indoor and outdoor balls, so there may be a bit of a learning curve involved.
Choosing the Right Pickleball for You
Pickleball players know that there's a seemingly endless range of options out there when it comes to balls. But especially if you're new to the sport, you might not know what to get.
Of course, you don't just want to buy one ball. Especially if you play on outdoor pickleball courts, the ball is likely to wear out relatively soon.
Many people new to the sport wonder if you can use an indoor pickleball to play outdoors (or vice versa). Generally, experts will tell you that you can use an indoor ball to play outside, but it's not wise to use an outdoor ball to play inside.
That's because an indoor ball makes it easier to volley, and some players prefer that. However, an indoor pickleball has larger holes that make it less resistant to wind. So if you're playing on a windy day, expect a challenge!
The flip side is not the same. Outdoor balls have a powerful bounce and aren't great for indoor play. Remember that their harder design is meant for playing on rough surfaces like asphalt, so they don't do well on wooden gym floors.
Of course, it's ideal to have indoor balls for indoor pickleball and outdoor balls for outdoor pickleball. But if you only purchase one type for both settings, an indoor pickleball is the better choice.
Once you've narrowed down what general type to get, you'll need to purchase a specific ball. This can take some research along with trial and error. Many experts suggest going for a slightly heavier ball. Heavier balls often have a truer trajectory which is especially important as a beginner, since unpredictable ball movement can make mastering key shots very difficult.
Generally speaking, it's also good to choose a ball with a high bounce. Balls that bounce high are much easier to hit; another bonus if you're new to the sport.
That said, it never hurts to seek out detailed expert advice. This video offers helpful advice on choosing the right pickleball for you
What Pickleballs Can You Use in Competition?
So now you have a solid overview of the different options out there. But what type of ball is used in pickleball competitions? Both USA Pickleball and the International Federation of Pickleball have guidelines to follow. USA Pickleball uses the same standards as the International Federation of Pickleball.
You might wonder what leads to a given outdoor or indoor pickleball being approved. Here are the requirements:
Must have a diameter of 2.87"-2.97"
Must be made of a smooth, untextured material
Must be any solid color
Must weigh .78-.935 ounces
Must bounce 30"-34" in the organization's concrete plate test
Must have between 26 and 40 holes to create the proper flight characteristics
Must be printed with the name of the manufacturer (or manufacturer's logo) and the USA Pickleball seal of approval
Interestingly enough, certification guidelines do not differ for indoor or outdoor balls. While the differences we mentioned above generally hold true, the organization doesn't necessarily care where you use a given type of pickleball.
USA Pickleball only allows approved balls to be used in sanctioned tournaments. Make sure you practice with an approved ball so you can get used to the feel of it. There are 61 total. If you are interested in competing, it's a good idea to check out the list on the USA Pickleball website. This way, even if you're shopping online, you can make sure you're purchasing a competition-approved ball.
Making Your Choice
There's a lot of guidance out there on choosing the right pickleball paddle, but choosing the right ball is important, too. We hope that, now that you understand a little more about pickleballs and what they're made of, you're well-equipped to select the right one to level up your game.
FAQs (Frequently Asked Questions)
What type of plastic are pickleballs made of?
The exact composition of the balls used by pickleball players varies based on the manufacturer. But as a general rule, balls for outdoor use are made of harder, more durable plastic. An indoor ball is made of plastic that is both softer and lighter. However, balls designed for indoor and outdoor play are usually either made of solid plastic (a cheaper option) or composite plastic (the option preferred by serious pickleball players).
What balls are used for pickleball?
Indoor and outdoor pickleball balls are made of plastic. They are round, hollow, and have 26-40 holes depending on the type of ball. They are approximately 3″ in diameter.
What material is best for pickleball?
That depends on your goal. Approved balls for competition are made of plastic. Composite plastic is the best as far as performance goes, but solid plastic is perfectly fine for more relaxed play. But if you primarily need a ball that is quiet, a foam "quiet pickleball" is a great option, too.
Is pickleball a plastic?
Yes, pickleballs are either solid or composite plastic.