Hey! This site is reader-supported and we earn commissions if you purchase products from retailers after clicking on a link from our site.
Ask most people when tennis season is, and many of them will tell you it's a spring sport. But if you follow professional tennis, you already know that there are major tournaments before, during, and after the spring season. So when is tennis season? And how long is it?
When is Tennis Season? How Long Is It?
To get a sense of when the season is, let's take a look at the tennis schedule for the Association of Tennis Professionals (ATP) and the Women's Tennis Association (WTA). These are the two major professional circuits.
The first tournament of the ATP season for 2022 was the ATP Cup in Sydney, Australia. It began on January 3, 2022. The last scheduled tournament is the Davis Cup Finals on November 22, so the season is around 46 weeks.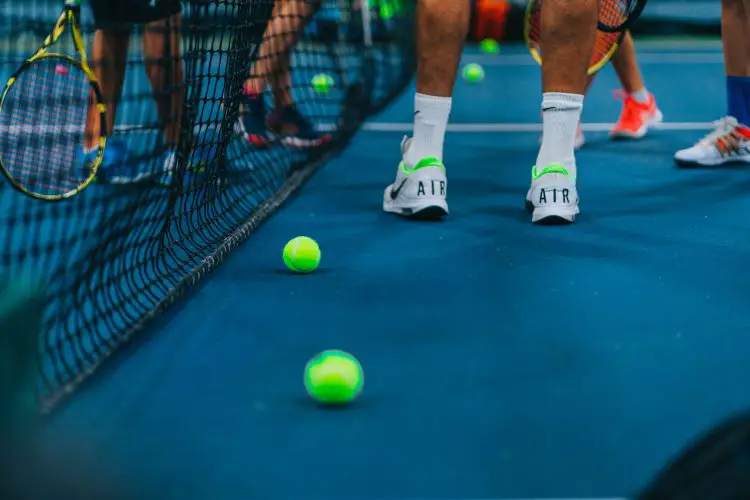 The WTA schedule is similar. The first event was the Adelaide International 1 on January 3. The final tournament is the Billie Jean King Cup finals on November 7. So this season is about 44 weeks.
As you can see, tennis likely has the shortest off-season of any major sport. However, you almost never see a professional tennis player playing a tournament every single week. Most players periodically need to take short breaks to recuperate, especially since some tennis matches can last extremely long, the longest tennis match in history being 11 hours and 5 minutes long.
Tennis as an (Almost) Year-Round Sport
Though you can find indoor tennis courts all over the world, many people think of tennis as being an outdoor sport. Most major tournaments are held outdoors, too. So how is it played all year?
If you take a look at the professional tennis schedule, you'll see that early tournaments held in the winter are almost always played in warmer parts of the world. Early-season tournaments are almost always held in Asia and Australia. As the weather warms up, players travel to the United States and Europe for Wimbledon, the U.S. Open, and other Grand Slam events.
Of course, tournaments later in the year are often played indoors. But non-Grand-Slam tournaments don't have the draw that Grand Slams do, so playing these tournaments indoors usually isn't an issue.
When is the Busiest Part of Tennis Season?
The tennis season starts almost immediately after the new year. But many of the most important matches, including Grand Slam events, happen from May to August. Three of the four Grand Slams are held in this time window:
The French Open is held from late May to early June in Paris. It's held in Paris and played on clay courts.
Wimbledon is played from late June through early July on grass courts in London.
The U.S. Open is held from late August to mid-September. It's held on hard courts in Queens, New York.
The only Grand Slam event held outside of the May-August window is the Australian Open. It's played in late January on hard courts in Melbourne, Australia.
Adjusting to Court Surfaces
Any accomplished tennis player will carefully choose the tournaments they enter. But as you can see on the list of Grand Slam tournaments, the tennis schedule includes three different court surfaces, each of which plays a bit differently. Often, a player will do at least one "warm-up" tournament on the same surface as their next major tournament. This can help them reduce their risk of losing a match due to unfamiliarity with the court surface.
For example, the French Open is played on a clay court, so a tennis player may opt to play a match or tournament on a clay court a couple of weeks before entering the French Open. Certain players tend to play better on some surfaces than others. For instance, Rafael Nadal excels when playing on clay.
When is the Least Busy Part?
There are two periods of the tennis season where the schedule seems to get a bit less busy. The first is right after the Australian Open. This event is at the end of January, and the next major tournament (Indian Wells) is not until March.
Once the Grand Slams have finished, the tennis season also seems a little less busy. World tennis rankings are determined by points earned while playing at selected tournaments. And since top-ranked players often do well at each Grand Slam, they may not opt to play much to earn extra points after the U.S. Open.
Players who are trying to climb the rankings a bit may enter some of the smaller tournaments held during this time in order to earn some extra ranking points and/or prize money. Lower-tier tournaments like the ATP 250 are often held during this time.
Should You Play Tennis All Year?
One of the nice things about being a tennis fan is the fact that there's almost always an event to watch. But as a recreational or amateur player, should you play all year, too? It's often wise to take a break every now and then. If you're constantly playing hard, you may be more prone to injuries. If you take periodic breaks, you'll have the opportunity to focus on other sports, cross-training, and general fitness.
FAQ
Still have questions on the tennis season? Here are some answers:
Does tennis have a season?
There isn't really a defined tennis season. Since major matches are typically played during warm seasons or in warmer parts of the world, the sport can be played year-round. However, the busiest part of the season is generally from May to August.
How many weeks is the tennis season?
There's no set number of weeks, but the Association of Tennis Professionals (ATP) tour and the Women's Tennis Association (WTA) tour each run about 44-46 weeks from January to November.
What is the professional tennis season?
The professional tennis season is a "tour" of sanctioned events held around the world. It is usually from early January to mid-November.
Is tennis a summer sport?
It can be; though it is played almost year-round, tennis has many of its biggest tournaments from May to August.
Is tennis a seasonal sport?
Tennis doesn't really have a set season, as professional events are held almost all year. However, many high schools play tennis as a spring sport, and the NCAA tennis season is from January to May.