Hey! This site is reader-supported and we earn commissions if you purchase products from retailers after clicking on a link from our site.
As a sport, pickleball is becoming increasingly popular. In fact, it is one of the quickest growing sports that is played in the US. If you are discovering pickleball for the first time, you may be curious as to why it is so popular. We provide you with all the answers in this article.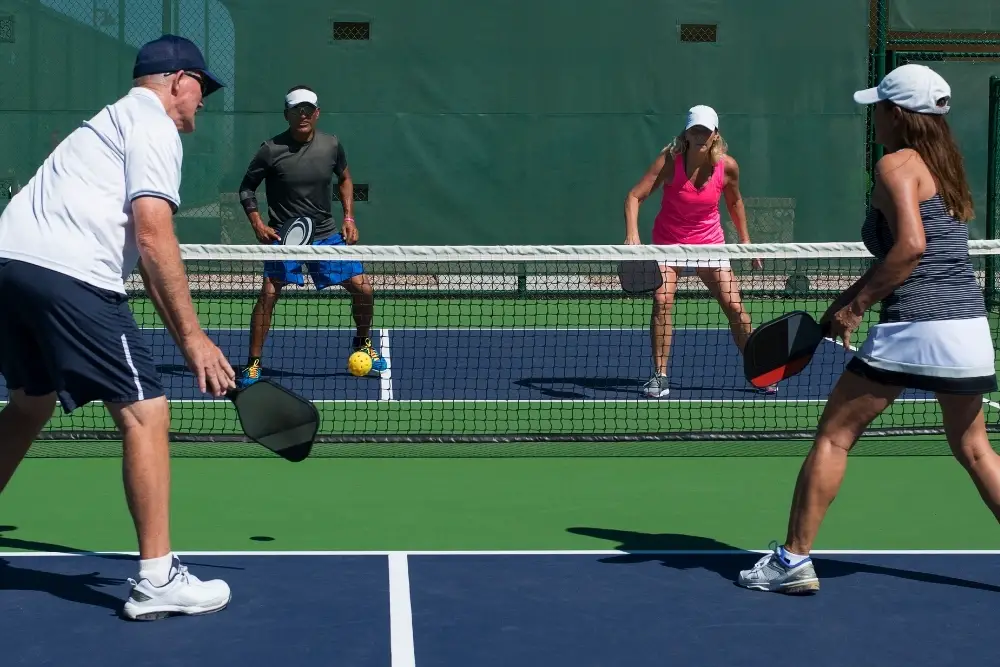 What Is Pickleball?
First and foremost, it helps to understand the concept of the game and what it entails. Pickleball was first played in 1965 and combines elements of ping pong, tennis, and badminton. A game can be played in either singles or doubles and uses a plastic, perforated style ball.
Pickleball is played on a court that is a similar size to a badminton court, the net is situated fairly close to the ground just like it is in tennis, and a paddle constructed from wood or composite material is used to hit the ball back and forth. It can be played by all individuals regardless of age and skill set. 
Why Is Pickleball So Popular?
There are many reasons why pickleball is becoming so popular. 
It Is A Social Sport
Pickleball is played on a court that is slightly smaller than a tennis court, because of this it is easier for players on opposing teams to converse and interact. Just because you are on opposite sides of the net does not mean that you cannot engage in a conversation with one another.
A game can also be played by up to four players and some places even create leagues holding regular competitions. This provides those involved with a great opportunity to mix with others on a regular basis.
It Is Easy To Learn
Some sports require a technique that can be difficult to pick up but this is not the case with pickleball. When playing tennis, it can be hard to execute the perfect serve but the size of the paddles used to play pickleball make it much easier to hit the ball.
Moreover, the rules of the game aren't overly complicated. In fact, once you have familiarized yourself with the rules and worked on your technique, you will be able to progress in no time. 
It Is A Great Way To Stay Active
If you are looking for a way to stay active, pickleball is a great sport to pursue. Playing this sport can improve your balance, reflexes, and coordination.
You also needn't worry about straining your joints because the court is fairly small so you aren't going to be running far. As mentioned, the game can also be played in doubles which means that it is less strenuous for each player involved as the effort is shared. 
The Game Is Based On Technique
In many sports, power wins the game but with pickleball, success is determined by your technique. As you begin the game you can focus on mastering smaller hits to get the ball over the fence to your opponent, then as your skill develops and your confidence increases you can prepare to take stronger shots that could potentially see you winning the game.
It Is Suitable For Players Of All Ages
A great thing about pickleball is that it can be played by all individuals regardless of age. You also do not need to be an advanced player as this sport is commonly enjoyed by those who are at a beginner level.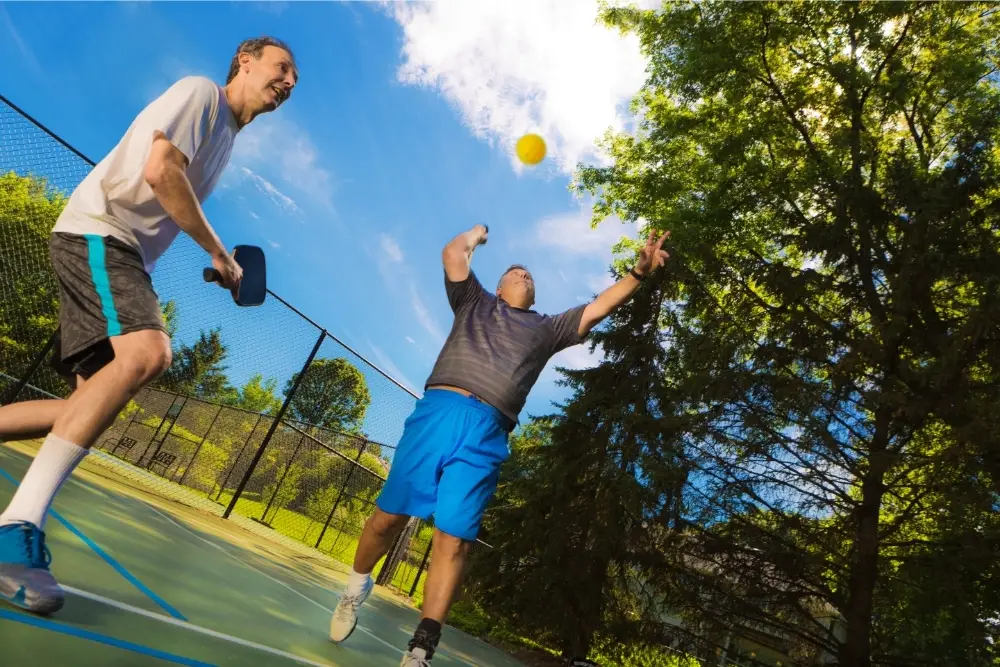 If you have children, you can play the game as a family and because the rules aren't super difficult they can easily be followed by all involved in the game. Whilst younger players can focus on improving their coordination, those that are retired or of an older age can get their daily exercise done without having to overexert themselves. 
It Can Be Played Indoors Or Outdoors
Pickleball can be played indoors or outdoors and this is another reason why it is gaining popularity. To play, you simply need access to a court and a net to separate each side of the court. This means that you can enjoy playing all year round, if it is dry and sunny you can play outdoors and if it is raining you can play inside instead.
If you are interested in playing pickleball it is recommended that you familiarize yourself with playing indoors and outdoors because you might notice a slight difference when playing in these environments. 
Friendly Community
The pickleball community is often praised for being friendly, open, and welcoming to new players. As such, this makes the thought of starting a new sport much less daunting. There is also the opportunity for those who advance in this sport to begin playing at a competitive level. 
It Isn't An Expensive Sport
Affordability provides another reason as to why pickleball is becoming increasingly popular. If you decide that you would like to start playing you will not need to splash out on a lot of pricey playing equipment.
A set of paddles and a ball are the basic pieces of equipment that you will need. Of course, the cost of the paddles and the ball will differ depending on where you shop.
More often than not you will find them retailing at bargain prices. If you are just starting in the game, you may prefer to invest in cheaper pieces of equipment until you are confident that it is a sport you enjoy. Also, you can play in parks and recreational centers and enter competitions for a small charge in most instances. 
Final Thoughts
There are many reasons why pickleball is so popular. Ultimately, it can be a lot of fun and a great way to keep fit and healthy. Through playing pickleball you also have the opportunity to meet new people and make new friends.
You can get started with this sport with ease as you don't need to have any advanced skills. Furthermore, there are also many places where pickleball games can be held and played. If you enjoy participating in new sports, pickleball could be a great option.