Hey! This site is reader-supported and we earn commissions if you purchase products from retailers after clicking on a link from our site.
Up until the 1980s, carpet tennis courts were widely used, even in tournaments. Why are carpet courts in tennis no longer used? And what made them so special in the first place? Today you are going to learn all that you need to know about carpet courts in tennis. Let's begin!
What are Carpet Courts in Tennis?
Most people who are familiar with the modern era of tennis know about the different types of tennis courts out there. Grass, clay, and hard surfaces are among the most popular. However, did you know that there was a fourth widely used tennis court option?
The International Tennis Federation (ITF) states that a carpet court is a "textile surface of woven or non-woven nylon or a polymeric or rubber material typically supplied in rolls or sheets." For simplicity, you can think of carpet courts as the same kind of carpet you might find near the entrance of your home to wipe mud from your shoes. The loops of fiber in the carpet are shorter than that of one you use in the living room. There is just enough spring without the carpet feeling squishy.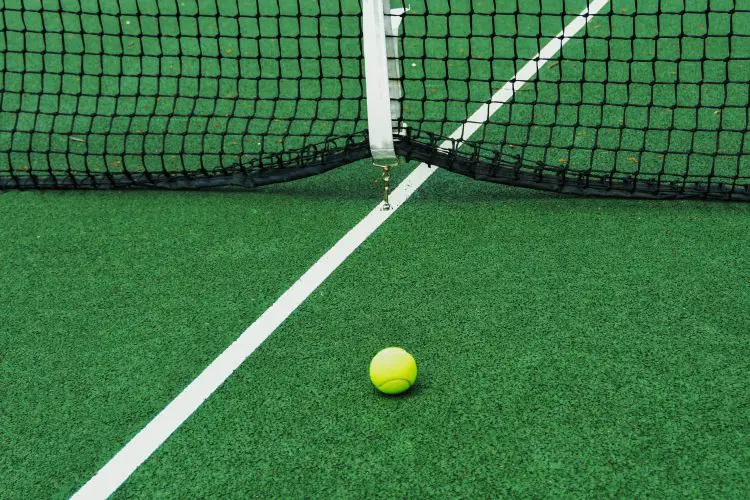 Additionally, there are two types of carpet courts in tennis: Outdoor and indoor.
Outdoor carpet courts were made of artificial turf and sand. The purpose of outdoor carpet courts was to provide a fast court to places that did not desire the upkeep of a grass court. Artificial turf is a widely used material in many sports, including American football, soccer, golf, rugby, and baseball.
Indoor carpet courts in tennis were literally made of carpet with a rubber or nylon backing placed over concrete.
The properties of outdoor and indoor courts were more or less the same. Compared to the quickness of grass courts, carpet could be even faster.
Check out this video on the fourth type of tennis court—carpet:
What are Carpet Courts Made From?
There are a variety of carpet courts out there. As mentioned earlier, outdoor carpet courts are a blend of artificial turf mixed with sand. There is also rubber carpet and textile carpet. The materials used often depend on where the court is being constructed, as some materials cannot tolerate certain temperatures or direct sunlight. Carpet, for instance, is better in cold temperatures than hard or clay courts.
Since carpet courts were all produced with synthetic materials, tournament officials would recognize the surface by the main material used, including Supreme, Tarafle, or Greenset.
History of Carpet Courts in Tennis
Carpet courts used to be used throughout the US and Europe. For 25 years one of the most prestigious ATP tournaments, the Paris Masters, was played on carpet between the years 1968 and 2006. Carpet courts began to disappear around the 1980s when tennis organizations were trying to standardize and better protect the players. Since 2006, the Paris Masters has been played on indoor hard courts. Three Davis cups were played on carpet before the surface was discontinued in 2009.
Similarly, other tennis tournaments continue their long-standing tradition of using carpet courts. Some examples include the World Championship Tennis Finals, the US Pro Indoor, Zagreb Indoors, Kremlin Cup, and Antwerp's European Community Championships. The WTA has stopped using carpet courts. The last match on carpet for the WTA was played in 2018 at the Quebec Open. As of 2019, there are three ATP Challengers held on carpet and a few ITF women's tournaments, but those surfaces may soon be switched out for something else.
In 2019, the WTA Taipei Challenger was held on carpet courts. Due to the coronavirus pandemic, the Challenger was paused in 2020 and did not happen in 2021. Interestingly, only the WTA version is held on carpet courts. The ATP Taipei Challenger is played on hard courts.
On the recreational level, carpet can be found, though you will most likely see it in Europe. The US has phased out most of their carpet courts in favor of synthetic grass or hard courts.
Why is Carpet No Longer Used For Tennis Courts?
There are many reasons why carpet courts were eventually removed from the highest level of tennis competitions in favor of other materials. Here is why carpet courts in tennis fell out of favor:
Player Health and Injuries
One of the determining factors in the suspension of carpet courts was the number of injuries caused by the surface. Often, the players would get friction burns, cuts, and abrasions from playing on carpet, particularly outdoors. Furthermore, there have been scientific studies on the health impacts of synthetic courts, including the chemicals used in artificial turf. Other studies concluded that playing on carpet courts increased the likelihood of severe injuries, due to the speed of the court.
For instance, between 2000 and 2009 the NFL Injury and Safety Panel looked at the injuries of players. Elliot B. Hershman, the lead researcher, stated in the American Journal of Sports Medicine that, according to their findings, there was a 22% higher risk of knee sprains on carpet than on grass. Plus, players saw 67% more ACL sprains. With the conclusion of such studies stating that carpet and artificial turf were harder on the human body, popularity started to drop.
To any professional athlete, protecting the body is something that must be done at all costs. No one wants to play on a surface if it could permanently injure them.
Court Speed
Both grass and carpet are among the fastest surfaces for tennis courts. Carpet courts often led to faster scoring, accelerated rallies, and shorter games. For the player, that sounds like a dream. For television, it's not. On carpet courts, those who could serve well would gain advantage rapidly, and that often led to the tournament organizers questioning if those watching the matches would get full satisfaction.
Strategy on the court would go out the window. The ball moved so quickly and with so little bounce that the players did not have time to think. The reduced period of time with which players could analyze their next move dwindled. Errors increased.
Getting rid of carpet courts paved the way for rising tennis stars to show off their technical skills. On slower courts, like clay, players have to think about how they approach the net. How they are going to gain the upper hand. Carpet courts in tennis never showed you the drama.
Racket Technology
Another thing that must be remembered is that carpet courts were at the height of their popularity between the 1980s and 1990s. During this period, though, tennis rackets were not like they are today. Rackets were not constructed to endure long rallies like they are today. Technological advancements have made rackets better for all kinds of players. Whether you are on slow courts or fast ones, your racket can handle it all.
As such, back then, it was necessary to remove faster elements of the game. By homogenizing the courts, slowing the game down, and forcing players to use their skills and strategies, it made the game more interesting for both the players and those watching.
Why Do Some Courts Continue to Use Carpet?
Now that you know why carpet courts in tennis were discontinued, you may be wondering why some are still in use. After all, if they are not safe, who would want to play on them? Well, there are a couple of reasons. First, some court types are not built for cold weather. Carpet courts, on the other hand, are constructed to deal with the bitter cold. In places where the climate is less warm but tennis matches are still played outside, carpet courts are the best option.
The second reason is maintenance. Unlike grass courts that need constant upkeep, carpet courts are much easier to repair and replace. On courts where hundreds of thousands of matches are played, it makes sense to choose an option that is inexpensive to maintain. That is why you see carpet still used in ITF and Futures matches.
Has Any Open Era Tennis Pro Won on Carpet?
Since carpet has been suspended from high-level tennis competitions throughout the ATP and WTA, few professionals have gotten titles. However, Novak Djokovic and Rafael Nadal have both played on carpet courts in Challenger tennis matches.
You may be surprised to find out that some modern day tennis greats have won on carpet. Roger Federer, for instance, has played six matches and won two titles on carpet. The first match was in 2000 at the Swiss Indoors. Federer lost against Thomas Enquist in the final. The next year, he won on carpet at the Milan Indoor. In 2006, his second and last title match on a carpet court was obtained at the Swiss Indoors.
There is an interesting story out there stating that the Paris Masters tore up their beloved carpet court to appease Roger Federer and Rafael Nadal. In 2007, the officials from the Paris Masters gave Federer's management team a call, inquiring as to why he had yet to appear in the tournament. The team informed Jean-Francois Caujolle, the tournament director, that Federer disliked carpet courts and did not want to play on it. The organizers went in search of something to replace the carpet. It took some trial and error to make a floor that could satisfy the likes of Federer and Nadal, but it eventually happened. And Federer won the Paris Masters in 2011.
Around the same time, ATP decided to ban carpet. Some people blamed professionals like Nadal and Federer for the loss of such fast surfaces.
Now that Federer is retired, maybe carpet courts in tennis will reappear.
Will Carpet Courts in Tennis Ever Make a Comeback?
It is possible that carpet courts may return to their former glory. If technological advancements can be made to enhance the quality of the carpet court and make it more safe and stable, there is a high chance that it could one day reappear in the high levels of competition. There are many players out there who do enjoy a faster-paced game where one's cardio ability is put to the test. For those just looking to have fun and enjoy an intense match, carpet courts are an adrenaline-packed experience. Until then, carpet courts in tennis are part of the bygone days.
Time to Roll Out The Carpet
Carpet courts in tennis were once far more popular than they are today. Having been discontinued from the higher level of ATP and WTA competitions since 2009, carpet has become a rare indoor surface for only a handful of Challenger and ITF events. Carpet courts are among the fastest surfaces out there, and it would be interesting to see how modern day players handle the low bounce and quick exchanges. What do you think? Should carpet make a comeback?