Hey! This site is reader-supported and we earn commissions if you purchase products from retailers after clicking on a link from our site.
We all know that pickleball is a fun game. And while there's nothing wrong with just playing for fun, some players opt to pursue league play or even compete in pickleball tournaments.
But before you start, you need a baseline rating. The pickleball rating chart system can be confusing for beginners, so let's take a look at a pickleball rating chart!
What's a Pickleball Rating Chart System? What Is It For?
In order to make tournaments fair, similarly-skilled players need to play against each other. And since assessing skill can be subjective, USA Pickleball has come up with a rating system to help players and tournament directors get a better sense of skill level.
But what if you haven't competed before? If this is the case, you'll need to carefully consider your skills and give yourself a self-rating. That will be adjusted based on the matches you play.
Once you've played in a USA Pickleball official event, you will receive an official rating. That rating will be adjusted with each match you play. The more matches you play, the more accurate your ratings will be.
Even if you don't intend to compete, understanding pickleball ratings can be helpful. When you know what each of the pickleball skill levels looks like, you'll be well-equipped to describe your skill level to someone else.
The Two Rating Systems
If you play pickleball, you may already know that there are two-digit and four-digit ranking systems. Both work similarly, but the four-digit system is usually only used by very high-level players.
The Two-Digit System
The older two-digit system is a legacy rating system. Most pickleball clubs and leagues use it, as it's more straightforward and makes it easier to do a self-rating.
The two-digit system goes from 1.0-6.0. Ratings can increase or decrease in increments of 0.5.
The Four-Digit System
The USA Pickleball Association now has a pickleball ranking system based on the Elo rating system used for chess players. This system is used for professional pickleball players and high-level tournaments.
This system of tournament ratings goes from 1.000 to 6.999, with adjustments occurring in increments of 0.001. This system is more intricate and doesn't have a self-assessment option. It takes various aspects of each match into account in order to give you the most accurate rating possible.
USAPA Two-Digit Ratings: A Breakdown
Having a number to rate your pickleball skills is certainly helpful. But whether you're about to play your first tournament or have just gotten your first rating and want to make sense of it, it can be helpful to have a general sense of the two-digit ratings and what they mean:
1.0
Usually, someone with a 1.0 player rating is very new to the game. They may not have even played in a pickleball tournament yet. Of course, a 1.0 player will generally understand the rules (like the rules of the non-volley zone) and have an idea of how to play the game. Often, these players don't have any other sports background, either.
If you have a 1.0 skill level rating at the moment, don't be discouraged! Everyone needs to start somewhere. Below, we'll go into some more detail on how to improve your pickleball rating.
1.5
This is the next step up from a 1.0. Players with a pickleball skill level of 1.5 have a little more experience, and they tend to be better at serving and volleying over the net.
One important distinction between the 1.0 and the 1.5 ratings is that 1.5 players understand and can use the basic strokes. For example, a 1.0 player might be able to hit the ball back, but they may not have mastered backhands or dinks.
2.0
One of the main distinctions between a 1.5 and a 2.0 player is that 2.0 players understand the rules of doubles play. After all, it takes some practice to understand the court positioning needed for playing doubles.
These players are getting more confident in their ability to hit volleys and apply specific skills as they play tournaments.
2.5
Pickleball players with a 2.5 skill level are really starting to develop. While players with a 1.0 or 1.5 rating will usually hit the ball more slowly and have frequent unforced errors, those with a 2.5 are getting better at medium-paced shots. They also can maintain short rallies.
A 2.5 pickleball player will also be able to return most of the easy shots. However, they may have trouble covering the whole pickleball court. However, doing pickleball drills and even just getting more comfortable with pickleball tournament play will help you improve your skill level.
3.0
By the time a pickleball player has attained a 3.0 skill rating, they've really begun to level up their game! These players are more confident in their understanding of pickleball rules, and they make fewer unforced errors (at least with shots of medium speed).
They're decently skilled at rellies and volleys, and they understand drop shots, backhands, groundstrokes, etc. At this level, they may still have some issues placing the ball. And since the dink is a somewhat challenging pickleball skill to master, they may not be able to do these well or at all.
For those with a player rating of 3.0, lobs might still be challenging. A lob is when the ball is hit high in the air so it bounces right at the end of the opponent's court.
3.5
A 3.5 player has a better ability to use different shot types. But commonly, pickleball players with this skill rating don't have a whole lot of variety when it comes to their shots. But most intermediate pickleball players with this rating will gradually get more comfortable with using a wider variety of shots.
Players with this rating might not always return fast-paced shots with accuracy, but their accuracy is solid when it comes to medium-paced shots. They're getting better at placing the ball and may have some success playing mixed doubles or men's or women's doubles.
At this point, their number of unforced errors is decreasing. In many cases, pickleball players with this rating can anticipate their opponent's shots. They can play aggressively and with confidence in the non-volley zone; an impressive skill to have!
4.0
Players with a 4.0 rating have mastered pickleball strategies for a variety of situations. While they may not be considered very advanced players, they are solid players with good footwork.
Those at this pickleball skill level can anticipate their opponent's weaknesses and plan their shots accordingly.
One of the major distinctions between 4.0 players and those lower in the rating system is their ability to put a spin on their shots. Adding spin can also add some unpredictability, so it's harder for the opponent to return shots accurately.
With this rating, pickleball players are also a lot better at playing doubles. They can use stacking techniques to ensure better coverage of the whole court.
So what weaknesses do 4.0 pickleball players have? They may sometimes lose rallies, and they may not always have 100% control over shot depth and strength.
4.5
Players with a 4.5 rating are advanced players for sure. They can apply a more precise spin than those lower on the rating system.
But one of the main shots setting 4.5 players apart from lower skill levels is the third-shot drop. This is one of the toughest of drop shots, but it's a great way to force an error.
The third-shot drop is a little like a short lob. It involves shooting the ball so it arcs upward. However, the top of the arc needs to be on your side of the net. That way, when the ball comes down, it hits just over the net on your opponent's side.
This shot lands right in the kitchen, so it becomes harder for the opponent to return. Plus, since the ball is in the air, you'll have time to run up to the net in order to return your opponent's shot.
Players at this skill level also excel at mixing up their shots. That makes it so opponents can't tell what type of shot they'll need to field next.
If you've reached this skill rating, give yourself a huge pat on the back! It takes a lot of time and practice to reach, and it shows you're a dedicated pickleball player.
5.0
If you're looking for a skill rating that symbolizes mastery, this is it! Pickleball players who reach this level have mastered all shots and probably have played with some success at pickleball tournaments. One of the key elements setting 5.0 players apart from other pickleball skill levels is their level of control. These players can quickly decide what shots to use, what spin to put on the ball, etc., and they can completely control their shots.
Of course, once you've reached this skill level, you'll probably still be motivated to be an even better pickleball player. If you have an athletic background, that may help you find even more success. After all, once you've mastered the shots and key skills, the best way to improve is in terms of speed.
Efficient footwork can get you just about anywhere on the court. And once you can get to the ball and return every shot with precise control, you'll be a tough player to beat.
5.5+
If you're talented enough to reach this skill level, you're in the top echelon of pickleball! Many people with a rating of 5.5 or above are professional pickleball players. If you have a skill rating in this area, you're someone who regularly wins tournaments and just about always plays well.
These descriptions can help give you a general idea of how your skills stack up. But if you want some more help determining your level, check out this helpful video.
Converting 4-Digit Ratings to 2-Digit Ratings
The four-digit pickleball ratings are more nuanced than the two-digit ones. But it can be helpful to know how to convert a two-digit rating to a range of four-digit ones:
1.0: 1.000 – 1.499
1.5: 1.500 – 1.999
2.0: 2.000 – 2.499
2.5: 2.500 – 2.999
3.0: 3.000 – 3.499
3.5: 3.500 – 3.999
4.0: 4.000 – 4.499
4.5: 4.500 – 4.999
5.0: 5.000 – 5.499
5.5: 5.500 – 5.999
6.0: 6.000 – 6.499
How to Improve Your Pickleball Rating
Knowing how you stand when it comes to pickleball rankings is great. But if you're like most players, you probably want to know how to get good enough to improve your self-rating or tournament rating. Here are a few tips:
Do drills
Play more games
Focus on footwork
Talk to a coach
Do Drills
To improve your rating, find some of your weak points and work on them. This is especially good if there's a certain type of shot you want to master. Practice it over and over until it's muscle memory! Visit our guide on Best Pickleball Drills & Skills for Beginners & Advanced Players for more information!
Play More Games
Even a practice match is a lot different from an official game. As you get more comfortable competing, you'll likely start to ascend the pickleball levels.
Focus On Footwork
Speed, agility, and knowing how to transfer your weight properly will help you excel. Mastering shots is important, but so is being able to get to the ball efficiently!
Talk to a Coach
An experienced or professional pickleball coach can make a world of difference when it comes to improvement! If you can, ask a coach to watch you play and offer suggestions of what to work on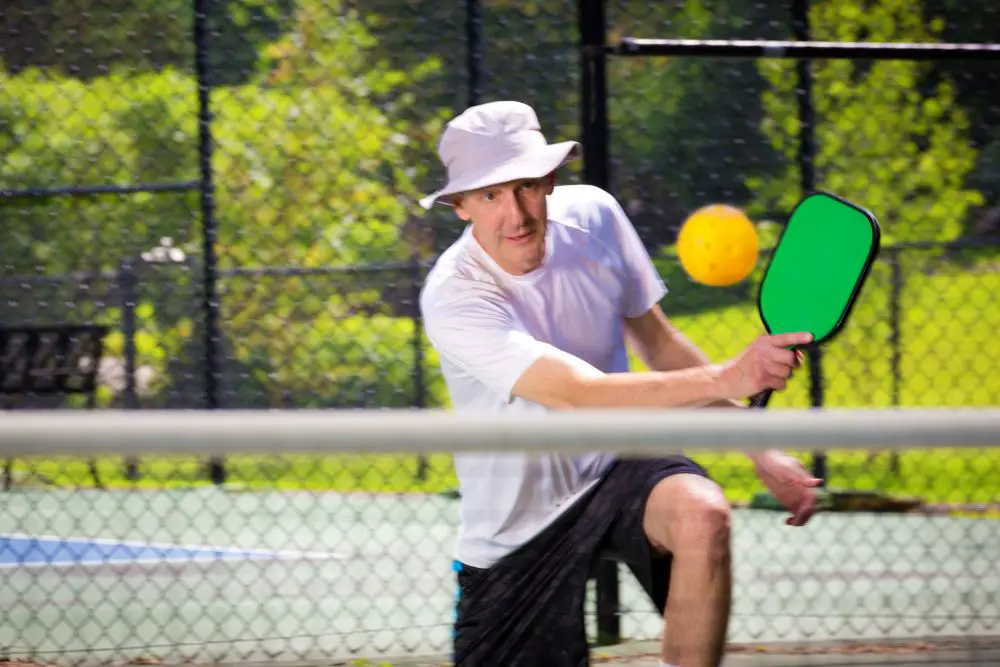 Making the Pickleball Rating Chart System Work for You
If you're new to the sport, you might be a little nervous about the pickleball rankings. But whether you need to give yourself a self-rating or will be given a rating after playing in a pickleball tournament, take the rating process as a time to take a closer look at how you can improve. With attention and some practice, you'll see yourself blossom into a new and approved pickler, potentially ready for turning pro!
FAQs (Frequently Asked Questions)
What is a 3.5 rating in pickleball?
In pickleball, a 3.5 rating indicates someone who is a decent intermediate pickler. A 3.5 player is usually pretty comfortable playing anywhere on the court and can often anticipate an opponent's next move.
What does a 3.0 pickleball player mean?
At this skill level, a pickleball player is learning more difficult shots like dinks and lobs. Generally, those with a 3.0 rating are fairly good at returning medium-speed shots.
Is there a 6.0 rating in pickleball?
Yes. The USAPA Tournament Player Rating (UTPR) system goes from 1.000 to 6.999. The legacy two-digit ratings go up to 6.0.
How do you know if you're a 4.0 pickleball player?
If you play in a sanctioned pickleball tournament, you will be given a skill rating based on how well you play. But for some club and league games, you give yourself a self-rating based on the description of different skill levels.