Hey! This site is reader-supported and we earn commissions if you purchase products from retailers after clicking on a link from our site.
Many players often overlook the role that string tension plays during a match. And this can affect their performance significantly. String tension allows players to understand the tension, thereby helping them enhance their game. It's only when they feel their racquet tension will they be able to identify it, and get comfortable with the racquet.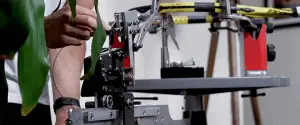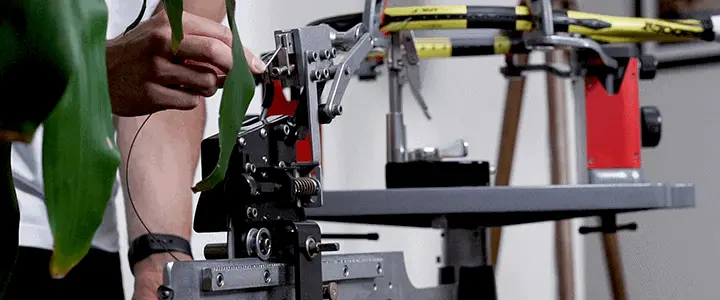 Image Credit: Tennis Companion
Tennis Racquet Stringing: Why it matters?
As a tennis player, you're engrossed in drills, day in, and day out mastering singe or doubles strategies. As you keep playing, the tension on your racquet strings keeps changing. The shots you hit or rally start to feel different. Thus, if you want to stay on the top of the game, you do need to restring the racquet.
What is Restringing?
Restringing is a practice of reworking your racquet strings to ensure peak form. After a while, your racquet might lose the punch, and here's when you need to work your string tension. You can identify if your racquet needs restringing when you notice the following things:
Excessive stretching on impact
When your racquet comes in contact with the incoming shot, you'll feel that it's stretching more than usual. When practicing with a new racquet, you'll feel that the stretching is minimal allowing you more control. But over time, due to excessive stretching, the shot connection isn't smooth.
Cushioning during impact
A properly strung racquet doesn't cushion but rather relays the shot. Herein, you use the momentum of the powerful incoming shot and guide it towards your opponent. However, when strings start cushioning during impact, you cannot guide the shots effectively as the force/tension ratio changes.
Increased squashing effect
The moment you hit a shot, you don't get that oomph and the shots you hit are not accurate either. Similar to serves in squash, the power and precision are not up to the point and can easily result in a fault. Aces being an integral part of winning points, a poorly strung racquet can cause you the match, let alone a set or point.
Less control
While one may wonder what effect can string have on one's game? They must know that the stringing style determines the control. Crucial aspects of the game such as power, vibration, and spin largely rely on the string. The lack of any of these aspects will severely impact your control and overall performance. 
Inconsistent shots
When you hit two identical shots, let's say volley, with the same power and accuracy, you'll expect similar results. Yes, the accuracy could be a little off, but not entirely. Stringing is pivotal and it can prevent inconsistency in shots. For instance, if you're used to tight strings, you'll end up hitting powerful shots when the strings loosen up. That's because you're able to add more force and impact.
Loose string vs Tight String
Both loose and tight strings are effective, depending on your gameplay. If you like tight strings, you prefer control in comparison to power. Alternatively, if you like loose strings, you prefer power over control.
Other than loose and tight strings, there are thick and soft strings. Thicker strings tend to provide a better feel whereas the thinner strings will last longer.
On the contrary, a soft string, made of softer coating, vibrates less and tends to produce more spin thanks to a stiffer stringbed.
Gauge & Tension
Gauge
The higher the gauge, the thinner will be the string. As a player who loves hitting spin shots and relies on durability and elasticity, you would prefer a thin string. When deciding the gauge number, see what playing style suits you the best. Are you a powerful server? Or do you like hitting delicate shots? That will help you gauge your racquet perfectly.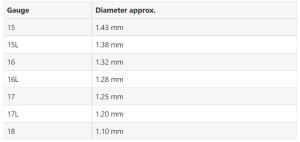 Image Credits: Perfect Tennis
There are five different gauges: 15, 15L, 16, 16L, and 17. An open string pattern has 14 or 16 vertical strings. However, if you opt for a denser pattern, you can even go for 18 or more. The first option i.e. 14-16 strings will provide you with more spin whereas the second one i.e. 17+ strings will offer solid shots.
Tension
Every tennis racquet has a stringing tension range on the frame. Lower tension range offers increased power, durability, and sensibility whereas higher tension allows more control.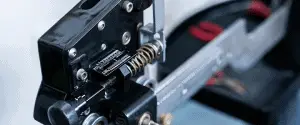 Image Credit: Tennis Companion
The recommended tension range is between 40 to 68 pounds. And while this seems like a massive difference, each racquet's stringing span differs by 5 to 15 pounds.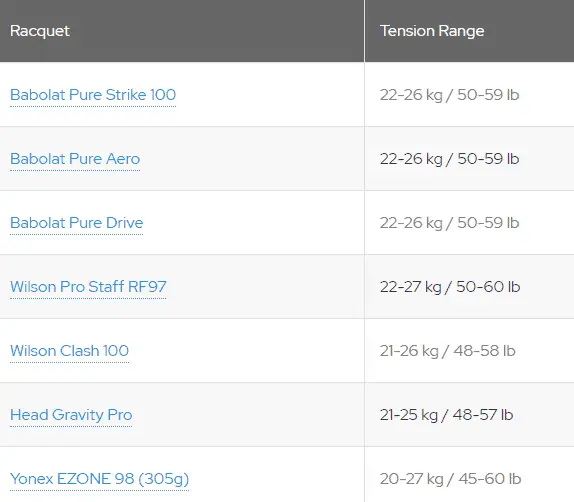 FAQs about Tennis Racquet Stringing
Why and how do strings break?
Every time you hit a shot, the rubbing leads to a notch on the string. Over time, the vertical strings wear down and eventually snap. Players who use plenty of topspin tend to break their racquet strings. That's because topspin causes more tension and leads to wear and tear.
Other reasons why strings can break include frame impact, and rubbing against cracked grommets.
How often do I change my racquet strings?
Racquet strings are bound to lose their elasticity and tension over time. They will eventually die but that doesn't mean you stop caring about stringing. You should string your racquet 2-4 times a year. (Depends on how many days you play in a week). For instance, if you play once a week, then you should restring once a year.
Another thing that you need to know is that when traveling long distances, strings will lose tension due to extreme temperatures.
Where should I get my racquet restrung?
When you play at a club, getting your racquet restrung is super easy. Why? Because various members specialize in racquet stringing. In case you can't find them, you should approach a racquet sports shop, only if the local shop offers a reputable stringer.
Can I string my racquet?
Yes, definitely. Investing in your stringing machine will help you save plenty of money. If you play tennis daily, you're likely to restring every few weeks. Even though the machine doesn't come cheap, if you play frequently, your stringing machine will be a good investment in the long-run.
Is natural gut still effective?
Yes, they are. Natural gut was the only string that drew massive attention before they were replaced with fibers and graphite frames.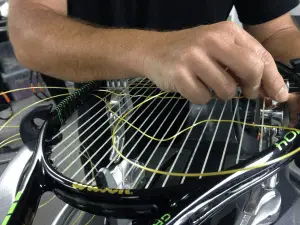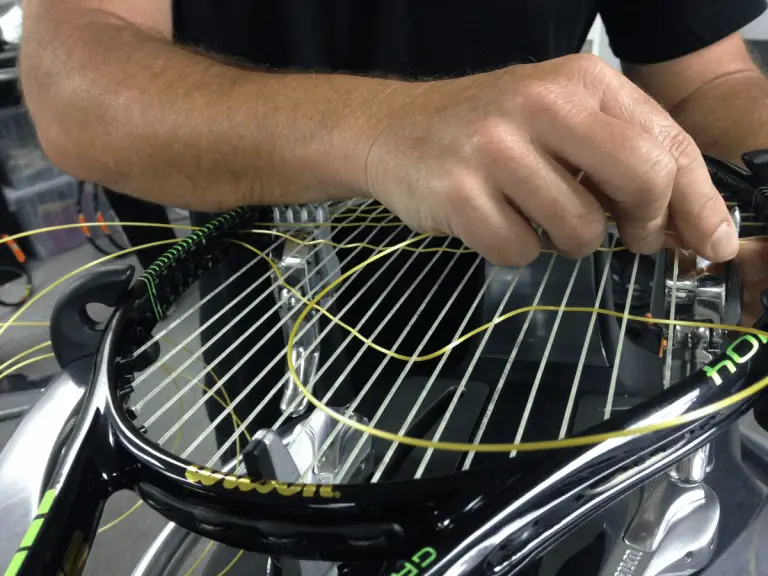 Image Credit: Perfect Tennis
They were extremely resilient and elastic, but once wet, were prone to breakage and tension loss. Gut, nowadays, is used for hybrid string jobs with an additional durable component for more durability.
How can I keep my strings alive?
Yes, strings are mortal, but that doesn't mean you can't improve the string lifespan. By using additional accessories such as 'String savers', you can protect the mains and crosses. The small plastic discs slide easily between the intersection and prevent the notches from snapping. Just this simple trick can double the stringing job.
Another way of achieving stringing longevity is by taking preventive measures such as preventing your racquet from extreme heat or humidity, taping the top of the racquet, and keeping your racquets in your bag.