Hey! This site is reader-supported and we earn commissions if you purchase products from retailers after clicking on a link from our site.
Badminton is well known for being the fastest racquet game in the world. When watching professional games, it's impressive to observe how fast players move and how swift are their reactions.
And it's partly thanks to the humble little object used in play. Badminton enthusiasts everywhere well know the power of the badminton ball, otherwise known as the shuttlecock!
Other than being one of the most important components of the badminton game, what exactly is a shuttlecock? What is it made of? Who invented it, and why?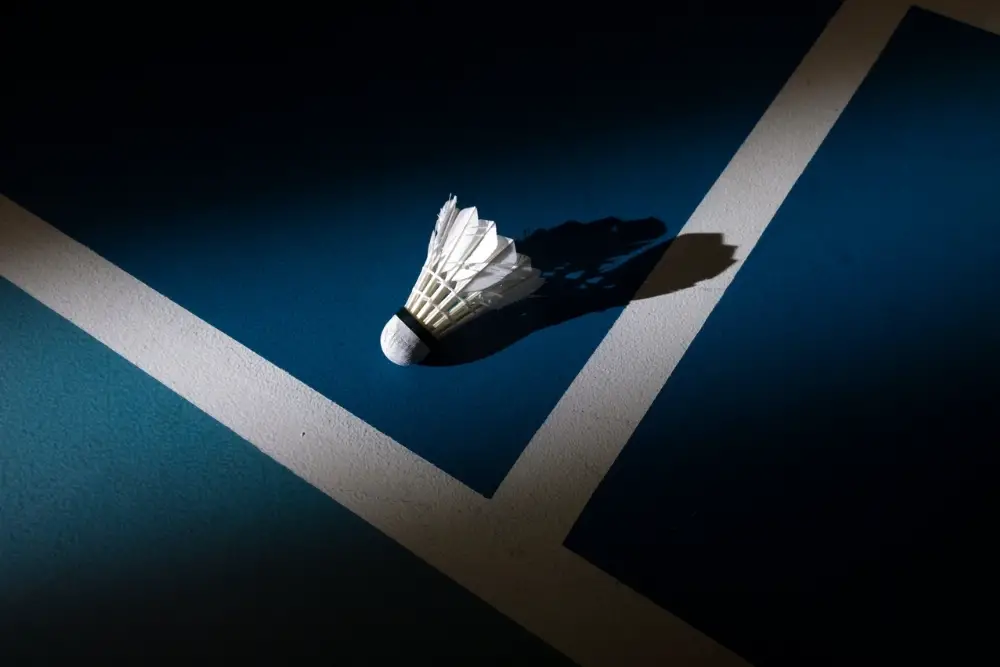 What Is the Ball in Badminton Called?
The badminton ball name is shuttlecock (or shuttle) and is the ball equivalent used in a game of badminton. It has a cone shape that is open and typically contains overlapping goose feathers.
The shuttle's shape makes it aerodynamically solid to fly through the air with speed. The end has a hard cork that is covered in leather or plastic. The shuttle will always turn to fly cork first and remain that way throughout the play. 
Shuttle manufacturers will always use feathers from the left wing of a goose. The rationale behind this is that left-wing feathers produce a clockwise spin through the air, which stabilizes the flight.
However, there is much debate about this and some would argue it makes no difference which way a shuttle spins.
Badminton Shuttlecock Material: Feathers or Plastic?
Feather shuttles are the preferred shuttle type for serious and professional players.
Without a doubt, the trajectory of a feather shuttle will be slicker and drop more steeply at the end of its flight. Players are much more able to hit back and forth a high clear to the back of the badminton court with feathers due to increased acceleration.
For those who want to play for fun and don't play often, you can buy plastic shuttles that are more durable. They tend to fly slower, and you won't get a satisfying smash sound when playing, but they're a great substitute for beginners.
A plastic shuttle generally has a skirt around the cork which, unlike feathers, has a continuous piece of synthetic material. The design creates less acceleration when hit, is steadier throughout the flight, and has a smaller drag effect than feathers.
An advantage of plastics is that they can travel further than feathers, so they are ideal if a player hasn't mastered the art of hitting shuttles at distance.
Shuttles are made slightly differently, and each brand or make will sell feathers that operate at different speeds. Shuttles are much lighter than balls and designed to be hit back and forth with more intensity than games such as tennis.
So, how did the shuttlecock develop?
Shuttlecock History
It's hard to pinpoint when exactly the first shuttles were invented, but it likely goes back to Ancient Greece, where some drawings were discovered of people playing what was known as Battledore.
Battledore was a popular children's game and involved hitting the shuttle in the air without letting it drop, there was no net involved in the early days. By the late 16th century, the game had entered Europe and was called 'the flying game'.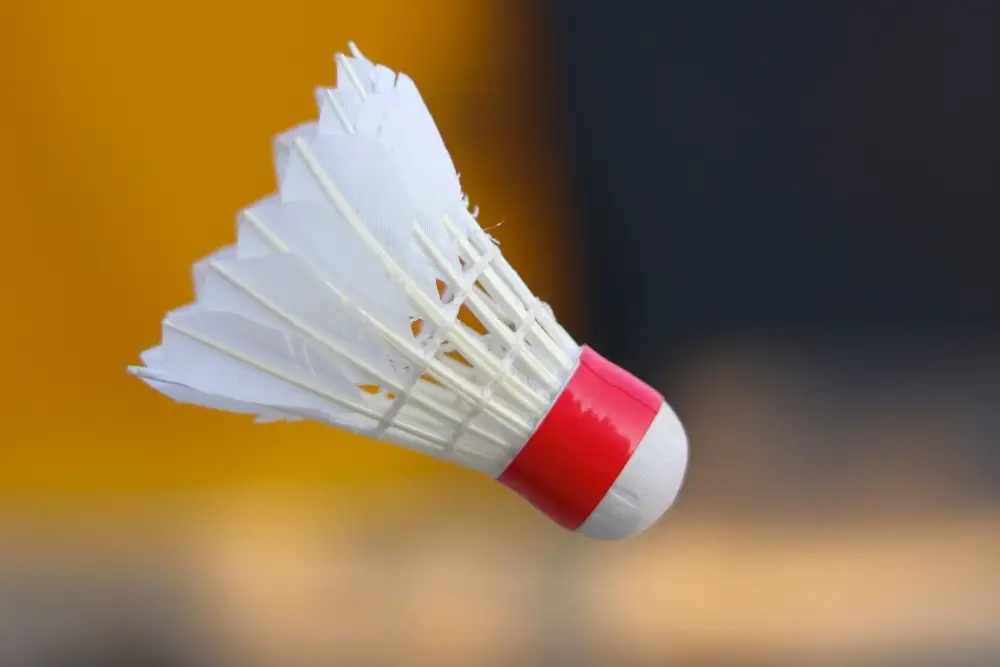 Historically, what else is the other term for shuttlecock? In those days, the shuttle was referred to as a 'bird' due to its feathers, and this was the first type of ball used in badminton. In later years, the name shuttlecock was used. Shuttle refers to the motion throughout the game, and cock is adherence to the feathers from the rooster.
One theory about the invention of the shuttle is that corks were often used to store feathers (for writing) it could have been that people started throwing them playfully and then playing games with them, leading to the invention of the first shuttlecock, but who knows! Seems legitimate!
Over the years, the shuttle evolved, and historically the shuttle weighed around 5 grams. In the 1800s, badminton players started experimenting with the shuttle to find ways of making it more consistent.
Many players got frustrated with the way the shuttle wobbled mid-air, so they tried different feathers in an attempt to create the perfect shuttle. In 1935, they even tried using animal intestines, along with feathers from a chicken, to create a more durable shuttle.
By the 40s/50s the standard shuttlecock became what we use now; cork base, goose or duck feathers stitched together with cotton thread. Shuttle manufacturers will only use feathers from the left-wing of a goose to maintain consistent flight behavior.
In 2019 a new hybrid 3-in-1 shuttle was invented to preserve the life of the shuttle. Kinsi Sports released a shuttle that consisted of 3 distinct parts. A solid cork base, nylon core, and slots that enable you to replace feathers when needed.
If you're interest in the history of the game itself, visit our history of badminton guide!
How Do They Work?
In the past, shuttles were always measured in weight. But they found that measurements weren't very precise, so manufacturers started measuring in speed. Why is speed important?
For serious badminton players, choosing shuttles that complement their playing style is vital for a good game. For beginners, it's crucial that their equipment (i.e. racket, strings & shuttle) match their experience level to help avoid frustration.
You will find speed information on the side of most shuttles. So, what should you consider when purchasing traditional shuttlecocks?
How to Choose the Best Shuttlecock
You may be surprised to know that the most important factor when purchasing new shuttles isn't how good you are at the game. It's actually all down to temperature, altitude, and air density. Yes, you heard correctly.
Low air density will affect how fast a shuttle travels. If the density is low, then a shuttle will fly through the air pretty fast, so it's wise to check the levels where you live to inform your choice.
A slower shuttle would be sufficient. So, if you're surrounded by mountains, however good you are at badminton, don't get fast shuttles, you'll regret it.
If you live in an area that is predominantly hot, the shuttle will be superfast. It may be wise to buy a selection of shuttles to ensure you have the right one for the weather conditions when you play.
So, whether you prefer plastic or feathers, now you know all there is to know about the humble beginnings of the shuttlecock. Happy smashing (or not)! Visit our best badminton shuttlecocks guide for more information!