Hey! This site is reader-supported and we earn commissions if you purchase products from retailers after clicking on a link from our site.
Characterized by its mellow, laidback and social nature, pickleball is an awesome sport that consists of basic, easy-to-follow rules and plenty of fun. So much so that most of its players love to attend weekly games simply to be able to catch up with friends and hang out!
Despite being deemed as being more of a recreational sport, in recent years, it has become more and more popular to play pickleball, and in turn, the sport has become increasingly more competitive.
For this reason, this increase in popularity has led to more people asking the question – "Why do they call it pickleball?" – and this is where we come in to lend a helping hand!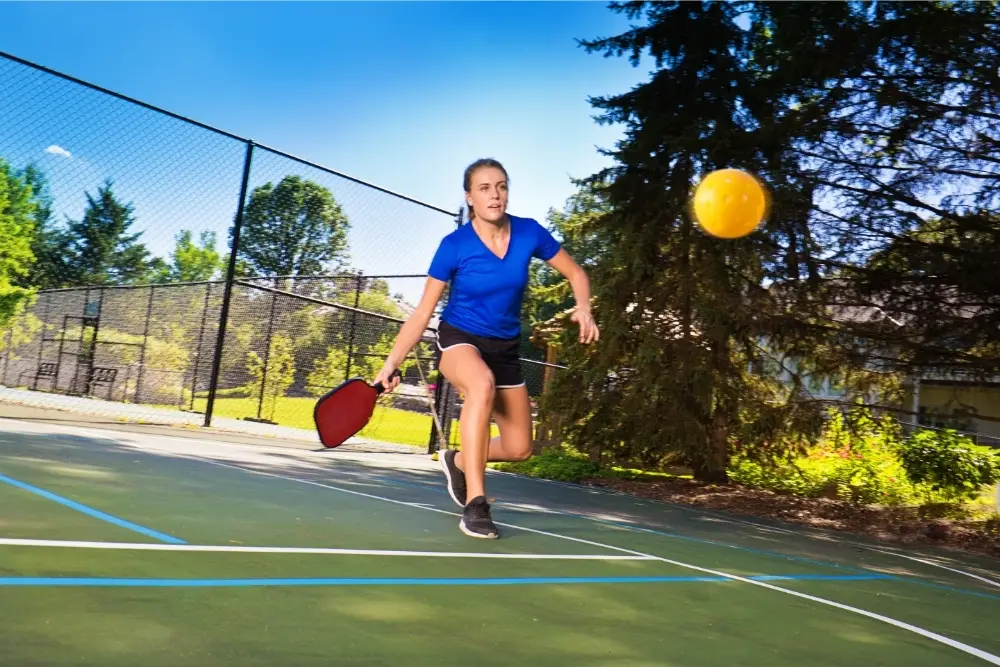 If you're currently wondering how pickleball got its interesting name, then rest assured you're in the right place. Below, we're going to be talking you through the origin story of how pickleball came to be called its unique and humorous name.
Along the way, we'll also be sharing some additional information about pickleball, so that you can get a better overall understanding of the game, too. Read on!
What Is Pickleball?
Before we get into the origins of how pickleball got its name, we first think that it would be a good idea to talk you through the backstory of pickleball – especially if you're just getting started in the world of the game!
Pickleball was first created way back in 1965, in a place called Bainbridge Island, which is a very short ferry trip from Seattle.
It was created by three men that go by the name of Joel Pritchard, Bill Bell, and Barney McCallum due to the fact that they had kids who were bored during summer break from their usual activities and wanted something more exciting to play.
In turn, the playful game of pickleball was born, and to this very day, those three men and dads are credited as being the founders of pickleball.
As we're sure you can already guess, ever since its time of creation back in the 60s, pickleball has gone from strength to strength. What was one a simple, laid-back game intended to appease bored children during their summer vacation has now turned into a thriving, internationally-known game with its own rules, permanent pickleball court, and association!
Not only that, but with a rise in popularity, pickleball has become more of a competitive game rather than a recreational one, which means that there are now official teams across the country (as well as in Canada, Asia, and Europe) which has sparked debate about whether or not pickleball might one day become a recognized sport in the Olympics!
For more information on who invented pickleball, visit our guide!
Why Is It Called Pickleball?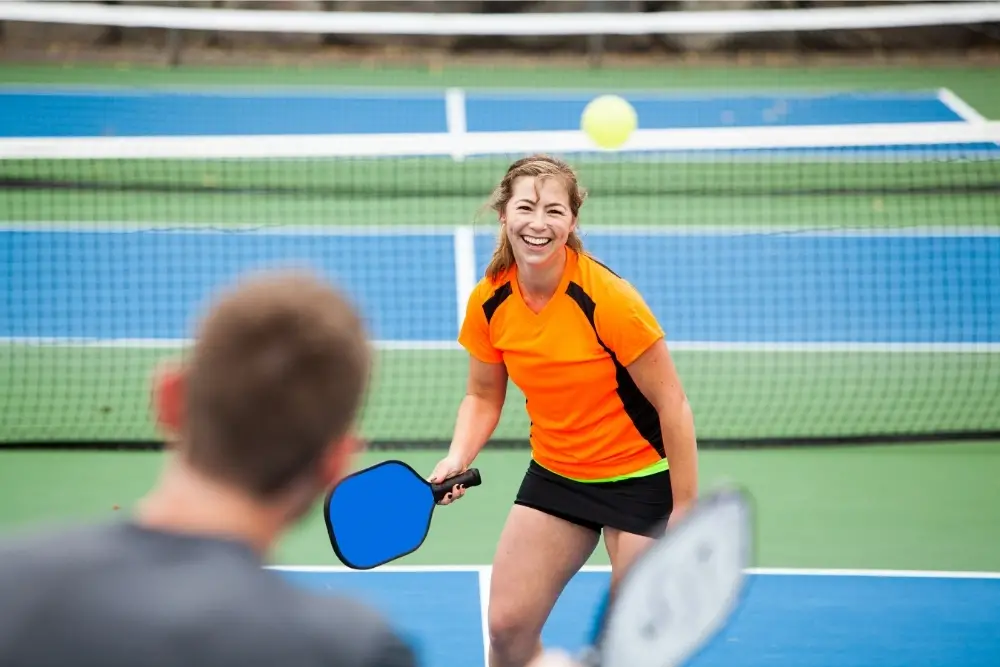 So, now that you have a better understanding of how pickleball first originated, we're sure that you are most likely wondering about how the name actually came about in the first place – especially given the fact that it's so unique and unlike any other kind of sport name.
Well, as it just so happens to turn out, the question to this question isn't quite as clear cut as we would have liked, because according to the Official USA Pickleball Association, the origin of the name differs according to different accounts.
Needless to say, to help you get a better understanding of the story behind the game, let's explore the theory behind the origin of the name a little more below:
According to Joan Pritchard (Joel Pritchard's wife) the name of the game came about due to the fact that pickleball consists of a variety of different sports. The combination of different sports reminded Joan of the pickle boat in the crew, where oarsmen were chosen from the leftovers of the other boats.
Nevertheless, while this theory seems pretty valid and interesting, according to Barney McCallum, this origin story is not actually the true story about how the name pickleball came about.
Instead, according to McCallum, pickleball actually got its name from Joel and Joan Pritchard's adorable little four-legged friend, who went by the name of Pickles!
Funnily enough, despite the fact that the word "pickles" draws images to the mind of a sharp and sour type of food, according to sources, Pickles the dog was a happy and friendly dog that loved to run around, get in on the action and run off with the pickleball while it was in play!
To follow, even though we're sure that the origin story of how pickleball got its unique and humorous name will vary depending on who it is that you're asking, one thing's for sure, which is that pickleball didn't actually start off with a name at all.
Rather, when the game was first created, it wasn't referred to as anything other than being a mixture of a variety of different ball games, including badminton and tennis, looking similar to a badminton court.
As it turns out, it wasn't until around the time in which pickleball started to become more and more popular that a name needed to be given to it, so that people would be able to put a name to the game.
Even though it is certainly a unique name, we're sure that you'll agree with us when we say that the name fits perfectly with the playful, laidback nature of the game!
Wrapping Up
So, there you have it! Now you finally know why pickleball is called pickleball. After taking the time to read through this article, we are hoping that you have not only gained more clarity on the origins of how pickleball got its name, but we're also hoping that you have gained a better overall understanding of this awesome and unique game, too.